"Dili sayun mahimong volunteer sa komunidad" (It's not easy becoming a volunteer for the community) declares Helen D. Mabanta, 50, and married to Rolando Mabanta with 5 children.
Helen is the elected Barangay Subproject Management Committee (BSPMC) chairperson for the implementation of Kapit Bisig Laban sa Kahirapan Comprehensive and Integrated Delivery of Social Services – National Community Driven Development (Kalahi CIDSS-NCDDP), Barangay Libertad, Kauswagan, Lanao del Norte for 2014-2015 particularly for their two evacuation centers community sub-project. She started being a BSPMC Chairperson since 2013 under the PAMANA project of Department of Social Welfare Development in Kauswagan.
The Payapa at Masaganang Pamayanan (PAMANA) program collaborates with the Department of Social Welfare and Development's KALAHI-CIDSS (KC) program to empower conflict-affected and vulnerable communities through improved access to services and participation in more inclusive local planning, budgeting, and implementation.
Helen started her volunteer work as Bid and Award (BAC) member during PAMANA in 2013 and became a BSPMC chairperson the following year.
Helen and her family, won as the grand winner for "Huwaran Pantawid Pamilya" from the Provincial, Regional up to National Level in 2013. Helen was also involved in other community engagements aside from DSWD Projects, she was purok president, Department of Agriculture (DA) volunteer, and a member for "Gulayan sa Tahanan" (Backyard Gardening) project of  the Department of Education (DepEd).
"Wala jud sa huna-huna nako nga moapil ko sa PAMANA volunteer og nagreklamo pa ko sa katawhan tungod kay daghan koy kalihokan og trabaho." (I never think of involving myself in PAMANA as volunteer and I complained to them that I have many tasks to handle). This was her statement during one of the barangay assemblies of PAMANA in 2013 when the people elected her as BAC member. But many people chose her as volunteer on that assembly. Despite of her reasons, she told herself that she will do her best to satisfy and perform all her duties. On the third cycle of PAMANA, the people elected her as BSPMC chair.
PAMANA concluded their third cycle in 2014 and the municipality of Kauswagan availed the Cycle 1 and 2 (accelerated) KALAHI CIDSS-NCDDP. This modality of implementation was for those municipalities affected by disaster such as typhoon. On this project, Helen remained as the BSPMC Chairperson as decided by the people from their barangay. Their prioritized project was the construction of two (2) units of evacuation centers.
The BSPMC Challenge
During the implementation of Cycle 1 and 2 (accelerated) KALAHI CIDSS-NCDDP projects in Barangay Libertad, Helen experienced a lot of difficulties and challenges as BSPMC Chairperson unlike in her PAMANA stint.
It was when the community argued and became divided as to what should be the priority project for the barangay; whether to build an evacuation center or a flood control structure.
Because of this situation, there came a point that Helen thought of wanting to resign due to tension in the barangay. She informed the former Municipal Financial Analyst (MFA) about her intention to resign.
However, the MFA explained to Helen that the replacement of volunteers will have to undergo special barangay assembly and there will be many processes and considerations to ponder.
Helen was on a state of confusion whether to pursue BSPMC chairmanship or to live as an ordinary resident of the community. It was during this time also that Helen weighed the situation. She promised to herself that she would do what she had said during the barangay assembly when she was elected.
Helen narrated her previous experience in a communal garden where she was the only person left in their group to continue the project since all of her group members already resigned.
This gave Helen a chance to think and asked help from God, she asked for a "sign" to help her get through. Accordingly, she asked God to give her a "sign" that if there would be rain within the next three (3) days, she will continue as BSPMC Chairperson, if none, she would resign.
Rain fell on the 2nd day and later that day, Helen decided to continue her work. She also said to herself that, she will continue her work for the sake of the people of Libertad, for their benefits and for the common good.
The Family Challenge
"Dili sayun mahimong volunteer sa komunidad" (It's not easy becoming a volunteer for the community) Helen said.
According to Helen, being a volunteer in DSWD projects is not an easy task as it requires much time for the project. Helen shared that there were times had no time for her family because of her focus on the sub-project especially during her engagement in PAMANA.
Helen's daily routine before included going to the project site to monitor the implementation and rush to their house to prepare chores for her family.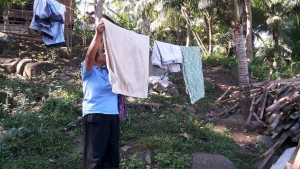 There was one time that no one in their family was able to prepare food for dinner and because she was busy on the site. All of them took their dinner late at night. This scenario urged Helen to decide to settle in the bunkhouse and made a makeshift for them to stay.
Cooking, laundry and other household chores are done on the bunkhouse. Helen's children used to go to the bunkhouse for every meal and before going to school. With this strategy, Helen was able to balance her role as a volunteer, mother and husband. Her husband Rolando, used to accompany Helen most of the time after his work.
Helen said "Mabuhat sa babaye ang gusto niya buhaton kung naglantaw siya sa ugma sa iyang pamilya" (A woman can do what she wants when she thinks about her family's future).
Helen said she learned a lot of things as a volunteer, especially on construction matters and procurement. She added that when they will be able to build their dream house, it will not be difficult especially on the construction because she was exposed on engineering aspects of it.
"Sa KALAHI, nahimo kog engineer bisan usa ra kaadlaw"
(With KALAHI, I became an engineer even just for a day) Helen said reaffirming
"Kaya nimo bisan wala ka nahuman"
(you can do it even if you did not finish your education).
In parting Helen says "kinahanglan mahimo kang ehemplo sa mga anak nimo na makaya sa babae ang ginabuhat sa mga lalaki" (you need to be an example to your children that women can do what men can do).
The Community-Driven-Development (CDD) approach aids in local delivery of basic services. The CDD principles of participatory planning and community control of investment resources through the Kapit-Bisig Laban sa Kahirapan Comprehensive and Integrated Delivery of Social Services (KALAHI-CIDSS) project, managed by the Department of Social Welfare and Development (DSWD). The government identifies CDD as a pillar of the country's development and poverty reduction strategy, and is expanding operations into the KALAHI-CIDSS National Community Driven Development Project (NCDDP).
Written by Binladin Tiolo (DSWD AC) and Shaun Alejandrae Yap Uy (DSWD SMO)