"Tungod kai ang mga lumad wala na-edukar, pirme gyud mailad sa mga daotang elemento, gamay ra nga mga pasalig madala dayon sa mga dautan nga idolohiya"

~Alde "Botsoy" Salusad
San Fernando, Bukidnon – Sitio Kiranggol, Barangay Dao, is roughly a 6-hour open-trail climb into the rain forests of San Fernando. The Department of Social Welfare and Development (DSWD), together with the Department of Education (DepED) and National Commission for Indigenous Peoples (NCIP), lead the joint site validation of a proposed 3-classroom school building to be constructed through the Kapit Bisig Laban sa Kahirapan Comprehensive and Integrated Delivery of Social Services – National Community Driven Development (Kalahi CIDSS-NCDDP). This is part of the Whole of Nation Initiative intervention for Lumads in El Niño affected areas, particularly in the Province of Bukidnon.
Kiranggol (Kiranggel) means a "place of convergence" where other tribes meet to do trade or festivities, this according to Alde "Botsoy" Salusad, the sitio's peace keeper and whose family ancestry claims the land. San Fernando, Bukidnon is home to two indigenous tribes the Matigsalugs and Tigwahanons.
Kiranggol has been reportedly marred by past insurgent influences and gold mining. According to residents, the sitio used to have a lot of residents and mine workers – chaos then escalated which drove out the residents and workers, a few came back to the community.
In a conversation with "Commander Botsoy", he said that the community that now thrives in Kiranggol has only been around for three years. The young community already boasts of some businesses in the area despite the fact that the sitio is only accessible by trekking through open-mountain-trail – and only by humans. Even horses would have a difficult time traversing the cliffs and the steep peaks. In Kiranggol, there are sari-sari stores, a karinderya, billiard halls, and … karaoke houses. Supplies are brought to the place by "haulers" and usually one hauler can carry about a 50 kilogram load at the very least – and will charge about 500 pesos to a thousand (or more) depending on the load. So expect the high prices of the commodities – to give you an example, a 1.5 liter softdrink would then cost 150 pesos.

The place is powered by electricity generators or dynamos; they switch on lights at 5:00 in the afternoon until 9:00 in the evening, and 4:00 – 6:00 in the morning. The community pays about 10 pesos per day for the community electricity while some residents have their own electricity generators, and for a fee you may charge some of your gadgets – yes, there are certain spots in Kiranggol with mobile network connectivity.

About 2 kilometers before reaching Kiranggol, there is also a spot they fondly call as "signalan" or a place with mobile network signal.  There, trekkers may stop and rest, as well as text or call – this is the only place with mobile network connectivity along the 6-hour walk.

As the team trekked the treacherous trails, DSWD 10 Regional Community Infrastructure Specialist Engineer Roel Jumao-as spoke with the team on the possibilities of materials hauling when the actual construction of the school building will start. To haul a bag of cement would actually cost around 500 pesos each. However, Engineer Jumao-as is both hopeful and determined, "kung mabuhat nato ning school-building diri sa Kiranggol, walay rason nga dili nato mabuhat sa ubang dapit (if we can build the school-building here in Kiranggol, there's no reason we can't make it in other areas)."

Tiring as the trek and climb was, the satisfaction of reaching the sitio was overwhelming – people welcomed us with smiles and a warm meal. There we met the residents who congratulated us on surviving the trek. One even commented "pasensya na sir, walay medalya diri sa finish-line (sorry sir, there is no medal here at the finish-line)," catching my breath – I could only muster a smile.

Good thing they already have a water system in place.
The Dreamers   
DSWD – Kalahi CIDSS-NCDDP embraced a warm welcome from the Lumad children of Sitio Kiranggol during the site validation for the construction of a three-classroom school building in the sitio. Kiranggol parents and children alike were delighted to know of the project and have high hopes that their community can now have formal education in their sitio.
Mitze Antian, Grade 3; Nistle Genlisa Mae Baculao, Grade 4; and Roseann Antian, Grade 4, are pupils of Dao Elementary School in Barangay Dao, San Fernando, Bukidnon. The three dreams of becoming a doctor, a police officer, and a teacher respectively.
The grueling 5-hour mountain trek to their school makes it difficult for them to dream big. However, they are given renewed hope and vigor to pursue their dreams as the Department of Social Welfare and Development (DSWD) – Kapit Bisig Laban sa Kahirapan Comprehensive and Integrated Delivery of Social Services – National Community Driven Development (Kalahi CIDSS-NCDDP) will construct a three-classroom school building in the sitio. Kiranggol can now have formal education in their sitio.
Mitze says "makabalo na ko magsulat, magbasa, ganahan ko nga naay eskwelahan diri sa duol, para makalampus sa pag-eskwela ug mahimong doktor (I know how to write, read, I like that there will be a school near here so that I can finish my studies and become a doctor)."
Roseann hopes to become a teacher, "para makatabang ko sa pamilya ug sa komunidad (so I can help my family and the community)."
Nistle said "Nalipay ko nga di na malayo sa among balay ang eskwelahan, gusto ko makahuman ug mahimong pulis, akong uyu-an kai pulis (I'm happy that our school won't have to be far from our house, I want to finish and become a police officer, my uncle is a police officer)."
Mira Ombo is a parent of four children; Ling-ling who is now in grade 4, Ian in Grade 1, while Anelyn and Mayan, are in daycare.
Mira says that her main sources of livelihood are "mag tanom og kamote, lutya, ug uban pa, usahay manglampas (planting crops like sweet potato and yautia, and others, sometimes I mow fields)."
Mira also is delighted with the construction of the school building, "maayo kaayo nga naa nay eskwelahan, nalipay ko, makaayo kini para sa mga kabataan, dili na namo ipadala sa sentro sa Dao ang mga bata para lang makaskwela kai naa na diri (this is good that there will be a school, I'm happy, this will be good for the children, we don't have to send our children down to Dao just to go to school because we'll have our own here)."
Botsoy

Having read stories about Commander Alde "Botsoy" Salusad tells of a horrifying past. However, we met a completely different man during our visit – far from the stories we have read.   

Conversations with residents gave us another picture of Botsoy, one resident narrates a tale when Botsoy spent an almost sleepless night fixing the leaking water pipes on their water system only to be awaken the next morning seeing the pipes chopped by a drunk. Instead of showing rage – Botsoy asked the culprit to pay a tribute of a dozen chickens, and fixed the pipes again. Perhaps this is the reason why one can't find liquor being sold in the sitio.

Botsoy narrated to us the origin of the name Kiranggol, he said that it was also known as "Maupya" meaning "good" because the early settlers were good people.

Botsoy addressed his fellow Lumads during the site validation and sitio assembly, "kini na gyud ang katumanan nga atong ipangandoy sa mga bata nga matukuran na gyud tag pormal nga skwelahan diri, gikan sa kalisod nato, pag-NPA nato sa una, pagsurrender nato — mao kini akong pangandoy nga maedukar kita, dili nata magsugot nga dili kita maedukar (this will be the fulfillment that we dream for our children that there will be a formal school here, from our hardships, when we were still with the NPA until our surrender, this is what I dreamed of, that we will be educated, we won't allow that we won't be educated)."

Botsoy continued "tungod kai ang mga Lumad wala naedukar, pirme gyud mailad sa mga daotang elemento, gamay ra nga mga pasalig madala dayon sa mga dautan nga idolohiya, mao nang pangandoy nato nga maedukar gyud ang mga Lumad (because Lumads are not educated, we are always prone to bad elements, with just a little promise – we get carried away with bad ideology, that's why I dream that Lumads will be educated)."  
Botsoy is thankful for the upcoming construction of the school building, "magpasalamat ta, nangingkamot ang gobyerno nga tukuran gyud tag eskwelahan diri, priority kita (we are thankful, the government endeavored to build us a school here, we are a priority)."
Sitio Kiranggol Chairman Listino Licawan also enthused "kitang tanan magpasalamat kay niabot sila diri sa Sitio Kiranggol, bisan tuod ug layo, mao na cguro kini ang katumanan sa atong mga pangandoy alang sa atong mga kabataan, kinahanglan kitang tanan magtinabangay ug maghiusa para dunay katumanan sa atong pangandoy (we should be thankful that they arrived here in Sitio Kiranggol, though it is far, perhaps this will be the realization of our dream for our children, we must all help out and unite to accomplish this dream)."
"Kinihanglan nga atong dasigon ang atong pagpaeskwela sa atong mga anak, kay mao ray bugtong nga pangandoy nato para sa atong mga anak, ug labi ang mga ginikanan, akong dasigon nga maedukar gyud ang mga anak (we need to encourage our children to go to school, this is the only dream we can have for our children, and to the parents, I encourage you to have your children educated)," concludes Botsoy.
Written by Shaun Alejandrae Yap Uy, DSWD
---
Photos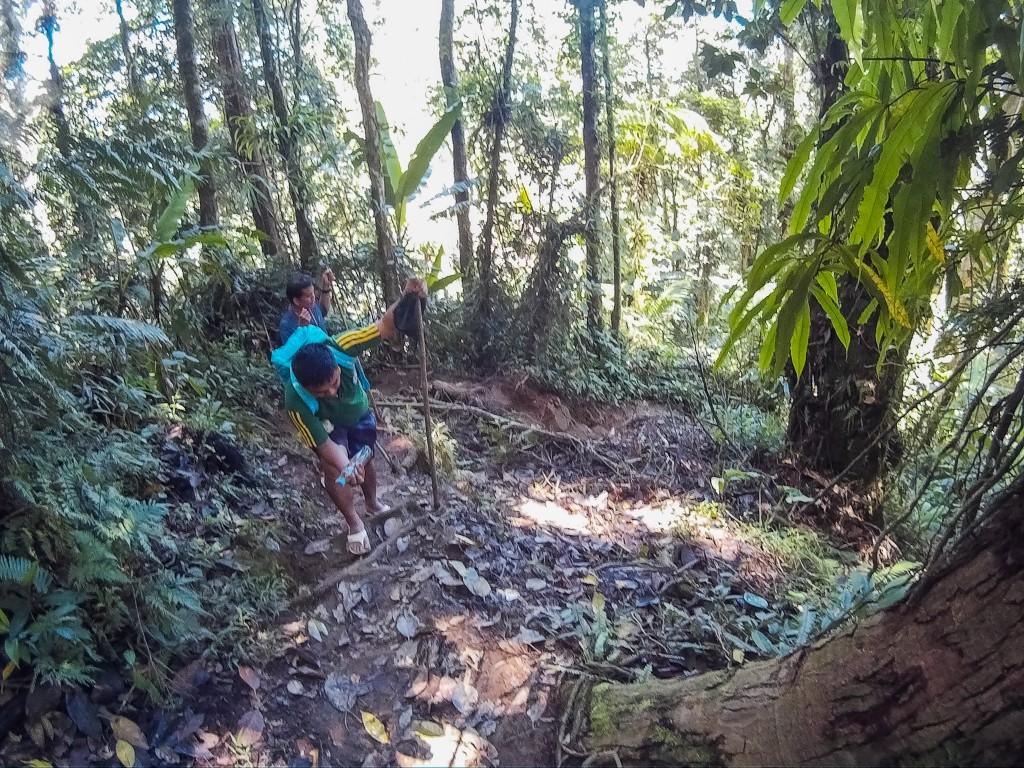 A little tricky going up this steep open trail, but there were worse along the way. (DSWD Photo|Shaun Uy)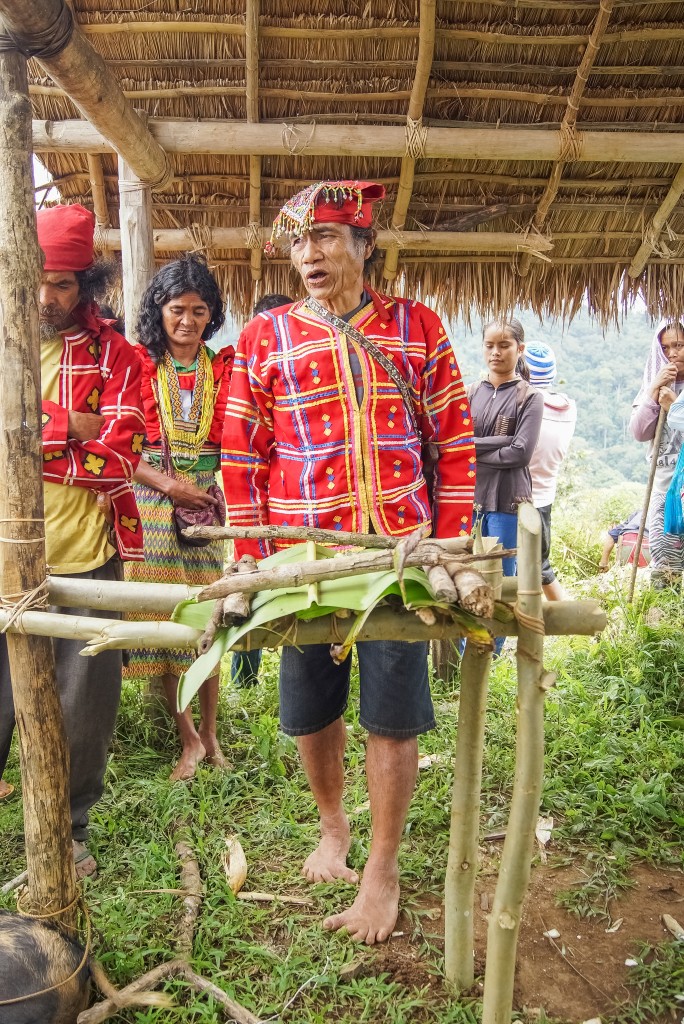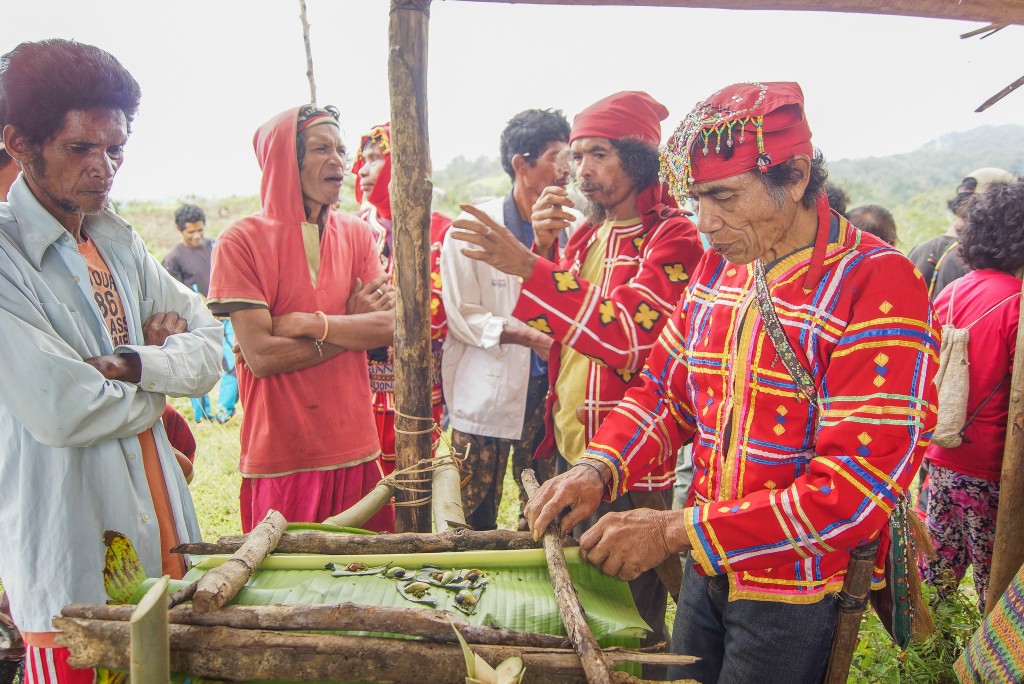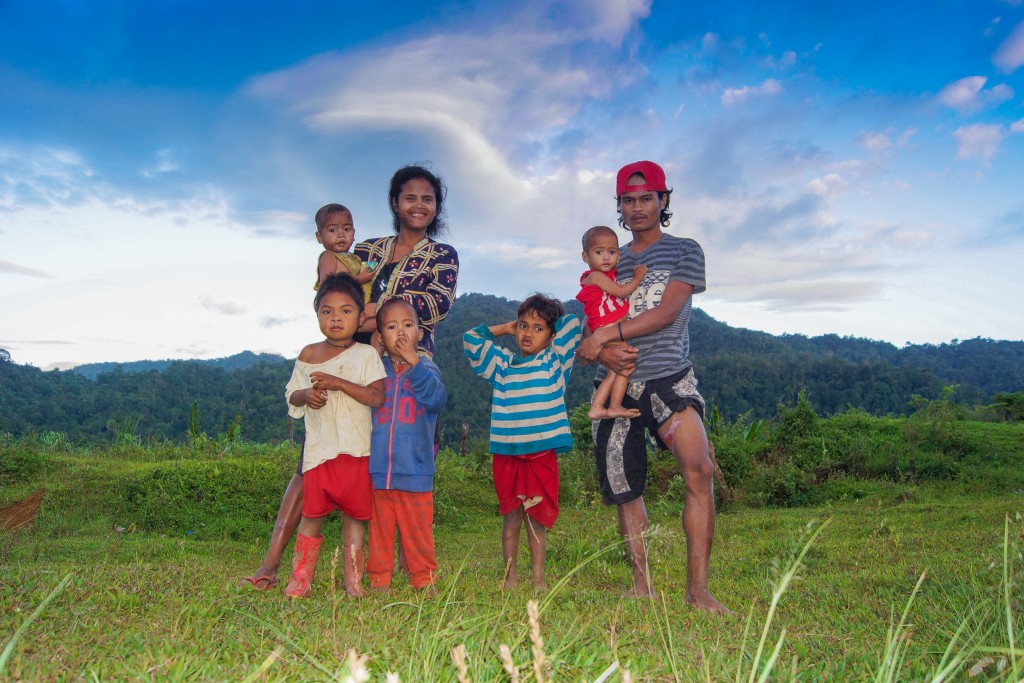 A Lumad family of 7 in Sitio Kiranggol. (DSWD Photo|Shaun Uy)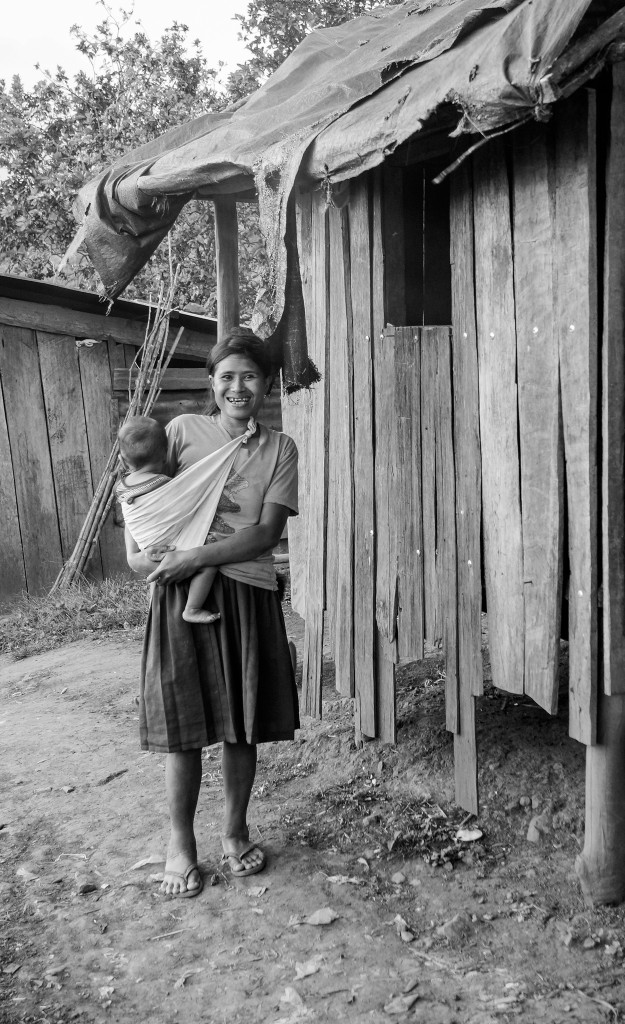 A Lumad mother and child in Sitio Kiranggol. (DSWD Photo|Shaun Uy)