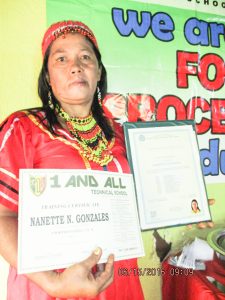 Nanette Gonzalez, a 50 year-old mother of ten children proudly presents her certificate on Food Processing NCII during her culmination day along with other one hundred thirty Lumads from the indigenous tribes of Manobo and Umayamnon, last May 2016 in the municipality of Quezon, Bukidnon.
Gonzales is one of the recipients of the MCCT-IP or the Modified Conditional Cash Transfer for Indigenous People Program, of the Department of Social Welfare and Development (DSWD). The MCCT-IP is a program specifically intended to Indigenous Peoples living in geographically isolated areas of the region. These beneficiaries are given technical skills training under the Sustainable Livelihood Program through partner technical institutions.
In an interview with Joy Co, President of 1 AND ALL Technical School and the implementing partner for this project, she said "This particular program for the lumads really inspires us to be better service provider". "Women like Gonzalez proves that with right attitude and inspiration, anyone can be successful", she adds.
Co further narrates that Gonzalez, suffers Bell's Palsy, a medical condition that causes paralysis to one side of her face, hence the deformity and blocks her one eye from closing or blinking. Her disability caused a lot mocking and insults by neighbors which made her inferior. "When we met her in the training, she was a bit aloof and indifferent, she barely talked to anyone, she was less confident of herself", says Co. "Later we learned that she lost her husband because of a shooting incident which was never resolved", Co tells.
Being a Lumad with less skill, Gonzales had a hard time looking for a job to support her family.
"Isip usa ka mama ug papa sa akong mga anak, naglisod gyud ko primero kung unsaon nako pagsuporta sa ilaha, pero naningkamot gihapon ko tungod kay katungod sa akong mga anak nga matagtam nila ang kaayuhan ug kalipay sa ilang kinabuhi, (being a solo parent, I really had a difficulty in supporting their needs, but I have to strive for them because it is their right to have a blissful and joyful life), says Gonzalez.
"Dagko pod ang natabang sa gobyerno tungod kay apil sila naningkamot sa paghatag ug suporta sa parehas namo nga kabus busa pasalamat gyud ko labi na sa DSWD, (on the other hand, the government has been doing their role as well in providing assistance to the less fortunate like us", Gonzales tells.
Gonzalez worked as Household Helper in Manila for five years but had to leave afterwards because of mistreatment from her employers. Now, she works as a part time laborer in a sugar cane plantation in Bukidnon; and because of her recent accomplishment, she was able to establish her own Longganisa (meat processing) business, which is very marketable in their place because of its distinct taste and quality.
Co further tells that although this may be a simple success, but it's a good leap in achieving a greater dream, especially for a parent like Gonzalez.
DSWD believes that no one should be left behind in the process of development, so it gives equal opportunities and relevance to our Indigenous groups, special sectors like the youth, Persons with Disability and women. "This is why we are continuingly building the capacities of our beneficiaries, we want them to learn but most of all we want them to be confident about themselves no matter what, because confidence will eventually lead them towards success", says Rhandy Ladoroz, Project Development Officer for DSWD.
Written by Jamila M. Taha, DSWD