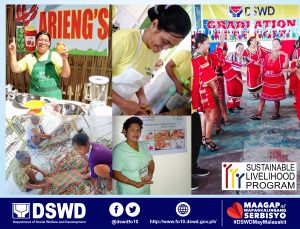 The Sustainable Livelihood Program (SLP) of the Department of Social Welfare and Development will take part in the provision of livelihood assistance to drug surrenderers, in support to the Duterte administration's National Drug Rehabilitation Program (NDRP) specifically under the Pillar 3 or the Aftercare, Reintegration and Transformation Support for Recovering Drug Dependents.
The SLP is a community-based capacity building program of the department that aims to improve the socio-economic condition of the program beneficiaries by facilitating opportunities for development and management of resources viable for micro-enterprises and employment facilitation.
For the year 2017, the program aims to assist additional 26,300 poor families, by adopting a more participatory approach in all stages of program operation from planning to implementation and monitoring and evaluation.
In 2016, through the collaborative efforts of the department, National Government Agencies, Local Government Units, CSOs and other partner institutions, 22,634 families have received livelihood assistance under SLP. From these families, about 12,008 were trained and provided with capital assistance amounting to Php74,427,538.57 to develop their own micro-enterprises. Meanwhile, the remaining 10,626 families were provided with technical vocational skills trainings and directly referred to partner agencies for local and international employment.
The SLP also implemented special projects such as the Bottom-Up Budgeting or BuB and PAMANA or Payapa at Masaganang Pamayanan. This is in collaboration with identified local government units, with a budget allocation of Php4,800,000.00 and Php1,000,000.00 respectively, for the year 2016.
Written by Jamila M. Taha
###