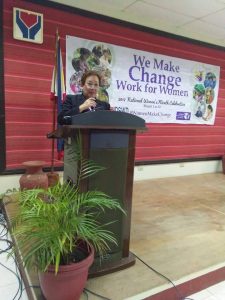 In culmination of the National Women's Month celebration, the Department of Social Welfare and Development through the Policy and Plans Division, Women Sector, and in coordination with various partner organizations in the region recently conducted a culmination program for the month long celebration.
With this year's theme "We make Change Work for Women," various activities were conducted to give due recognition to women in society, who plays a crucial role not only in their families but also in the community as a whole.
This year's theme also revolved around the impact of women towards change not only within themselves but also in their respective families and the locality where they are a part of.
One of the highlights of the activity were discussions on the Expanded Magna Carta for Women   and Magna Carta for Migrant Workers. Resource persons were from the Commission on Human Rights in the person of Atty. Pilipinas C. Palma (Atty. IV) and Ms. Fides Teresa M. Cabana (Information Officer II).
Participants of the activity included representatives of various women organizations in Northern Mindanao.
Other activities also included video showing and zumba session.  Client residents from the Home for Girls also participated in the said activity.
Assistant Regional Director for Operations, Aldersey dela Cruz, in her message lauded the women who have continued to play a very important role not only at home but also, in the communities where they belong.
She also stressed that women through time, have evolved from that of being merely homemakers to playing significant roles and responsibilities in the development of their society.  She also encouraged the participants to keep doing what they have started to do in being effective and efficient partners of men not only at home but also in their respective localities.
Written by, Mitzie Santiago,DSWD