Marawi Clash Incident Briefer
(As of 12 NOON June 25, 2017)
Date of incident: May 23, 2017
Type of incident: Armed conflict
Location: Marawi City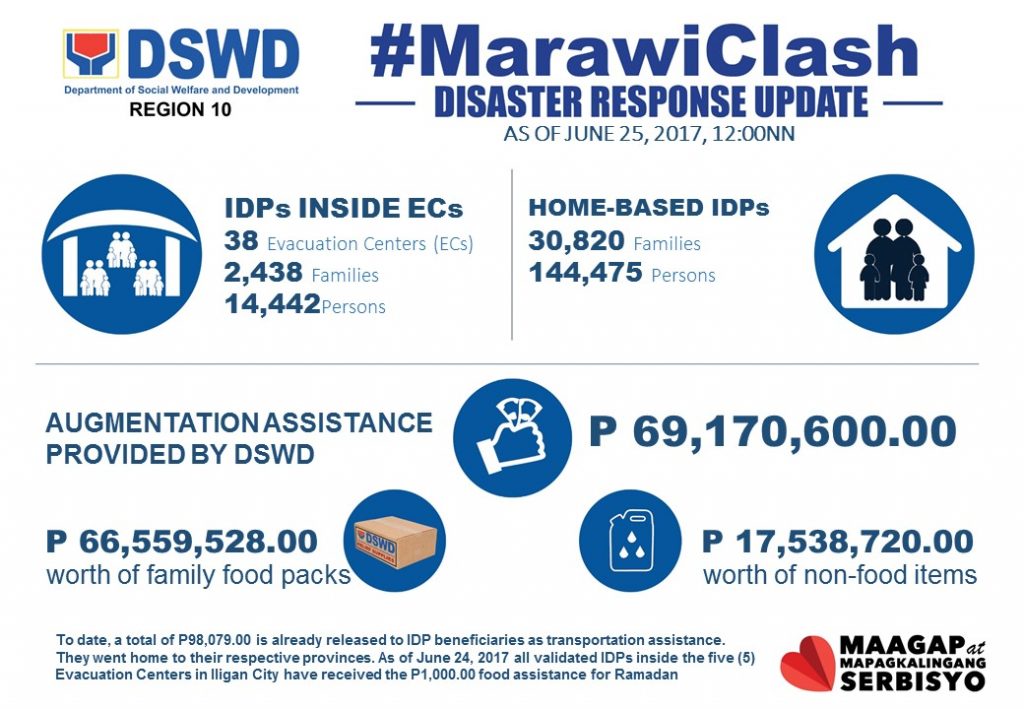 The total number of IDPs served in the Region increases to 33,258 families or 158,917 persons. There are currently 38 evacuation centers housing 2,438 families or 14,442 persons. The number of home-based families total to 30,820 or 144,475 persons.
For the whole province of Lanao del Norte including Iligan City, the total number of IDP families increased to 28,555 or 140,114 persons. The number of families inside evacuation centers including Iligan City is 2,435 or 14,428 persons.
For Iligan City alone, the number of IDP families served increases to 15,474 or 78,903 persons. There are 771 families sheltered in evacuation centers or 7,126 persons, while the number of home-based families served is now 14,703 or 71,777 persons.
Five Evacuation Centers are still existing and operational in Iligan City namely: Buru-un School of Fisheries, Buru-un Gym, Tibanga Gym, Bayanihan Gym, and Ma. Cristina Gym.
In Misamis Oriental, the number of IDP families served remain at 4,185 or 16,767 persons; three (3) families or 14 persons staying in the lone evacuation Center situated in Barangay Indahag, Cagayan de Oro City.
In Bukidnon, the number of IDP families served remain at 423 families or 1,561 persons who are all home-based or staying with their relatives in the municipalities of Kalilangan, Lantapan, Pangantucan, San Fernando and the cities of Malaybalay and Valencia.
In Misamis Occidental, the number of IDP families served remain at 95 families or 475 persons who are all home-based temporarily residing in four barangays of Ozamiz City namely: Brgy. Maningcol, Brgy. Tinago, Brgy. San Antonio, and Brgy. Gango.
Total cost of assistance extended to IDPs amounts to P69,170,600.00 of which P66,559,528.00 is extended by DSWD. Breakdown of Cost assistance is P49,020,809.00 for Family Food Packs and P17,538,720.00 for non-food assistance.
Government agencies: Bureau of Fisheries and Aquatic Resources (BFAR-10), Department of Agriculture (DA) and DA-regions 10, 12, 9), Office of Civil Defense (OCD) and the Local Government Unit (LGU) of Compostela Valley also provided relief assistance for the IDPs through the DSWD Field Office X, recorded, as of June 23, 2017. The items comprise mostly of food and non-food items.
The Province of Lanao del Norte provided P1,852,443.00 for IDPs and Non-Government Organizations (NGOs) also provided a total of P758,629.00 as recorded, as of June 25, 2017.
Bacolod, Lanao del Norte Mayor Joselito E. Miquiabas agreed to temporarily house the DSWD Tents coming from DSWD Central Office at the LGU. The DSWD Tents will be utilized as temporarily shelters for the IDPs in evacuation centers.
The DSWD addresses the concern of the Internally Displaced Persons (IDPs) housed in the Madrasa Campong in Pantar, Lanao del Norte by setting up temporary tents near the area. The Madrasa, of which the IDPs are housed, will open for classes after Eid'l Fitr. Students of Arabic learning will begin their classes after the Eid, thus the need to transfer the IDPs to another location nearby. Similar temporary shelters will be installed in evacuation centers in Iligan City, Balo-i, and Pantao Ragat.
For IDPs with missing relatives or friends, they are advised to coordinate with the Office of Civil Defense in their respective areas. The Office of Civil Defense is the primary agency for coordination with regards to missing persons and other related concerns.
For IDPs in evacuation centers who wish to avail of transportation assistance or the Balik Probinsiya Program, they may ask the Camp Managers for referral letter to be submitted to social workers assigned at the Operations Center, who will assess them if they are qualified or not based on their Disaster Assistance Family Access Card (DAFAC) and Barangay Certification.
To date, a total of P98,079.00 is already released to IDP beneficiaries as transportation assistance. They went home to their respective provinces.
IDPs can avail of both food and non –food assistance upon the endorsement from the Local Government Units through the Municipal City Social Welfare and Development Officers in the areas where they are temporarily residing for home-based IDPs and camp managers for IDPs living inside the evacuation camps.
The Department of Social Welfare and Development (DSWD) Field Office X facilitates the on-going distribution of the P1,000.00 food assistance for Ramadan to all validated IDPs. As of June 24, 2017 all validated IDPs inside the five (5) Evacuation Centers in Iligan City have received the P1,000.00 food assistance for Ramadan.
DSWD-X has been continuously joining the Regional Coordination Command Center meeting along with the Office of Civil Defense, DSWD-ARMM, DOH and other agencies for regular updating, resolution of issues and point of collaboration pertaining to the disaster operation.
#DSWD MayMalasakit #MaagapAtMapagkalingangSerbisyo