DSWD-10 Disaster Relief Update (as of July 19, 2017, 12:00PM)
Date of incident: May 23, 2017
Type of incident: Armed conflict
Location: Marawi City
The total number of IDPs served in the region is 54,288 families or 233,228 persons. There are currently 35 evacuation centers in Region 10 housing 2,803 families or 13,156 persons. The number of home-based families total to 51,485 or 220,072 persons.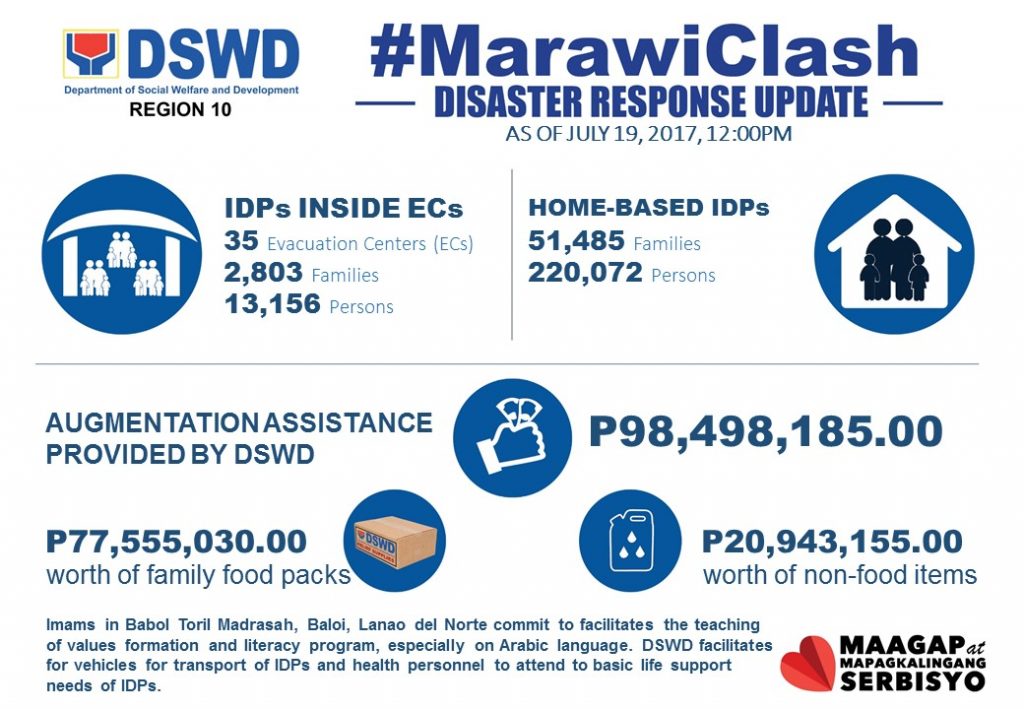 The number of active Evacuation Centers (ECs) in Region 10 is as follows: Iligan City – 5; Balo-i – 11; Pantar – 1; Pantao Ragat – 17; Cagayan de Oro City – 1.
For the whole province of Lanao del Norte including Iligan City, the total number of IDP families served increases to 45,993 or 207,647 persons. The number of families inside evacuation centers served, including Iligan City, is 2,798 or 13,137 persons. Home-based Families served in Lanao del Norte, including Iligan City, is 43,195 or 194,510.
For Iligan City alone, the number of IDP families served is 27,436 or 121,693 persons. There are 813 families sheltered in evacuation centers served or 3,919 persons, while the number of home-based IDP families served is 26,623 or 117,774 persons.
Five Evacuation Centers are still operational in Iligan City namely: Buru-un School of Fisheries, Buru-un Gym, Tibanga Gym, Bayanihan Gym, and Ma. Cristina Gym.
In Misamis Oriental, the number of IDP families served remains at 7,546 or 22,175 persons; five (5) families or 19 persons staying in the lone evacuation Center situated in Barangay Indahag, Cagayan de Oro City are served. The number of home-based IDP families served remain at 7,541 or 22,156 persons.
In Bukidnon, the number of IDP families served is 634 families or 2,879 persons who are all home-based or staying with their relatives in the municipalities of Kalilangan, Lantapan, Pangantucan, San Fernando, Baungon, Maramag and the cities of Malaybalay and Valencia.
In Misamis Occidental, the number of IDP families served remain at 115 families or 527 persons who are all home-based temporarily residing in barangays of Ozamiz City and Oroquieta City.
Total cost of assistance extended to IDPs amounts to P103,655,646.00 of which P98,498,185.00 is extended by DSWD. Breakdown of Cost assistance is P77,555,030.00 for Family Food Packs and P20,943,155.00 for non-food assistance.
Local government units provided P2,180,668.00 for IDPs and Non-Government Organizations (NGOs) also provided a total of P2,976,794.00 as recorded.
DSWD Field Office 9 augments camp managers of evacuation centers in Iligan City and Lanao del Norte areas hosting ECs to ensure continuation of psycho-social support activities inside camps in coordination with other national government agencies and humanitarian organizations.
Outgoing camp managers of DSWD Field Office 9 provided supplies like basketball and volleyball balls. They used the supplies in various activities involving children, women, and men to bring them back their lives to normalcy while staying inside the camps.
Imams in Babol Toril Madrasah, Baloi, Lanao del Norte commit to facilitates the teaching of values formation and literacy program, especially on Arabic language.
DSWD facilitates for vehicles for transport of IDPs and health personnel to attend to basic life support needs of IDPs.
DSWD-10 reiterates the importance of private individuals or companies to coordinate and collaborate with DSWD personnel managing the evacuation centers when they have, or wish to have activities, or any matter related to IDPs as one of the main concerns of the field office is the security of the IDPs housed in the evacuation centers.
#DSWDMayMalasakit