DSWD FO X Disaster Response Update (8/3/2017,12:00PM)
Date of incident: May 23, 2017
Type of incident: Armed conflict
Location: Marawi City
The total number of IDPs served in the region remains at 55,647 families or 235,992 persons. There are currently 35 evacuation centers in Region 10 housing 2,802 families or 13,162 persons. The number of home-based families served remains at 52,845 or 222,830 persons.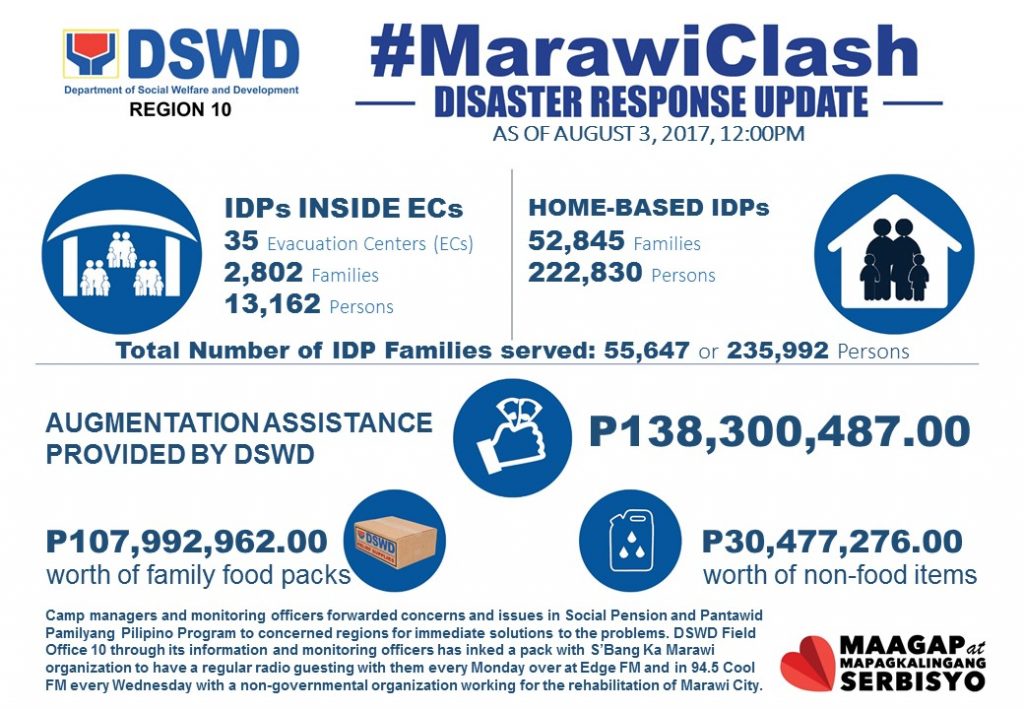 The number of active Evacuation Centers (ECs) in Region 10 is as follows: Iligan City – 5; Balo-i – 11; Pantar – 1; Pantao Ragat – 17; Cagayan de Oro City – 1.
For the entire province of Lanao del Norte, including Iligan City, the total number of IDP families served remains at 47,343 or 210,370 persons. The number of families inside evacuation centers served, including Iligan City, is 2,797 or 13,143 persons. Home-based Families served in Lanao del Norte, including Iligan City, remains at 44,546 or 197,227.
For Iligan City alone, the number of IDP families served remains at 27,645 or 119,764 persons. There are 814 families sheltered in evacuation centers served or 3,844 persons, while the number of home-based IDP families served remains at 26,831 or 115,920 persons.
Five Evacuation Centers are still operational in Iligan City namely: Buru-un School of Fisheries, Buru-un Gym, Tibanga Gym, Bayanihan Gym, and Ma. Cristina Gym.
In Misamis Oriental, the number of IDP families served is 7,546 or 22,175 persons; five (5) families or 19 persons staying in the lone evacuation Center situated in Barangay Indahag, Cagayan de Oro City. The number of home-based IDP families served is 7,541 or 22,156 persons.
In Bukidnon, the number of IDP families served is 634 families or 2,864 persons who are all home-based or staying with their relatives in the municipalities of Kalilangan, Lantapan, Pangantucan, San Fernando, Baungon, Maramag and the cities of Malaybalay and Valencia.
In Misamis Occidental, the number of IDP families served remains to 119 families or 545 persons who are all home-based temporarily residing in barangays of Ozamiz City and Oroquieta City.
In Camuigin Province, there are 5 home-based IDP families served or 38 persons, staying in the Municipality of Sagay.
Total cost of assistance extended to IDPs amounts to P147,999,422.00 of which P138,300,487.00 is extended by DSWD. Breakdown of Cost assistance is P107,922,962.00 for Family Food Packs and P30,477,276.00 for non-food assistance.
Local government units provided P5,137,818.00 for IDPs and Non-Government Organizations (NGOs) also provided a total of P4,567,117.00 as recorded.
DSWD Field Office 9; DOH, Community and Family Services International, Philippine National Red Cross, Health Organization for Mindanao, conducted pycho-social support activities in the evacuation camps of Baloi, Pantao Ragat, and Pantar in Lanao del Norte and in Iligan City. They conducted drawing and play therapy.
CALI organization taught English, Mathematics, Filipino, and Science as part of the numeracy and literacy program of the organization for the IDPs inside evacuation center.
International Office of Migration met DSWD Field Office 10 Regional Director Nestor Briones Ramos to update on IOM's assessment of IDPs inside evacuation centers in Baloi and Pantao Ragat for possible decongestion of congested camps and putting up of division for every IDP family for privacy.
IOM also disclosed plans for the development of bank houses in the identified tent city in Landa, Baloi.
Camp managers and monitoring officers forwarded concerns and issues in Social Pension and Pantawid Pamilyang Pilipino Program to concerned regions for immediate solutions to the problems.
DSWD Field Office 10 through its information and monitoring officers has inked a pack with S'Bang Ka Marawi organization to have a regular radio guesting with them every Monday over at Edge FM and in 94.5 Cool FM every Wednesday with a non-governmental organization working for the rehabilitation of Marawi City.
DSWD provided transportation assistance to IDPs who requested for assistance in going to the place of their families/relatives to settle down for good.
Camp managers facilitated to DOH the medication/hospitalization of two IDPs inside Buruun Gymnasium who have been infected with Tuberculosis. One is reportedly hospitalized while the other undergoes self-medication.
Health Organization for Mindanao conducted monitoring of weights of IDP children aged 5 years old and below in evacuation camps in Baloi and Pantao Ragat.
IOM put up division of the laundry area and bathing area of the Buruun Gymnasium to cover the area. This will give privacy to the IDPs since the area is along the national highway.
Rotary Club distributed hygiene kits for IDPs inside Tibanga Gymnasium Evacuation Center.
DSWD camp managers facilitated IPDs who need immediate psycho-social interventions and psychiatric treatment in the National School of Fisheries Evacuation Center, Buruun, Iligan City to DOH and a humanitarian organization. The two, who are sisters, have manifestation of psychological imbalance.
Rotary Club distributed kitchen wares in Tibanga EC. Julies Bakeshop distributed bread in Tibanga EC. Tribal Pastors Bukidnon distributed vegetables and banana to ECs in Iligan City. Robinsons Place Iligan distributed goodies, stuffed toys, and surplus clothes to IDPs in Tibanga EC.
DSWD-10 reiterates the importance of private individuals or companies to coordinate and collaborate with DSWD personnel managing the evacuation centers when they have, or wish to have activities, or any matter related to IDPs as one of the main concerns of the field office is the security of the IDPs housed in the evacuation centers.
#DSWDMayMalasakit