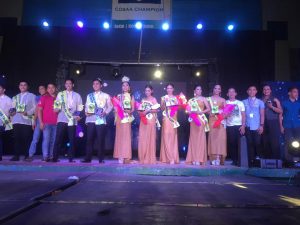 With this year's theme 43rd Years of Meaningful, Youthful Participation towards a drug-free Nation", the Pag-asa Youth Association of the Philippines (PYAP) recently celebrated its 43rd Anniversary celebration which was hosted by the City of Cagayan de Oro, with the support from the Department of Social Welfare and Development Field Office X.
The three-day affair was participated by youth delegates from various localities and cities in the region namely: Gingoog City, Malaybalay City,Valencia City, Ozamiz City, Province of Bukidnon, Ozamiz City, Province of Lanao del Norte, and Cagayan de Oro City.
Various activities were conducted which included a Sportsfest, Sulong Dunong Contest, Poster Making Contest, Essay Writing Contest and the high light of the celebration, the Search for Mr. and Ms. PYAP 2017.
The Pag-asa Youth Association of the Philippines, Inc. or PYAP is a duly constituted barangay based organization for the out- of school-youth between 15-30 years' old who are clientele of the DSWD.
The PYAP is organized nationwide and is federated from the Municipal, City/Provincial, Regional and national level.
The PYAP Federation of different levels serves as a strategy that provides forum to discuss youth issues and concerns related to their projects and come up with solutions/recommendations addressed to both the youth and other system involved in program planning and implementation.
The youth, being one of the most active and influential sectors in the communities also have their share as far as promoting the involvement and participation of the youth is to the localities where they are part of.
The City of Cagayan de Oro allotted a total amount of 1 million pesos for the said Anniversary celebration while the Department of Social Welfare and Development assisted in the facilitation of the events and donated for the prizes, plaques, and certificates of the winning delegates for the various events.
Assistant Regional Director. for Operations, Aldersey Mumar dela Cruz, who represented Regional Director Nestor Ramos, in her welcome message, encouraged the youth to continue doing what they have started to do as role models in their respective communities.  She also stressed that the youth, is the motivating force of the present leaders to strive to do the best that they can to find resolutions to every challenge and obstacle as they, would always want the best for the youth, being the future generation.
Written by Mitzie Santiago,DSWD