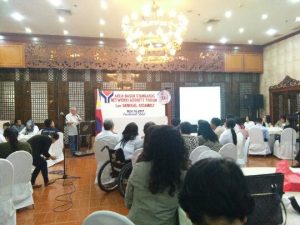 The Area Based Standards Network (ABSNET) recently conducted a Forum cum General Assembly.  It was participated in by representatives from various Social Welfare and Development Agencies duly registered, licensed, and accredited by the Department of Social Welfare and Development.
Highlights of the activity included discussion on Philippine Council for NGO Certification by Dr. Rosalina Huerbana , Executive Director of Safer River, Life Saver Foundation of Liceo de Cagayan University and accreditor of Phil Council for NGOs (PCNC).  Branch Manager for Philippine Charity Sweepstakes Region 10 also discussed on how to avail medical assistance from the said Agency.
Regional ABSNET Federation President, Mr. Michael Casey also reported on the Regional Accomplishment of ABSNET from the first to the early fourth quarter of the year.
The said forum cum general assembly was graced with the presence of Director Marites Maristela from the Standards Bureau of the Central Office.   In her message, she congratulated the participants for their accomplishments in the region.  She also discussed on the Standards Bureau Strategic Initiatives and Priorities for the Calendar Year 2018.
ABSNET is a strategy to form a participative and collaborative endeavor among registered, licensed and accredited Social Welfare and Development Agencies in the region, who also assists the DSWD in monitoring the implementation of Social Welfare and Development programs and services for the disadvantaged and vulnerable sectors they serve.
Written by, Mitzie Sarballon-Santiago, DSWD