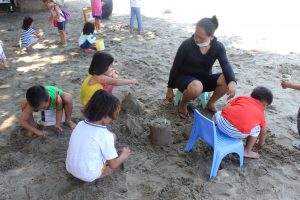 The Reception and Study Center for Children (RSCC), a facility run by the Department of Social Welfare and Development Field Office X, provides a homelike environment where children feel at home and safe during their stay. Aside from their daily recreational activities in the center, children regularly have outdoor activities such as offering them opportunities for physical activity, freedom and movement, and promoting a sense of well-being. Outdoor activities are regularly conducted for the children in RSCC to enable them to have a closer experience with nature.
Since beach swimming expands the children's horizon to discover nature and serves as a therapeutic approach in addressing their anxieties, the children residents of RSCC recently had their outdoor activity held at Marvilla Beach Resort, Opol, Misamis Oriental last February 15, 2018. The children with special needs also had a chance to dip at the beach and benefited from the natural healing effect of sea water.
Once can see that the children had a lot of fun playing through the interactive games facilitated by the RSCC staff. During the said activity, the children whose birthdays fall on the month of February were also recognized by blowing of candles on their cake.
The Department of Social Welfare and Development is mandated to protect the welfare of the children, including the children residents of RSCC. While they are still under the custody of the DSWD, the latter assures that their welfare and their stay at the RSCC will be something that is meaningful and worthwhile.
Written by Faith M. Sabulana, DSWD / Rosanel P. Pague, DSWD