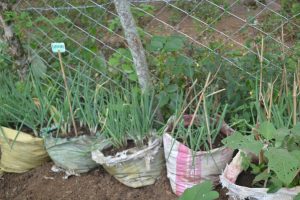 Pangantucan, Bukidnon — Sally Joy Falcis, a barangay health worker here, inspects her gardeearly in the morning daily, taking out weeds and watering the plants.
The 31-year old Pantawid Pamilyang Pilipino Program beneficiary of Barangay Madaya, a 45-minute ride away from the Poblacion, tends a backyard garden planted with a wide variety of vegetables. Sally and her husband, Eduard, cultivate their garden in order to grow healthy vegetables.
Sally adopted the bio-intensive gardening method in growing their plants. Trained by the municipal agriculture office, Sally grows Baguio Beans, Ladies Fingers or locally known as Okra, String Beans, Sweet Potato, Alogbati (Basella Alba), Horse Radish, Chinese Cabbage, Eggplant, and Amplaya (Momordica Charantia).
Waste Segregation
Sally and her family uses recycled and processed waste materials in taking care of the vegetables in their garden.
Setting up an improvised trash recovery material facility: Malata (biodegradable materials; Dili Malata (non-biodegradable), and Mapuslan (recyclable materials); the family members sees to it that household wastes are segregated.
The family dumps biodegradable materials into the compost pit so that they will have an organic fertilizer when it decomposed, while plastic bags and used containers are filled with soil by the family for their garden. They call this method as "bagging" to prevent chicken and other domestic animals from destroying newly planted vegetables. Bagging also prevents soil erosion by rain waters.
The family also uses dung from their domesticated chickens as fertilizer to their vegetables.
Community participation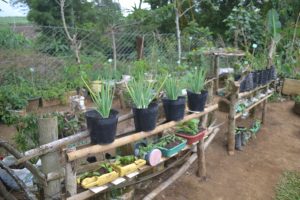 Sally is one of the 91 Pantawid Pamilya household beneficiaries of Barangay Madaya who adopted bio-intensive gardening in this village. Madaya is home to a population of 1,294 according to the 2010 Census of Population and Housing of the Philippine Statistics Authority.
Meanwhile, another Pantawid Pamilya beneficiary in Madaya village Cheryl Poringuez, 50, said she and her family always get their nutritional needs from their grown vegetables.
With 10 children, four of whom are her dependents, Cheryl feeds her children with vegetables on the table daily. She cooks and serves vegetables in a variety of ways to encourage her children to eat the nutritious food.
Madaya Barangay Councilor Jemuel Palabrica discloses that Pangantucan Mayor Miguel Silva Jr issued a memorandum order on backyard gardening dated May 9, 2017. Furthermore, Palabrica enthused that his village had since intensified its campaign to every resident to plant vegetables in their backyard.
Mayor Silva, in his memorandum order number 047-05-2017 issued to all barangay captains, directed the village chiefs to monitor the gardening activities of the 4Ps members.
Vegetable planting, Silva said, will help solve malnutrition in the town, adding that barangay captains shall check regularly the backyard gardens of 4Ps members.
The barangay captain shall then issue a compliance certificate to every 4ps household for free for the Municipal Inter-Agency Committee to monitor the compliance of the beneficiaries.
To support the call of the mayor, the Barangay Council of Madaya and all other 18 barangays of Pangantucan passed and approved an ordinance urging all 4Ps and non-4Ps beneficiaries to have backyard gardening using the organic method.
Palabrica disclosed that his barangay has been providing free vegetable seeds such as carrots, baguio beans, okra, eggplant, among others to residents.
He notes that the council has been purchasing P1,500.00 worth of vegetables seeds for distribution to its residents quarterly.
Furthermore, he says that the council will continue to enforce the ordinance to ensure nutritious food will be served during meals in every family.
The onset of the dry spell here, affecting the produce for more than a month to date, farmers like Sally need to water the plants daily to prevent its soil from drying up.
==
Photos by Jerome Humawan, FDS focal and Oliver Badel Inodeo, Pantawid Pamilya Information Officer.