MARAMAG, Bukidnon — Finishing her college education is the only way out for Charmaine T. Noynay of Purok 4, Base Camp here from a life filled with hardship.
Charmaine, a public secondary school teacher at Bukidnon National School of Home Industries (BNSHI), is a former Pantawid Pamilyang Pilipino Program (4Ps) beneficiary.
Among six siblings, Charmaine is the first to finish college at the Central Mindanao University in 2016.
"I have three siblings who finished high school, but did not continue to college due to our financial instability," she said, adding that it was her dream to finish her tertiary education and improve the well-being of her family.
"As the fourth child, it has always been my dream to finish my studies no matter what it takes. It has come to me that my family's future has to change, especially with my two younger siblings," Charmaine said.
She builds a house
When she got her first pay, Charmaine started to buy construction materials for her dream house here.
Erected beside the older house, Charmaine still can't believe that her dream of building a new house for her family is now a reality.
Construction is still on going
The Provincial Schools Division of Bukidnon of the Department of Education hired Charmaine after she passed the Licensure Examination for Teachers last year and assigned her to handle Mathematics subjects at BNSHI here.
A life filled of hardship
Her father is a farmer-laborer, while her mother is a housewife.
"We belong to the poverty line and that is very evident in our household. We are eight in the family. My father is a farmer-laborer and my mother is a housewife," Charmaine disclosed.
"When I was about to graduate in 2016, my father was only earning P300 a week and that's not even fixed. My mother was earning as well but only for our daily needs," said Charmaine.
"My first two years in the university was the hardest years of my life. My allowance was not constant. Sometimes, I don't even have an allowance. No matter how much I budget my money, it is still not enough. I always borrow photo copies from my classmates so I could study for our tests," she said, adding that, "but no matter how difficult it was, I had always prayed for strength so I could keep going."
"My academics have never been easy also. I may not be that intelligent but I always study hard so I could maintain my grades and still be in the scholarship program of the university," Charmaine explained.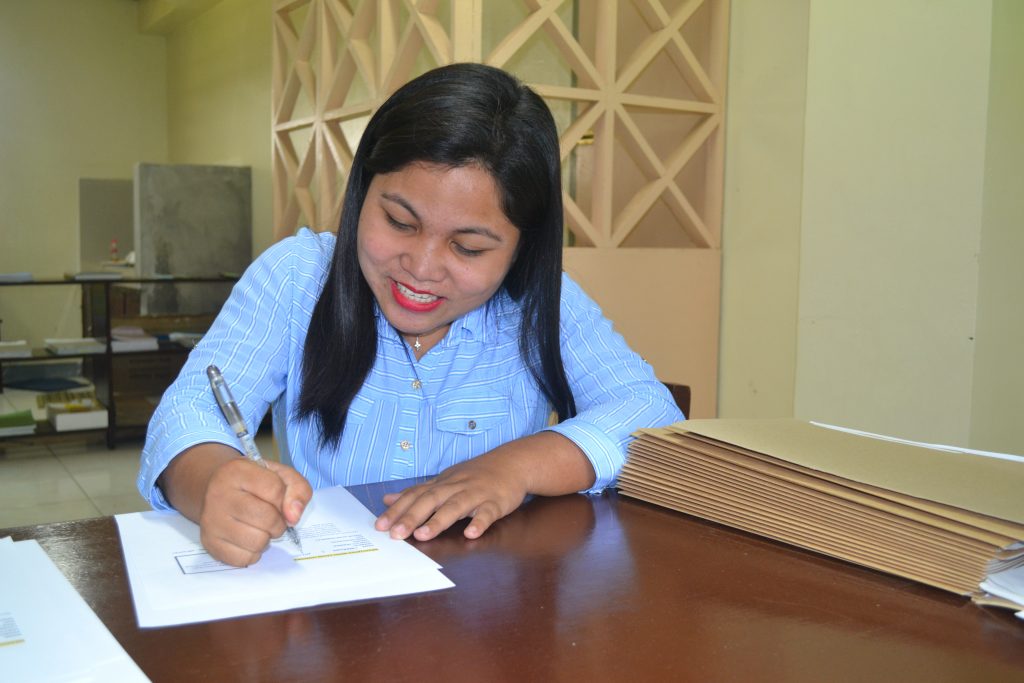 ESGP-PA helps her achieve dream
It was in her third year in college when she became a beneficiary of the Expanded Student Grant-in-Aid Program for Poverty Alleviation (ESGP-PA).
The ESGPPA is implemented by the Commission on Higher Education together with the Department of Social Welfare and Development (DSWD) through the Pantawid Pamilyang Pilipino program (4Ps), Department of Labor and Employment (DOLE) and State Universities and Colleges (SUCs).
"The program helped me a lot especially on my allowance and school fees. I was assured that I could continue my studies and finish it on time because the program is very generous to the grantees," Charmaine said.
Charmaine considered the program as her greatest blessing during her college years.
"My life has become better after I graduated and I am grateful for the program for helping me reach my dreams. I do hope the program (4Ps) will continue to help a lot of students who dream not just for themselves, but for their family also and for the country's future as a whole," said Charmaine.
"Yes, I graduated Cum Laude, but the success wasn't mine alone. The success was mine to share with my beloved family, who were my greatest motivators and inspirations and to the persons behind the amazing program which aided my education," continued Charmaine.
"I pray that the program will continue to serve the poor, but deserving students," said Charmaine, thanking God for her achievement.
Charmaine is currently taking her master's degree at CMU. She is planning to finish a doctorate degree to earn a title as a statistician of the Department of Education.