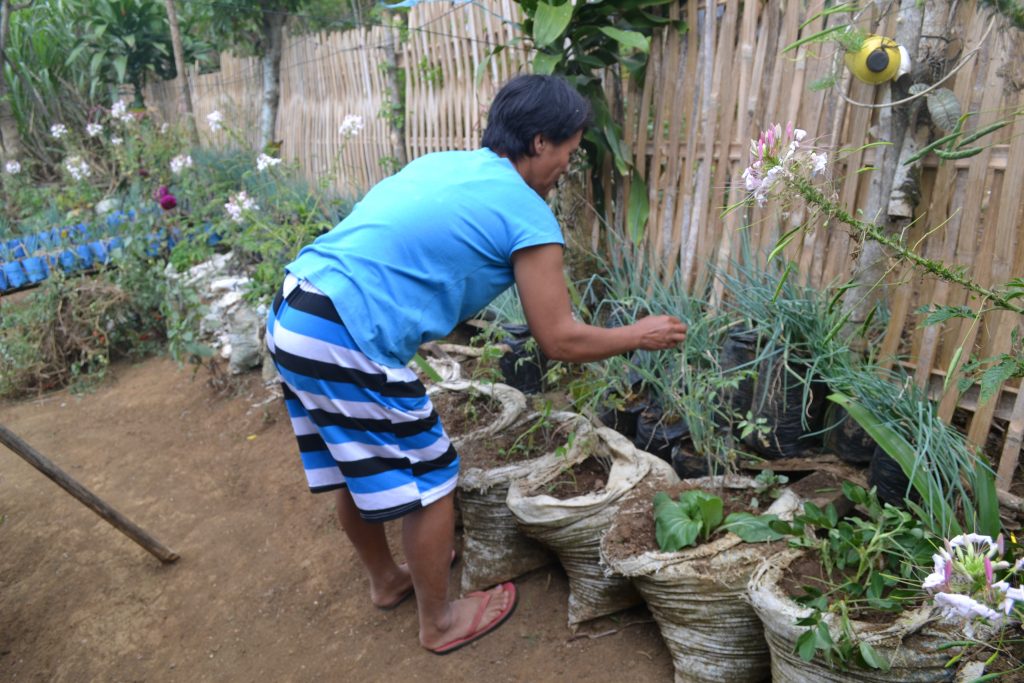 PANGANTUCAN, Bukidnon — Eva Tamong of Barangay Concepcion here does not need to buy meat every time she prepares a meal for her family.
The 50-year-old Pantawid Pamilya beneficiary cooks vegetables to pair it off with rice daily, a strategy she has been using to save money for the family's daily needs.
She is not buying the vegetables, either. Instead, picks it up from the garden she and her family has been cultivating for years to help them meet their food intake needs.
The family grows Baguio Beans, Ladies' Fingers or locally known as Okra, String Beans, Sweet Potato, Alogbati (Basella Alba), Horse Radish, Chinese Cabbage, Eggplant, Spring Onions, and Amplaya (Momordica Charantia) in its backyard.
The garden does not only serve the family's food intake needs, it also gives Eva an opportunity to earn an income out of taking care of the plants.
Eva earns an average of P50 a month from her Spring Onions and another P100 from the varieties of leafy vegetables.
This extra income complements the seasonal income of her husband, Felipe, a Civilian Volunteers Organization member of this barangay, who formerly worked at a banana plantation company here.
Organic Fishpond
Aside from the vegetables garden, Eva's family dug a two-meter deep pond for tilapia for their consumption.
The family feeds the tilapia fish with chopped vegetables leaves and chicken dung.
To date, the family has harvested tilapia fish four times and momentarily rears 1,500 tilapia fingerlings.
LGU gives free vegetables seeds
The Municipal Agriculture Office distributes free vegetable seeds through its volunteers and barangay officials.
The free seeds distribution is in line with the local government unit's effort to implement backyard gardening among residents of the town, especially 4Ps beneficiaries.
Pangantucan Mayor Miguel Silva Jr issued a memorandum order on backyard gardening dated May 9, 2017.
Mayor Silva, in his memorandum order number 047-05-2017 issued to all barangay captains, directed the village chiefs to monitor the gardening activities of the 4Ps members.
Vegetable planting, Silva said, will help solve malnutrition in the town, adding that barangay captains shall check regularly the backyard gardens of 4Ps members.
The barangay captain shall then issue a compliance certificate to every 4Ps household for free for the Municipal Inter-Agency Committee to monitor the compliance of the beneficiaries.
Teaching kids while young
Eva and her husband, Felipe, have been farming since they got married.
The parents claimed they introduce vegetables to their eldest child, Rachel, 25; when she was still a child. Now, Rachel has her own family and she introduced vegetables to her child, too.
Aside from that, Eva introduced farming to Rachel while she was still a child, bringing her to their garden when harvesting fresh green beans, tomatoes, spring onions, among others.
Maintaining a garden even before becoming a beneficiary of 4Ps, Eva said she and Rachel would gladly share the crops with family and neighbors.
Today, Eva is also teaching their youngest son, Renel, on farming and eating vegetables, a passion for food and sharing she would like to continue to her next generation.
Concepcion has a population of 658 according to the 2010 Census of Population and Housing of the Philippine Statistics Authority. Of this number, 62 households are Pantawid beneficiaries. But, all residents of the village are into backyard gardening and farming.