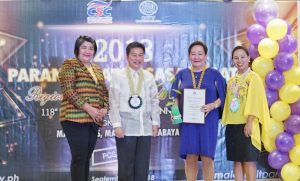 DSWD Field Office 10 Assistant Regional Director for Operations Aldersey Mumar-dela Cruz receives the Civil Service Commission (CSC) Dangal ng Bayan Award for the 2018 Search for Outstanding Government Workers.
The award is presented during the 2018 Parangal at Pasasalamat event of the CSC, celebrating the 118th Philippine Civil Service Anniversary, September 27, 2018, SM City Cagayan de Oro.
Director Dela Cruz says: "No words can properly express my immense feeling of gratitude to all of you who are instrumental in bestowing upon me the Dangal ng Bayan Award, which is awarded to an individual for performance of an extraordinary act or public service and consistent demonstration of exemplary ethical behavior.
I am truly blessed to have such a wonderful DSWD Family throughout Field Office 10, headed by RD Nestor Briones Ramos, for giving me the chance to efficiently serve and dedicate myself to our clientele: the poor, disadvantaged, and vulnerable sectors of Northern Mindanao.
This award is for all of you. Please allow me to express my appreciation with a sincere and profound thank you to all of you.
To my fellow workers of DSWD, no matter what kind of job you perform under the DSWD, please know that your labor is not in vain as every task you accomplish helps the Department achieve its strategic goals, which include helping to alleviate the lives of the poor from poverty. I urge you, my fellow public servants to uphold the principle of honesty and integrity, and to continue to provide dedicated public service to our clients.
I have always been proud of you as I have seen your dedication and strong commitment to providing excellent government service to the people that we serve—the poorest of the poor, the vulnerable, and the disadvantaged Filipinos in Northern Mindanao.
Truly, this award is a manifestation of the continuous commitment of DSWD workers to render service to the clientele na Tapat, May Malasakit, at Walang Puwang sa Katiwalian.
This award is both a challenge and inspiration to me. Challenge because I need to beat my best in rendering the DSWD's Maagap and May Malasakit na Serbisyo. On the other hand, this award inspires me to push myself with utmost humility and dedication to cater to the needs of our workers, partner-stakeholders, among others.
Lastly, I would like to share with you this word of wisdom according to John Baldoni, an internationally recognized executive coach and leadership educator, When people act humbly, they are acknowledging their limitations and accepting that they cannot go it alone. This mindset is valuable to a team because it serves as an invitation for others to help. Humility, however, is not an excuse for slacking. It also means having the willingness to help others do their jobs when the need arises. It is a means for allowing different personalities to coordinate with each other.
Mabuhay po tayong lahat!
Written by Oliver B. Inodeo and Shaun Alejandrae Uy, DSWD