By Evangelina B Blaya, Community Empowerment Facilitator
The Municipality of Aloran in Misamis Occidental is a fourth class municipality with a total of 27,625 people according to the 2015 population census. The municipality 38 barangays and is blessed with the Mimolan Falls – covered with a thick forest that is abundant with rare flora and fauna in Barangay Roxas and Macubon Shrine Natural Spring and beaches, and is also home to the "Bunga Dag Tabinal Festival" in September of each year.
Amidst these natural beauties, Aloran's communities still long for access to some necessary basic services.
Labo is one of the 38 barangays in Aloran that lacks road access, aside from the dangers lurking behind each muddy, treacherous trip on the trails – it is quite difficult for them to deliver their farm commodities to the market, as they lack a decent access road.
The Department of Social Welfare and Development (DSWD) Kapit-Bisig Laban sa Kahirapan Comprehensive and Integrated Delivery of Social Services (Kalahi-CIDSS) – National Community Driven Development Program (NCDDP) reached the Municipality of Aloran, Misamis Occidental bringing along opportunities for the beneficiaries.
The community of Barangay Labo is now able to participate in nation building through community-driven development; through capacity building activities and seminars, they acquire knowledge on how to implement, monitor, and sustain the program and their community sub-project.
Barangay Labo, Aloran, Misamis Occidental declarated that the community was deprived of a safe and comfortable trip to and fro the barangay, adding that the farm products, which are the main source of their income, were constantly damaged during delivery due to a very rough road, forcing them to sell these on cheaper prices.
DSWD Kalahi-CIDSS facilitated a series of barangay assemblies in Labo and discussed processes that introduced the community to the possibilities of improving their accessibility to the main town which is 2 kilometers away from their barangay.
The community decided that the community sub-project will be the concreting of 0.184 kilometer barangay road (with reinforced concrete single barrel box culvert) which spans from Barangay Labo proper to the municipality proper.
The community and residents of Labo are hopeful that through this sub-project people and vehicles can now pass the road with ease,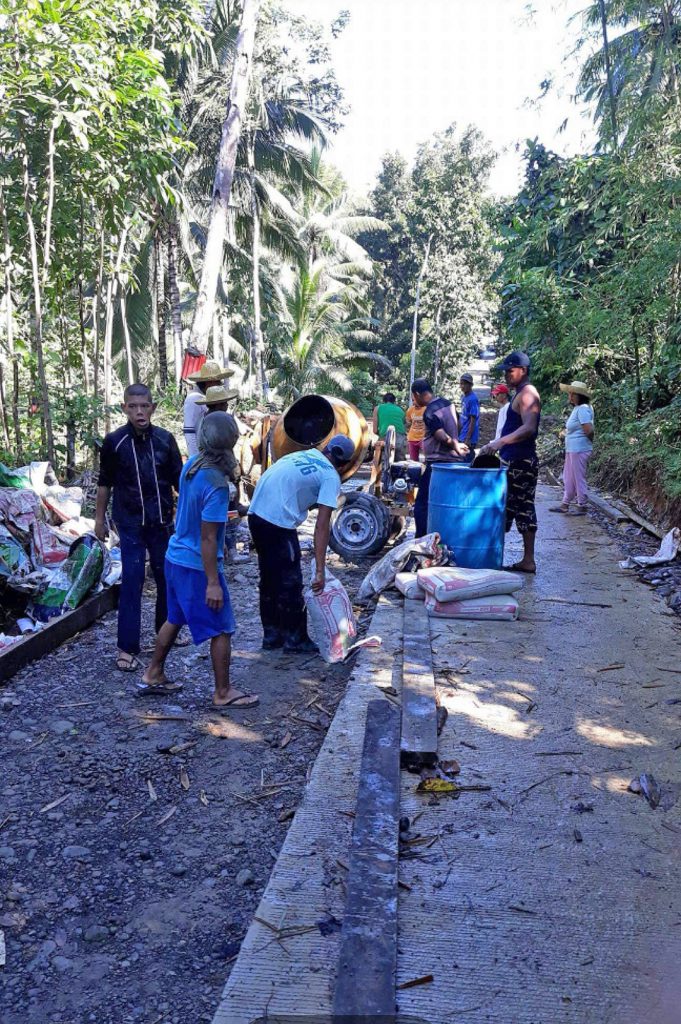 The entire community fully embraced the Community-Driven Development (CDD) approach after it was introduced to them by the DSWD staff.
Felix Tayone, 50, of Purok 2, Barangay Labo was selected by their community to act as the Procurement Implementation Team Chairperson narrates the difficulties they face on a day-to-day basis, "lisod, ang dalan ilabina kung ting –ulan ang mga studyante magkalapok-lapok ang mga sapatos ug galisod ang mga mag-uuma sa pagdala sa ilang mga produkto padulong sa merkado (the road was difficult, during rainy days, students always get their shoes muddy and farmers have difficulty in bringing their produce to the market)."
"Dako kini og katabang sa amoa nga mga taga Labo,(this is really of big help for us in Labo)" concludes Felix.
The farm-to-market road community sub-project in Barangary Labo is funded through the DSWD Kalahi-CIDSS amounting to P1,310,122.00 with P140,00.00 local counterpart from the Barangay Development Fund of Labo.
Community-driven development (CDD) refers to an emerging approach in community development practice where processes, principles, strategies and resources are applied to ensure community empowerment by giving the people authority and control over decisions and resources. In the Philippines, CDD is implemented through the DSWD Kalahi-CIDSS National Community-Driven Development Program.