Story by Sohanida H. Tawano, Community Empowerment Facilitator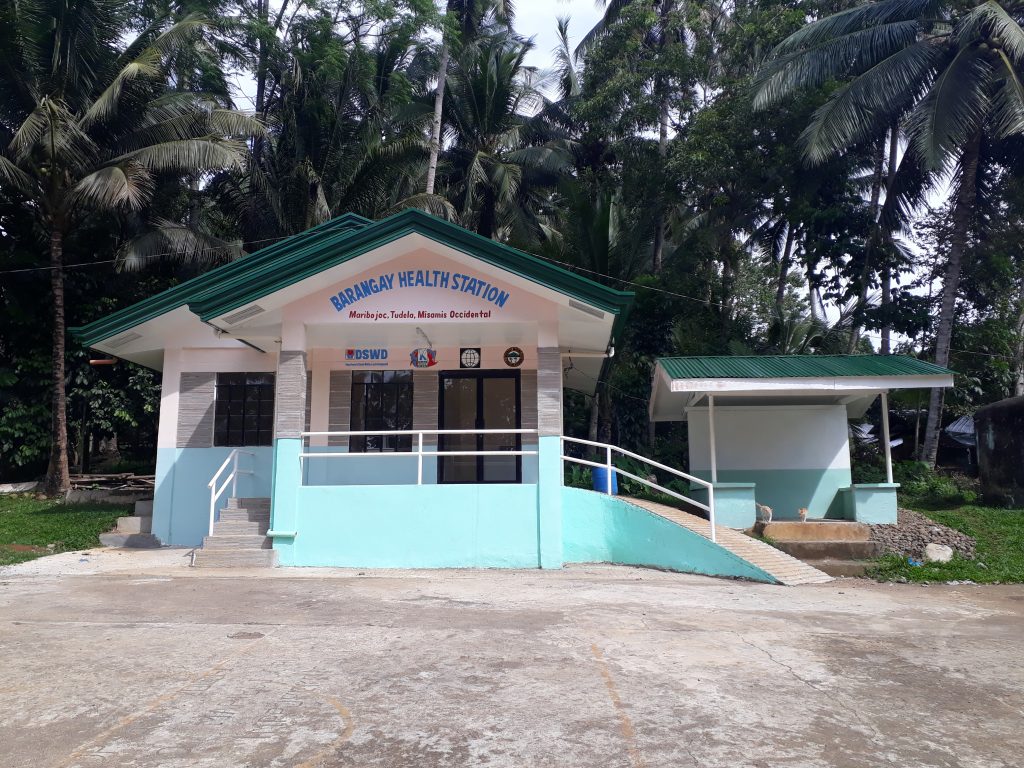 Access to an efficient health care facility and care services in the Philippines is one of the top priorities for our government; however, geographically challenged communities do not always have access to such. Barangay Maribojoc in Tudela, Misamis Occidental, is one of these communities.
The nearest health station is located at Barangay Canibungan Proper, Tudela, Misamis Occidental which is 5 kilometers away from Maribojoc and the nearest trail to the area is to cross the Timus river.
This changed when a government program aimed at empowering communities showed them that together – through volunteerism, the community can work to have better accessibility to health services and a comfortable health station.
The Department of Social Welfare and Development (DSWD) Kapit-Bisig Laban sa Kahirapan Comprehensive and Integrated Delivery of Social Services (Kalahi-CIDSS) National Community-Driven Development Program (NCDDP) helped Barangay Maribojoc in their quest to provide their own community with a proper health care facility.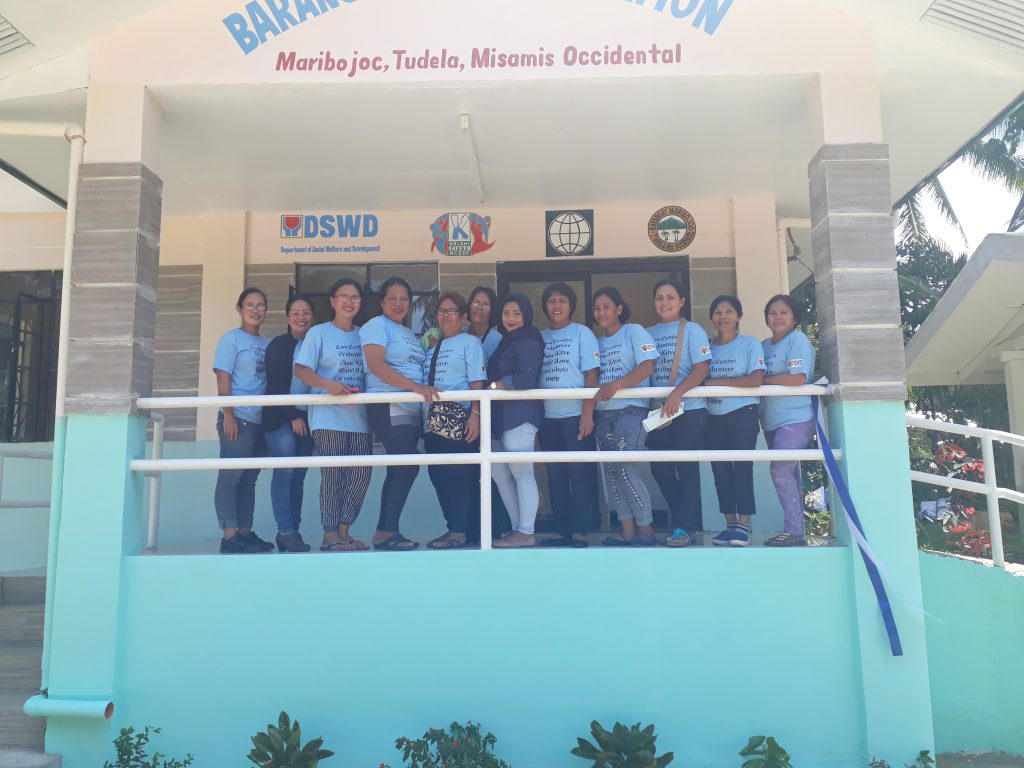 DSWD Kalahi-CIDSS workers facilitated a series of barangay assemblies and processes to inform of the community on the possibilities of realizing a solution to their problem. During the series of assemblies and other community empowerment activities, the community volunteers of Barangay Maribojoc proposed a barangay health station as a solution to their lack of access to basic health care services.
This lead to the construction of a 1-unit Barangay Health Station community sub-project in Maribojoc, with a P898,276.00 fund from the DSWD Kalahi-CIDSS, and a P100,000.00 local counterpart from the barangay development fund of Maribojoc.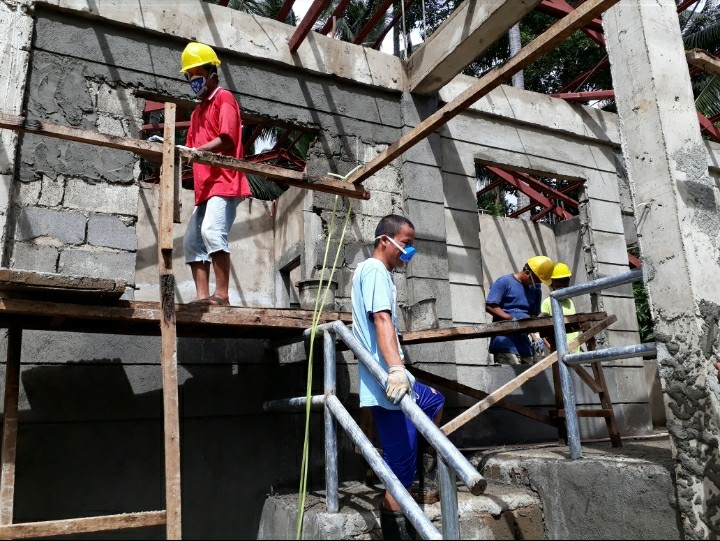 Josephine P. Oracion, 51, of Purok 1, Barangay Maribojoc was selected by their community to act as the, Community and Monitoring Team Chairperson narrates the difficulties in implementing the sub-project "so far, sa pag implementar sa among proyekto wala mi na encounter nga problema nga dako nga nakahatag og babag sa among proyekto, mga ginagmay lang susama anang usahay ma-delatar og is aka adlaw ang delivery sa materyales (so far, we did not encounter a big problem during the implementation that hampered our construction, it was minor like a delay of one day due to late delivery of construction materials).
"Ang among solusyon na gibuhat kay silbi isip volunteers og aduna man mi tagsa-tagsa ka katungod, so procurement committee maoy gitahasan nga mag follow up sa delivery aron ma fast track ang implementation sa among sub-project (we solved this by delegating our procurement committee to constantly follow-up on the delivery of materials to fast track the sub-project)" Josephine said.
One of the problems identified by the volunteers during the DSWD Kalahi-CIDSS Participatory Situational Analysis (PSA) was not having accessible road and lack of water supply, "pasalamat kaayo mi nga adunay naka pondo gikan sa laing ahensya sa maong problema kay ang road concreting on going na ang implementation og ang patubig kay gihulat nalang ma download ang pondo sa barangay para masugdan ang proyekto. Panahon sa among Participatory Situational Analysis nga workshop, ang health station ang nag top 1 kay nasuta namo nga tanan katawhan ang maka benepisyo niini (we are thankful that another agency funded the projects needed to address the problems, the road concreting is now underway and the water system project is awaiting funds downloading from another agency. During the Participatory Situational Analysis, the health station was our top priority as the entire community will benefit from this)" said Josephine.
"Dako kaayo kini og katabang sa amoa nga isip usa ka lumolupyo sa among barangay ilabi na sa pag imuunization sa mga bata kay sa una sa Multi-purpose Hall ra ipahiluna ang pag immunize sa mga bata og kini dili maayo kay possible makahatag kini og epekto kay makalanghap sila og dili maayo na polusyon tungod kay open area ang multi-purpose. Ikaduha dili na mahasol ang mga barangay health workers nga mutabok pa sa suba para lang maka duty tungod ka yang ilang cluster office ay naa sa pikas barangay, og karon kay nalipay kayo mi ilabi na ang mga barangay health workers namo nga nakaangkon na gyod og kaugalingon nga health station (This health station is a big help for all of us here in Maribojoc, especially for the immunization of the children, before, the immunization takes place in a multi-purpose hall which is very harmful for the children as they might inhale polluted air since the multi-purpose hall is an open space. Also, we the Health Workers will no longer traverse the Timus River to report for duty at a health station on another barangay)" said Josephine.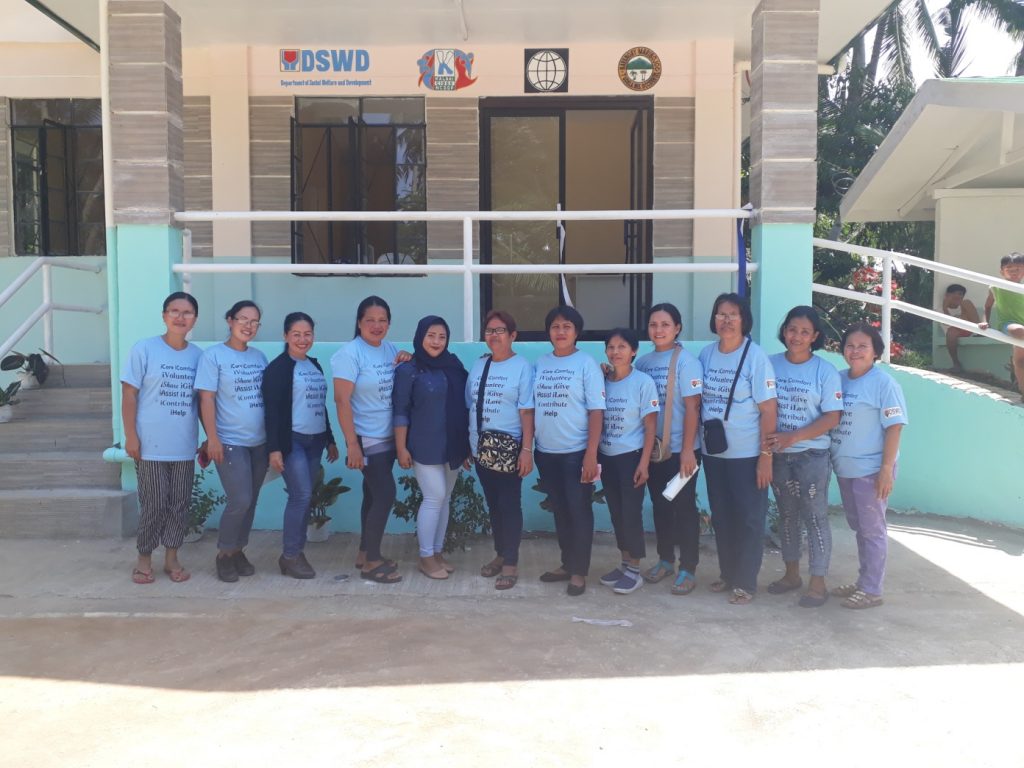 "Isip usa ka Barangay Health Worker (BHW) og Community Volunteer sa Operation and Maintenance group mapasalamaton kaayo nga naka baton mi og kaugalingon nga health station kay dili nami mahasol nga muadto pa sa Barangay Canibungan para didto mag duty, dako kini og tabang sa amo nga BHWs kay dili na mi magplite og usahay walay kung walay ikaplite mutabok mig sa Timos River para lang maka duty (As a Barangay Health Worker and community volunteer of the operation and maintenance group, I am thankful that we already have a health station, we no longer have difficulty in crossing to Barangay Canibungan to report for duty and we can save on transportation fare)" said by Virginia D. Jawom resident of Barangay Maribojoc.
"Nalipay kaayo ko nga naabot ang DSWD Kalahi-CIDSS program sa Maribojoc tungod kay maayo ang proseso nga ilang gi implement mao ang CDD diin kami nga lumulupyo sa barangay gihatagan og higayon nga makahibalo ilabi na sa maayong pagpadagan sa pangobyerno. Nindot kaayo ang proseso tungod kay kami mismo nga lumulupyo sa barangay ang maglihok o magdumala sa kinatibuk-an implementasyon sa program gikan sa pag assembly ngadto sa pag ila sa top 1 priority problem hangtod sa pag tukod sa sub-project, nindot kaayo ni nga proseso nga gamiton sa mga local government tungod kay mahatagan og higayon ang mga lumulupyo sa barangay (I am also happy that DSWD Kalahi-CIDSS program reached our barangay, the process called the Community-driven development (CDD) empowers our community and we are given authority and control over our decisions and resources as well as to construct our sub-project. This is a good process to be use by the local government units because this really empowers the community and gives them opportunity)" concludes Josephine.
The community is hopeful that more people would visit their place and they will embrace the DSWD Kalahi-CIDSS Community-Driven Development approach. Community-Driven Development (CDD) is an approach that gives the community control of the development process, resources and decision making authority and regarded as the best assessors of the needs that their communities. The communities also have the responsibility of implementing, managing, and operating the sub-projects they have planned as well as maintaining them.
DSWD Kalahi-CIDSS ensures that communities are actively involved in the process from start to end. Not only are they given direct access and control of the funds for their community projects, they also have the opportunity to participate in making key development decisions for their communities.
In the Philippines, CDD is implemented through the Kapit-Bisig Laban sa Kahirapan Comprehensive and Integrated Delivery of Social Services – National Community-Driven Development Program (Kalahi-CIDSS NCDDP) under the Department of Social Welfare and Development (DSWD).
The DSWD Kalahi-CIDSS and its community volunteers are advocating for Community-Driven Development (CDD) institutionalization in the local governments for the continuation and sustainability of its gains and empowered communities.