Story by Michie Lou B. Cruda, Community Empowerment Facilitator
Barangay Tambagan, Medina, Misamis Oriental is one of the communities facilitated by Department of Social Welfare and Development (DSWD) Kapit-Bisig Laban sa Kahirapan Comprehensive and Integrated Delivery of Social Services (Kalahi-CIDSS).
Tambagan means "to be advised" in the local dialect. Legend has it that in the days before the coming of the Spaniards when "datus" ruled the barangays, there was once an old wise man gifted with the power to give effective advices. He listened to people's problems, personal and social disputes and were settled through his effective advices.
Tambagan is 2 kilometers away from North Poblacion or town proper and takes 30 minutes to travel by local public transportations such as a single motorcycle or "habal-habal" or a motorcycle with sidecar. The top three economic activities of the barangay are copra (dried coconut kernels) trading, "sari-sari store" and hog raising. The three major crops here include are banana, sweet potato and cassava.
In January 2016, a typhoon hit Northern Mindanao, including the Municipality of Medina; Barangay Tambagan was one of the affected barangays. 11 households were totally damaged. The natural disaster became a challenge for the barangay and its officials having been also affected by the typhoon and there were families displaced during that time. The damaged houses were caused by the overflowing of a nearby river.
The community was traumatized with this experience and caused them to fear it may happen again. This prompted the barangay to seek assistance for a proposed flood control structure from various agencies, this, however, did not get a positive result.
When the 2nd cycle of the DSWD Kalahi-CIDSS started, the community did not hesitate to grab the opportunity to participate in the program's activities, armed with the hope of having their flood control structure funded.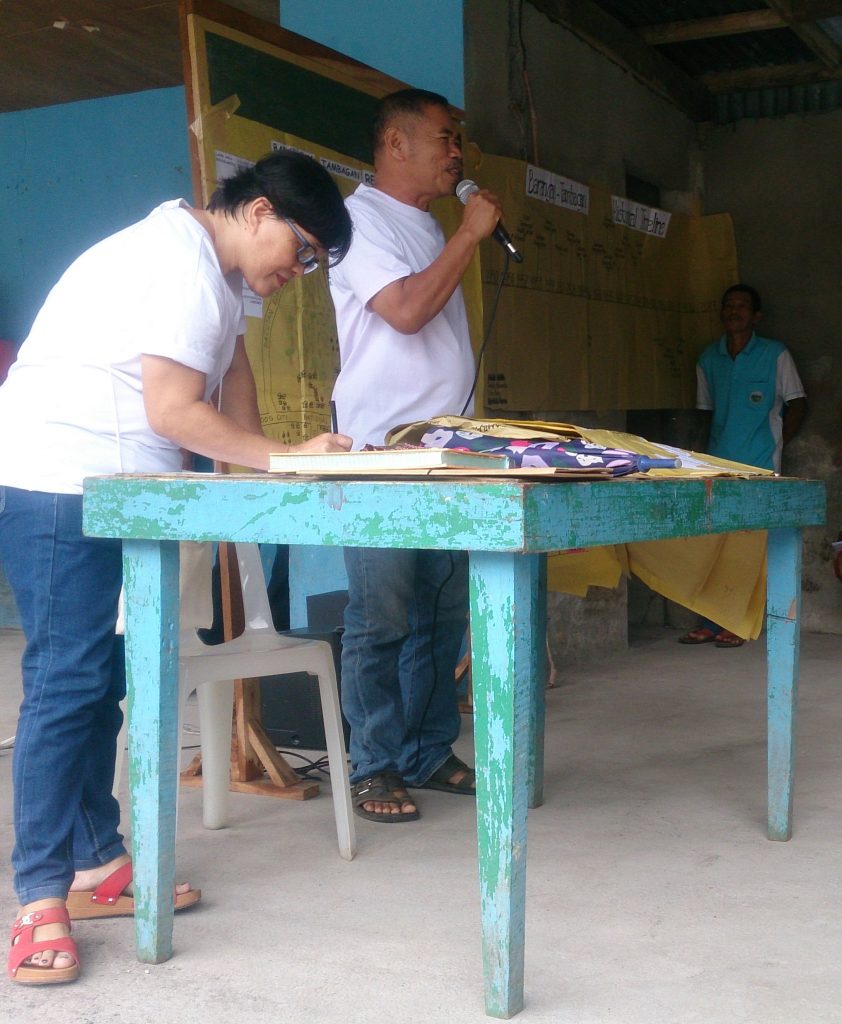 The community volunteers and residents of Tambagan supported the project through attending barangay assemblies, and participating in barangay and municipal activities which introduced them to process of Community-Driven Development (CDD). They also attended capacity building activities to help them manage their community sub-project.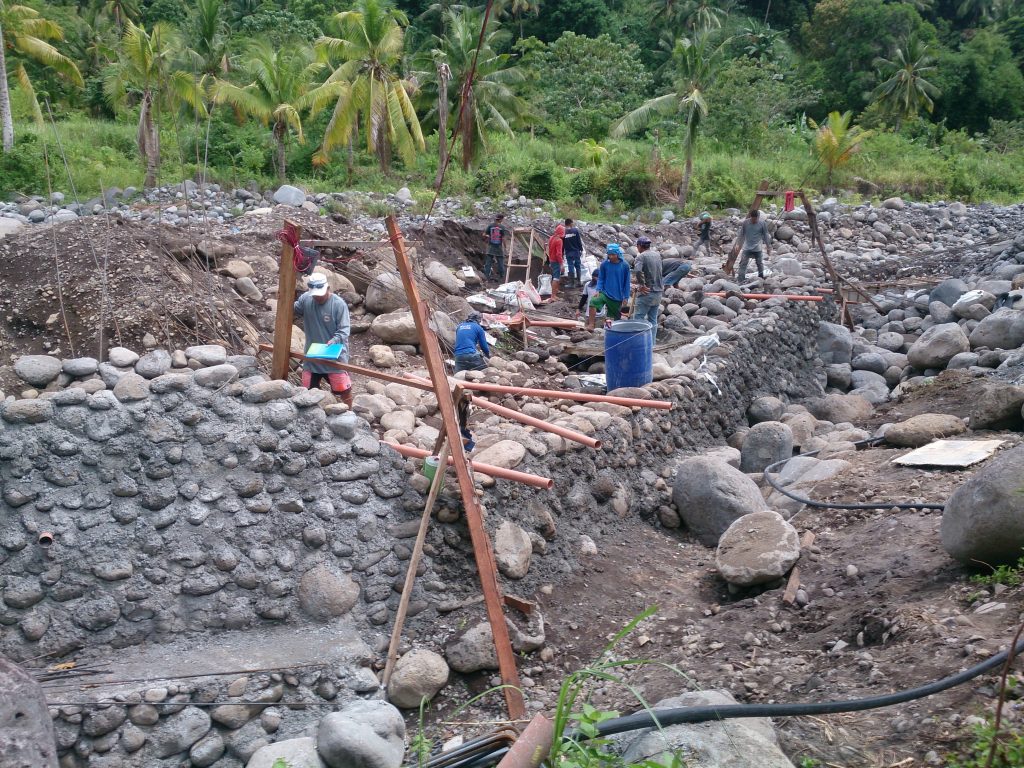 True enough, with hard work and dedication of the community volunteers, Tambagan became one of the 7 prioritized barangays for the DSWD Kalahi-CIDSS 2nd cycle implementation. The community people were happy with the funding of the Construction of 150-Linear Meter Flood Control Structure through the program, as this was identified as their top need during the Barangay Participatory Situational Analysis Workshop. The total project cost of the sub-project is P4,252,929.00 with Local Counterpart Contribution of P18,000.00 from Municipal Local Government Unit.
Leonides D. Rañoa, 51, DSWD Kalahi-CIDSS Barangay Sub-Project Management Committee Secretary, and is also the secretary of the barangay said "Dili lalim ang pag prepara sa mga papel hilabi na nga bag o pami nakasinati sa Kalahi-CIDSS ug daghan kaayo ang porma nga usahay makalibog. Kinahanglan usab ko mubisita sa area kung aha nakabutang ang sub-project para mag monitor kung naa ba kini progress. Lisod tungod kai naa usab koy kabilinggan sa barangay (Since I have so much duties in my barangay, I can say that I had a hard time understanding what Kalahi-CIDSS is all about and especially the preparation of the forms confuses me sometimes. I also need to visit areas where sub-project was located and to monitor if it has progress)"
Ms. Leonides took these difficulties as a challenge. This was never a hindrance for her knowing that the construction of a flood control structure will benefit the entire community. She became one of the instruments in gaining the support of the community people.
"Ako ang usa nga mag-pahibalo sa council ug sa mga katawhan aron sila manambong pag mag asembliya ug kung adunay mga aktibidadis sa barangay, mu-contact ko sa mga 4Ps Parent Leaders aron mapahibalo nila ang ilang mga sakop (I am the one who informs the barangay council and the residents that we all need to attend the barangay assemblies and other activities of the barangay, I even contact all 4Ps Parent Leaders so the beneficiaries can attend)" said Leonides.
"Nagbunga gyud ang among kahago. Dako kaayo among pasalamat nga na fundingan mi sa DSWD Kalahi-CIDSS, mao kini ang nakatubag sa dugay ra nga pangandoy nga flood control, ug tungod niini wala nay balay nga manga guba ug wala nai kahadlok ang mga tao nga basin mautro nasad ang panghitabo sauna ug tungod sa sub-project matagaan ug kompyansa ang mga katawhan nga luwas sila sa katalagman (Our hard work paid off. We are thankful that DSWD Kalahi-CIDSS funded our flood control structure because of this, the houses are now safe and the community is less fearful now that the disaster will be repeated, and because of the sub-project, our community are now confident that they will be safe from harm)" Leonides concludes.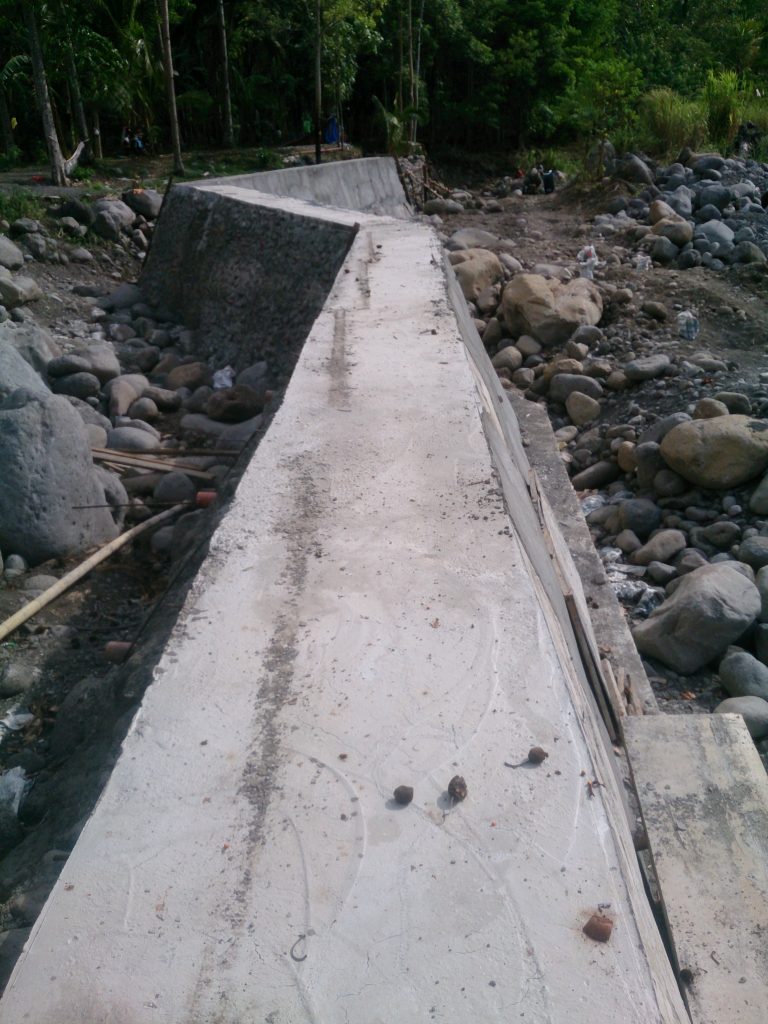 DSWD Kalahi-CIDSS ensures that communities are actively involved in the process from start to end. Not only are they given direct access and control of the funds for their community projects, they also have the opportunity to participate in making key development decisions for their communities.
In the Philippines, CDD is implemented through the Kapit-Bisig Laban sa Kahirapan Comprehensive and Integrated Delivery of Social Services – National Community-Driven Development Program (Kalahi-CIDSS NCDDP) under the Department of Social Welfare and Development (DSWD).
The DSWD Kalahi-CIDSS and its community volunteers are advocating for Community-Driven Development (CDD) institutionalization in the local governments for the continuation and sustainability of its gains and empowered communities.