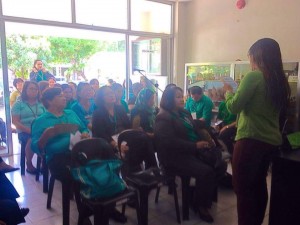 Northern Mindanao — The Department of Social Welfare and Development here together with its four centers: the Regional Haven for Women, Home for Girls, Regional Reception and Study Center for Children and the Rehabilitation Center for Youth recently conducted celebratory activities in line with the Annual Nutrition Month which focuses on addressing overweight and obesity. This year's theme is "Timbang Iwasto, sa Tamang  Nutrisyon at Ehersisyo!"
Activities that were conducted involved the DSWD clients to cooking contests, outdoor activities for physical fitness, quiz bees, poster making contests, lectures on Basic Nutrition and Importance of Healthy Diet, Proper Hygiene and Sanitation.
The "10 Kumainments" was promoted during the Monday Convocation of all the employees in the DSWD here with the distribution of advocacy materials to the staffs coupled with a lecture on Healthy Weight Management.
The Field Office employees are challenged that despite the pressures at work, they have to make positive decisions towards consumption of healthy diets and be physically active to prevent non-communicable diseases as a result of overweight and obesity.
The DSWD is an active advocate on proper nutrition for all sectors of the society.
Written by Rechel Grace Ceniza ND1, DSWD