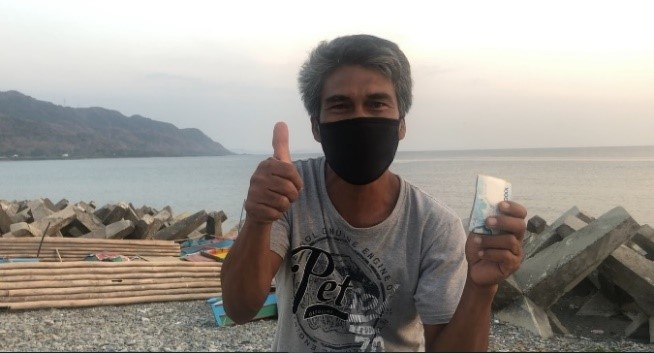 For people trying to make ends meet, the implementation of the Enhanced Community Quarantine means that the rope got even shorter especially for "no work, no pay" workers like Dominador "Doming" Rindon from the coastal barangay of Tabucolan, Santa, Ilocos Sur. But knowing that help will surely come to tide them over these trying times, it is always well worth the wait.
"Thank you ta addakayon (Thanks that you finally arrived)." This was his way of greeting the group from the local government unit (LGU) and from the Department of Social Welfare and Development (DSWD) that conducted the payout of the emergency subsidy under the Social Amelioration Program (SAP) in his barangay. Dominador received P5,500.
It has been a month since he received his last salary of P400 as a construction worker. His eldest, 19, had to stop schooling to work to help provide for the family. Dominador has four other children, all of whom he raises single-handedly as a solo father.

"Pagbayad ko ti nabulod ko diay dos mil, paggatangmi ti taraon diay tres mil, ken bareng adda mabati a lima gasot a pagtapalko diay atep ti balay mi (I will use the P2,000 to pay for my debt and the P3,000 for our food, and hopefully I can save P500 to fix our damaged roof)," he said when asked how the money he received will be used. It seemed that he has budgeted his cash assistance long before he received it.
"Nasakit dagiti ibagbaga ti dadduma nga agdepdependar kami laeng a marigrigat iti gobyerno. Saan nga agpayso deta. Nagaget kami ngem no choice kami ta stay at home konada met (It hurts when others say that poor families are dependent on the government. That is not true. We work hard, but we are left with no choice but to stay home for now)," he added.
To survive the quarantine days, he usually goes fishing so he can provide food on the table. At rare times when the net catches more, he sells some to his neighbors and earns P100. He said that he has been praying hard for the pandemic to finally end so that things would go back to normal, and he could get back to work.
"Saanko a maypeksa iti yamanko ti gobyerno iti panangtultulongda kadagiti pamilya kas kadakami ita a karigat unay ti biag (We can't thank the government enough for helping families, like us, survive during these trying times)," he added.
Target beneficiaries of the SAP are low-income families or those on subsistence economy or workers in the informal economy, and with members belonging to the vulnerable sector, assessed to be the most affected by the ECQ given their existing life situations or circumstances. The LGUs and the DSWD are working overtime to fast track the payout and assure that the target beneficiaries benefit from the program and receive their subsidy immediately.
As soon as he received the cash aid, Dominador secured the money in his thin wallet and went straight to the nearest sari-sari store with a sparkle of hope that his family will have food on the table in the days ahead. ###