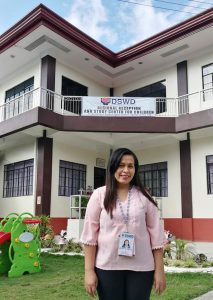 Ms. Elma M. Ablan is one of the finest and hardworking personnel of the Department of Social Welfare and Development (DSWD) Field Office 10. Having to serve the office for fifteen (15) years as MOA or Contract of Service, is an unblemished indicator that more than the income, she is truly committed and compassionate about her responsibilities.
Elma, now a 39 year old mother of 2 children, began to work with the office as a volunteer houseparent in the Regional Reception and Study Center for Children (RRSCC) in 2001. As a houseparent, she attends to the basic needs of the children who are in the care of the center, providing motherly attention, safety and other housekeeping management and activities, all leading towards the better development of the children. For two years, she enjoyed the responsibilities, until she was designated with a new task as a Laundry Worker in 2003, still in the RRSCC. Her new duties still enables her to blend with the kids, whom she loves and who are in much better hands of registered midwives and nurses.
As a Laundry Worker, she maintains the cleanliness of the children's clothing, the center's orderly and organized interiors among other things. During her 15 years in service, she was able to participate in various life skills training such as Food Processing, Cookery as well as learning the basics of writing and other administrative tasks.
Her exemplary work performance has been recognized twice, being awarded as Best Center Staff during 4th Quarter of 2014 and last October 2016.
Her husband is also an employee of the office as a regular driver. Her earnings was able to support her children, a son who is already in third year college, studying Information Technology in one of the finest colleges in Cagayan de Oro City and a grade two pupil. Indeed, DSWD really exemplifies its role in promoting social protection and social development.
Elma who is popularly known as "Giging" in the office, is described by her co-workers and center staffs as dedicated and responsible person, especially to her family. A very loving wife to her husband and mother to her children.
Elma's long duration of service, has witnessed and undeniably contributed to the physical and overall progress of the center from Level 1 to Level 3 Accreditation, as accorded by DSWD's Standards Bureau.
Written by: Jamila M. Taha
###