Cagayan de Oro City — The Department of Social Welfare and Development continues to empower Pantawid Pamilya beneficiaries through its Sustainable Livelihood Program. One of its commendable approaches provides life skills training as a capacity-building strategy to prepare program participants to better manage livelihood opportunities and pro-actively measure and ensure optimum quality performance in managing livelihood activities.
The department partners with schools or institutions which are accredited by Technical Education and Skills Development Authority (TESDA) to be able to provide the best training and eventually produces the best graduates who would be certainly qualified for any technical and well-paid jobs.
As it has been grasped and materialized by some DSWD's beneficiaries like Reynan Amonhay and Guillermo Baliling Jr., it is easier to find job when you have credentials to show, they said.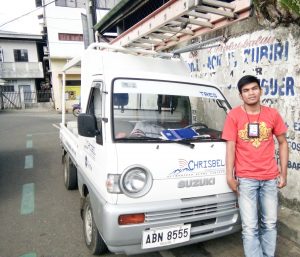 Reynan Amonhay, 22 years old, single and out of school helps his father in farming to be able to provide for their huge family. Reynan along with his eleven siblings, work hand in hand to survive their daily needs. Although he has completed his high school, he didn't have much skill to boast and look for a job. "Karon malipayon kaayo ko sa akong nakab-ot sa akong kinabuhi, bisag high school graduate rako naka trabaho ko ug natagaan ko sa dakong kahigayonan nga mulambo pinaagi sa natabang sa DSWD ug nahatag nga bag-o nga kahanas sa 1 AND ALL Technical School, I am really glad because of this milestone in my life, that despite the fact that I am only a high school graduate, I was able to find a job and that I am given an enormous opportunity to improve our living condition through the support of DSWD and 1 AND ALL Technical School", he tells. Reynan earns about Six Thousand Pesos a month as a technician in Globe Telecom.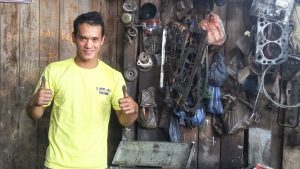 Guillermo who is 25 years old, single, shares the same experience with Reynan. As a Lumad coming from the same province of Bukidnon where farming is the main source of livelihood, Guillermo also dreams of having a well-paid job to support his family.
"Mao dagku kaayu ang akong pasalamat sa kini nga mga institusyon kay sila ang nahimong instrumento nga sa hinay-hinay ako na makab-ot ang akong pangandoy sa kinabuhi because of this I am very thankful to these institutions for being the instrument of change and opportunity for me to reach my goals", says Guillermo.
"Ug manghinaot ko nga daghan pa ang matabangan aning programa and I am also hopeful that other people will also benefit from this program", he adds.
From the mountainous remote area he now takes his journey in the city as he became the head auto mechanic in Opol Auto Repair Shop that earns him a minimum of Two Hundred Fifty Pesos a day depending on the numbers clients.
Reynan and Guillermo are both certified NC II passers of Electrical Installation Maintenance and Automotive Servicing assessment examination conducted by 1 AND ALL Technical School, the same school who provided for their starter tools after graduation and recommendations for employment.
"Our school ensures hands on approach in teaching and we are very generous in terms of sharing the best techniques and tools to our students to make sure their gains are par excellence and beneficial for their future", says Miss Joy Co, President of 1 AND ALL Technical School. "Rest assured that we will also continue sharing similar change stories of our graduates, to serve as an inspiration, to all of us working in community development", she affirms.
Written by Jamila M. Taha, DSWD