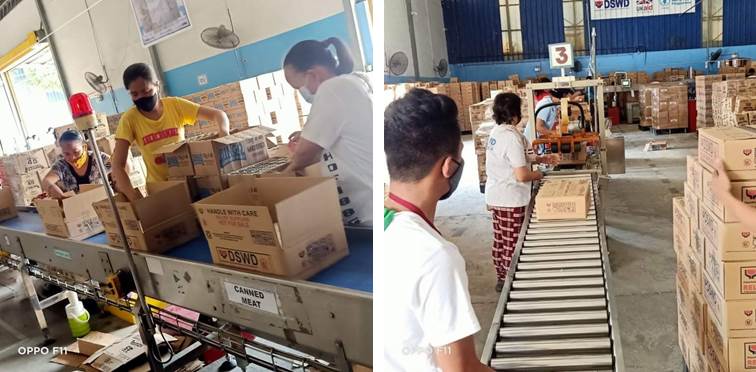 The Department of Social Welfare and Development (DSWD) continues to provide augmentation support to local government units (LGUs) that have been severely affected by Typhoon Ulysses.
As of today, a total of ₱13,831,226.75 worth of assistance has already been provided by DSWD to the affected LGUs.
On November 13, DSWD Field Office (FO) CALABARZON hauled 1,000 family food packs (FFPs) for the cities of Sta Rosa and San Pedro in Laguna. Some 550 sacks of NFA rice from NFA Provincial Office in General Trias, Cavite have also been delivered to the FO's warehouse in Dasmariñas. The rice will be repacked and will form part of the FFPs which will be distributed to more affected families in the region.
A total of 12,000 food packs have also been allocated by FO CALABARZON to five municipalities in Polillo Island in the Quezon province. The food packs will be hauled from the FO's Cavite Warehouse and will be ferried on Monday to the affected municipalities with the help of the Philippine Coast Guard. The FO has also allocated food packs for the rest of the affected municipalities in Quezon.
In addition, FO CALABARZON also provided additional FFPs to the Municipality of Siniloan in Laguna. The food packs were distributed to the affected residents at Barangays Kapatalan and Wawa on November 13 by the Municipal Social Welfare and Development Office.
In Cagayan Valley, DSWD FO II also facilitated the hauling of 1,300 FFPs in the province of Quirino for distribution to the municipalities in the region.
The Field Office also delivered today 5,000 FFPs as initial assistance to Tuguegarao City and extended 2,000 food packs as initial aid to Solana, Cagayan.
To augment the resources of the FO, DSWD National Resource Operations Center (NROC) will send additional 10,000 food packs, 2,000 hygiene kits, and 2,000 sleeping kits to the region.
Meanwhile, DSWD FO I, with the help of Philippine National Police Regional Office I, hauled 1,540 FFPs to the FO's satellite warehouses in Batac, Ilocos Norte; 2,000 food packs to Bantay, Ilocos Sur; and 700 FFPs to Urdaneta City, Pangasinan which will be provided as augmentation support to the affected LGUs in the region.
In the Cordillera Administrative Region (CAR), the DSWD FO in the region has provided 244 food packs and 69 family kits to affected families in Pinukpuk, Kalinga and 206 food packs to Luna, Apayao.
DSWD Field Offices continue to conduct repacking activities of FFPs to replenish their relief resources and to ensure the continuous provision of aid to the affected families.
Aside from extending augmentation support, the Department as chair of the Camp Coordination and Camp Management Cluster of the National Disaster Risk Reduction and Management Council, also continues to assist LGUs in managing evacuation centers. To ensure the safety and welfare of women and children-evacuees, DSWD Field Offices also provide technical assistance in the establishment of child- and women-friendly spaces in the evacuation centers.
Based on latest report, some 80,098 families or 303,055 persons are still taking temporary shelter in 2,980 evacuation centers in Regions I, II, III, CALABARZON, V, CAR, and National Capital Region.
DSWD continues to coordinate closely with concerned LGUs to assist them in responding to the needs of the affected families.
Help from volunteers
To help DSWD respond swiftly to the food needs of the affected families, various groups and organizations had volunteered to help repack relief goods at NROC in Chapel Road, Pasay City.
Today, some 39 volunteers from Barangay 178, Pasay City led by Air Force Reservist Major Richard Rivera are helping DSWD personnel prepare food packs that will be distributed to families who have been affected by the typhoon.
The volunteers helped produce 5,000 FFPs which will be delivered to Cagayan Valley today.
"DSWD has a mechanized production system which streamlines and automates the production of our FFPs. However, since we need to continuously respond to the needs of LGUs affected by the series of typhoons that recently struck the country, we have to augment the production of our relief resources through manual repacking. Our volunteers greatly contribute in ensuring that we can quickly and efficiently provide relief aid to our affected LGUs," DSWD National Resource and Logistics Management Bureau (NRLMB) Director Emmanuel P. Privado said.
The Department, as lead agency in the Food and Non-Food Item Cluster of the National Disaster Risk Reduction and Management Council ensures the sufficiency of food and non-food items that can be augmented to local governments in the event of a calamity or disaster. ###