In the hinterland province of Bukidnon, more than 30,000 women belong to the Matigsalug-Manobo Tribe. In communities where they thrive, women have a key role in the intergenerational transmission of their cultural heritage.
The knowledge of traditional medicine, the properties of plants, seeds and herbs, animal life, oral tradition designs that are applied in the visual art, traditional cloths, and artifacts, are actively preserved by women.
But what about taking leadership roles?
Being full-time homemakers, the Matigsalug-Manobo women shy away from community participation and decision makings.
When nominated for a leadership position, women would refuse and reason out that household chores and taking care of children are already overwhelming. They would seek first ideas and approval of men who would often emphasize women's existing burdens at home leading to turning down of potential crucial community engagement.
The patriarchal traditions in most IP communities have branded the IP women as timid and inferior.
When DSWD's Kapit-Bisig Laban sa Kahirapan- Comprehensive and Integrated Delivery of Social Services (KALAHI-CIDSS) penetrated the IP communities like the Matigsalug-Manobo to deliver priority community projects, it urged women to finally come out of their shells.
The program uses the Community-Driven Development (CDD) strategy that requires 30% of women participation in the identification and construction of these sub-projects. During the Community Empowerment Activity Cycle (CEAC) facilitated by KALAHI-CIDSS, men and women alike learn to speak out and give details of the communities' needs by participating in the local development process.
Gloria Alub Disalan is a Matigsalug from barangay Kalagangan, San Fernando, Bukidnon. She led the team of community volunteers for the construction of their Tribal Hall and Livelihood Center.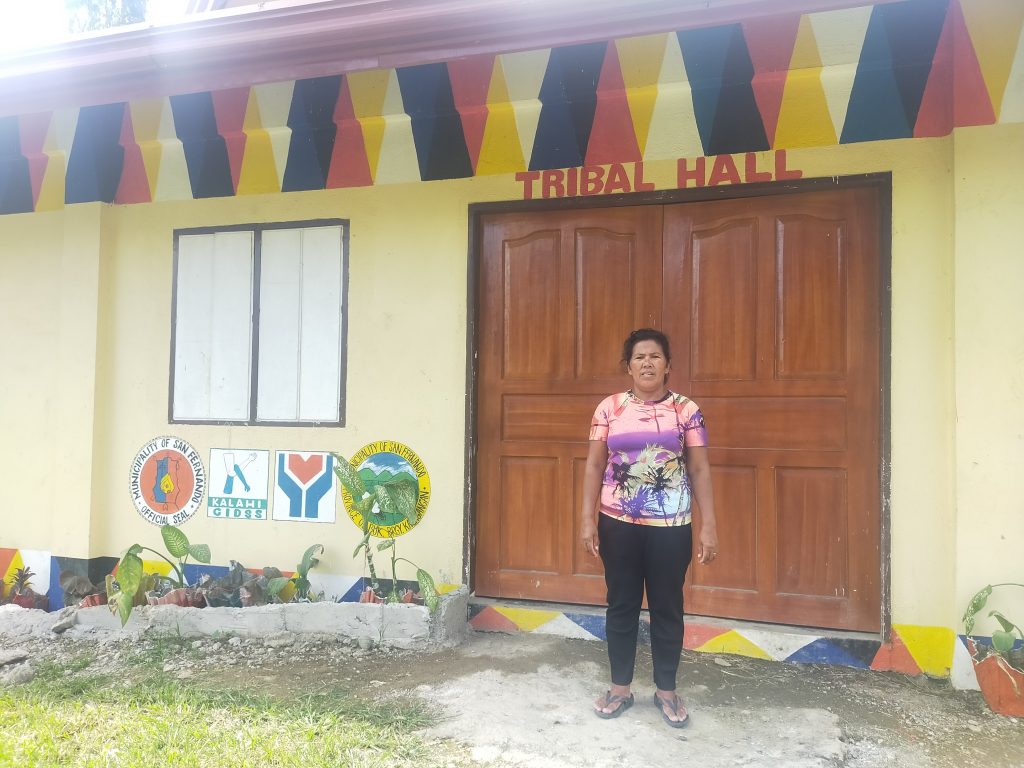 Before, even going to the barangay hall and meeting with non-IP (Bisaya) officials is a taboo especially for the women. But with the Program, this barrier had been broken and gender gaps had been closed.
"Pwede diay mi makaapil pag naay mga husayon ug pwede diay mi makasturya para sa kaayuhan" (We realized that women can participate in tribal court hearings and can speak out for positive change)
Today, the Matigsalug-Manobo tribe not only hold meetings in the tribal hall for their customary practices, it also serves as a livelihood center for capacity building activities among Matigsalug women who make unique banig designs for livelihood.
Gloria is thankful for the program because according to her, "nakamata gyud mi sa among papel." (We found our purpose)
She, along with the other IP women, are no longer just tied to housekeeping and motherhood roles, they are also now women of action in their respective communities and tribe; able to make informed decisions and take on the lead toward their collective welfare.