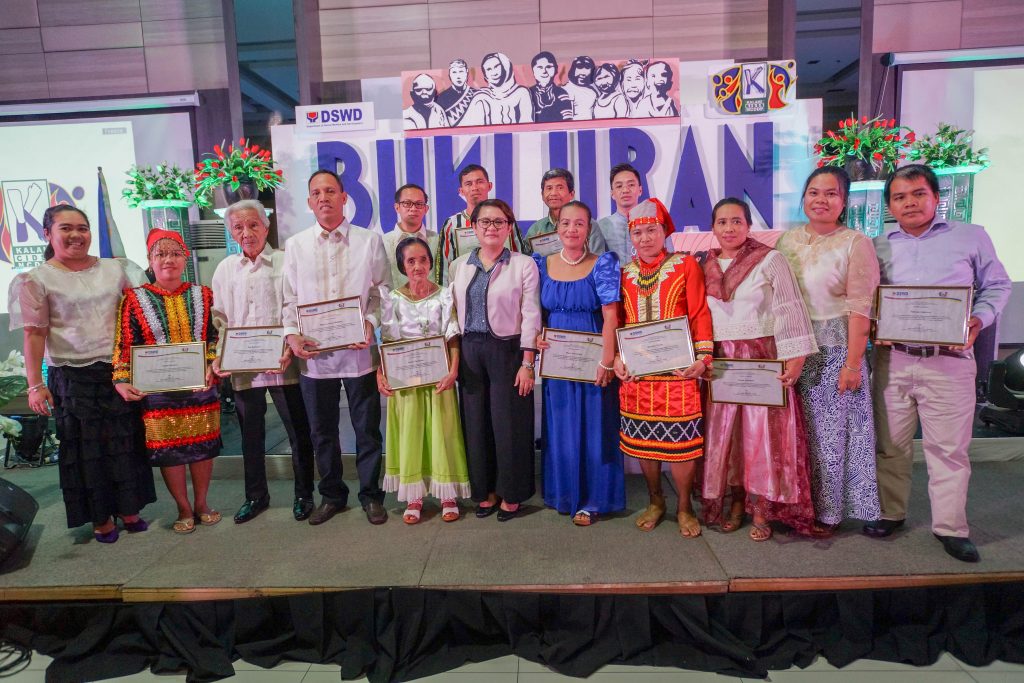 Manila, Philippines – Community Volunteers from Northern Mindanao participated in the first National Community Volunteers' Congress in Quezon City, Manila, August 17-18, 2017. The said congress, dubbed as Bukluran: Sama-samang Lakas ng Mamamayan, is the first national community volunteers' gathering hosted by the Department of Social Welfare and Development's (DSWD) community-driven development program – the Kapit-Bisig Laban sa Kahirapan-Comprehensive and Integrated Delivery of Social Services National Community-Driven Development Program (Kalahi-CIDSS NCDDP).
Bukluran (to unite) saw a gathering of community volunteers under the Kalahi-CIDSS NCDDP from all over the Philippines. The delegates engaged in a series of collaboration works and focus-group-discussions during the two-day event that focused on the track towards advocating for the adoption of the Community-Driven Development (CDD) approach in handling infrastructure projects in the local communities.
Community-Driven Development (CDD) programs operate on the principles of transparency, participation, local empowerment, demand-responsiveness, greater downward accountability, and enhanced local capacity.

Experience has shown that when given clear and transparent rules, access to information, appropriate capacity, and financial support, poor men and women can effectively organize to identify community priorities and address local problems by working in partnership with local governments and other supportive institutions to build small-scale infrastructure and deliver basic services.

The World Bank recognizes that CDD approaches and actions are important elements of an effective poverty reduction and sustainable development strategy. The Bank has supported CDD across a range of low to middle income, and conflict-affected, countries to respond to a variety of urgent needs, including water supply and sanitation, school and health post construction, nutrition programs for mothers and infants, rural access roads, and support for micro-enterprises. http://www.worldbank.org
More than a decade, the DSWD Kalahi-CIDSS advocates empowerment in the poorest and disaster-affected communities nationwide to ensure that they assert self-identified solutions to their most pressing needs.
The Kalahi-CIDSS program witnessed the triumphs of both our staff and community volunteers, whose commitment and resilience have helped poor communities defy the odds and find collective strength to fulfill their shared vision for the community despite the challenges they face. The DSWD Kalahi-CIDSS community volunteers from all regions finds a venue, through Bukluran, where they can listen, share each other's experiences, and learn from each other in a safe, open space.
These stories of triumphs and challenges are captured to promote community-driven development (CDD). Bukluran also features the 3rd National Bayani Ka! Awards that recognizes the sacrifices made by the volunteers to implement their community sub-projects of which they, as a community, have selected through the CDD participatory decision making process. Together, these activities shall contribute to strengthening the call for the adoption of the CDD approach at the local and national level.
The DSWD Kalahi-CIDSS delegation includes RIGA D. BANTASAN of Tingin-Tingin, Kauswagan, Lanao del Notre (PEACE PROMOTION), GENALYN C. TOMAS of Sinacaban, Misamis Occidental (IP WELFARE), NORMA D. PAROJINOG of Masabud, Clarin, Misamis Occidental (GENDER AWARENESS), ADELYN S. REVELO, NELSON M. ADAZA, MARY JANE P. ADAZA of Dalingap, Clarin, Misamis Occidental (BAYANIHAN), and Mayor LORENZO V. MANIGOS of Kolambugan, Lanao del Norte representing the Local Government Unit of Kolambugan for the BAYAN category. The delegation also included GEMA P. DAMPAS of Masabud, Clarin, Misamis Occidental, ANTONIO SOCAYRE of Kibawe, Bukidnon and NIEVAN B. LLACUNA of Sindangan, Talisayan, Misamis Oriental who is a DepEd teacher.
The National Community Volunteers' Congress is a celebration of people empowerment towards community development. It is a venue for the community volunteers, LGUs, and other stakeholders to share the success stories of their communities as well as plan strategies on adopting the CDD strategy in their localities. This is to showcase and celebrate their efforts and initiatives on community development.