Camiguin — A simple housewife never imagined that she would be busy campaigning for zero open-defecation in her barangay to further boost its tourism industry.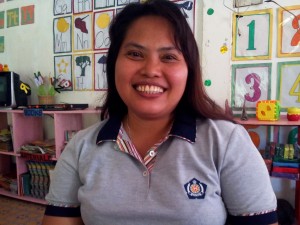 Lucia Anoc Abao, 41, of Barangay Mainit, Catarman in this province said she actively cooperated with the local health unit of Catarman to campaign for her fellow beneficiaries of Pantawid Pamilyang Pilipino Program (Pantawid Pamilya) to put up their own comfort room.
Catarman town is home to the famous Sunken Cemetery and Cross Marker in this province dubbed as the "Island Bord out of Fire." In this town you will also find ruins of the church wiped out and partly submerged by volcanic materials from the eruption of Mt. Vulcan and the famous Sto. Niño Cold Spring where you can dive and swim into the huge pool of cold spring water.
Lucia's campaign boosted when she became a signatory to the Bottom-Up Budgeting projects under the Department of the Interior and Local Government (DILG). Lucia monitors the implementation of all DILG projects in the municipality of Catarman.
During one of their meetings, Lucia lobbied to Local Poverty Reduction Action Team (LPRAT) that DILG will provide construction materials to 200 beneficiaries who don't have toilets in their homes.
As a result, LPRAT allocated budget amounting to P850,000 for Pantawid Pamilya beneficiaries who are living near the tourist spots and don't have toilets.
Aside from that, LPRAT implemented farm-to-market roads connecting to the Tuwasan Falls and Soda Spring under the BUB implementation of DILG.
Lucia said she cared for the tourist spots of Catarman because these boost the income of the town and of the residents.
"Nakat-on ko nga i-preserve ang kinaiyahan atol sa among Family Development Session (FDS)," Lucia claimed. (I learned preservation of our environment during our Family Development Session.)
The FDS is a monthly session where the partner-beneficiaries of the Pantawid Pamilyang Pilipino Program are required to attend as part of their co-responsibilities. Through the FDS, parent/s or guardians are educated about personality development which includes proper grooming and hygiene; strengthening family relationships; and fostering respect by inculcating one's rights, roles, and responsibilities within the family and their community. Parents also discuss disaster preparedness, financial literacy, and other topics that may be helpful to the family.
"Mao gani nga akong gitudloan akong mga anak nga palanggaon ang atong mga tourist spots kay dako kini og nahatag nga income sa among lugar," Lucia added. (That is why I taught my children to love our tourist spots because these gives income to our place.)
A parent leader of Cluster 2 of Barangay Mainit, Catarman; Lucia also encouraged her fellow beneficiaries to observe cleanliness in their respective surroundings.
"Ang kalimpyo man gud mao ang sunod sa atong pagkasuod sa Ginoo. Kinahanglan jud nga nay CR ang mata-usa aron limpyo ang palibot, dili kay pataka lang og labay sa hugaw," stressed Lucia. (Cleanliness is next to Godliness. It is important that each one has a CR to maintain cleanliness of surroundings, not the open-defecation.)
Pantawid Pamilya is a human development program that invests in the health and education of poor households' primary of children aged 0-18. It utilizes the conditional cash transfer scheme where the partner-beneficiaries receive their grants provided that they fulfill their co-responsibilities, including sending their children to school, availing of health services, and attending the monthly FDS.
==
Written by Oliver Badel Inodeo, DSWD