By Angelyn Pabualan Documento
Former 4Ps Grantee
Grand Winner, Best 4Ps Story: A Feature Writing Competition 2020
Mambayaan, Balingasag, Misamis Oriental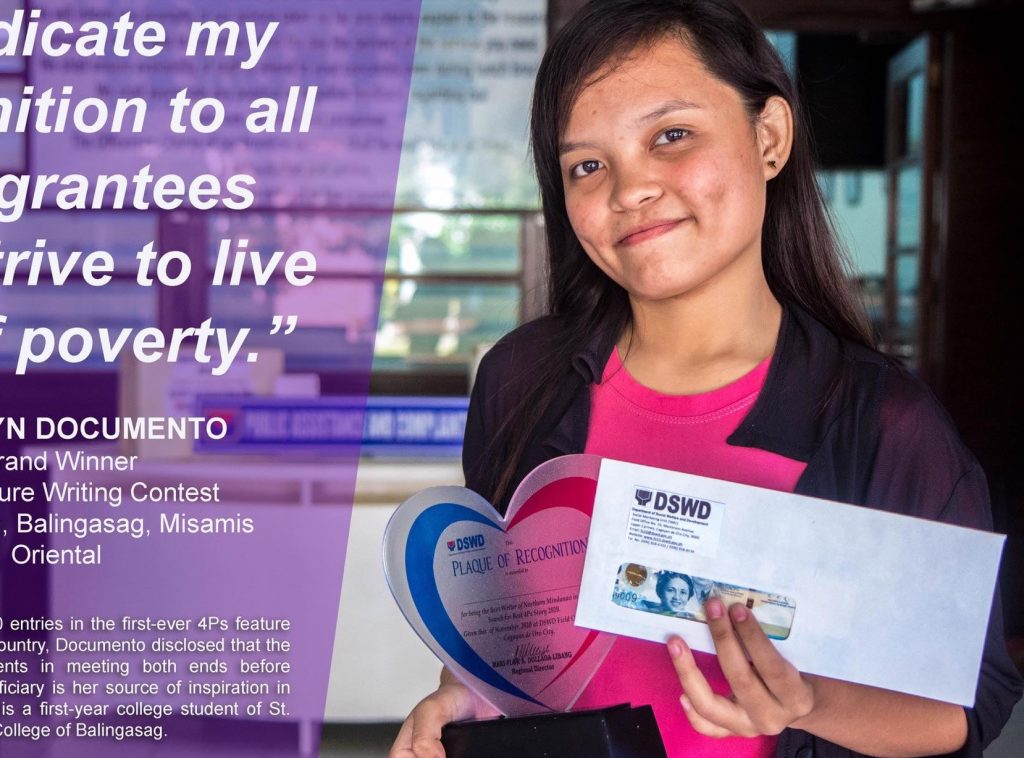 As we observe in our society and community, many people suffer from hunger and poverty.
Some can't even go to school because of scarcity in finances.
We will not give up just because we are poor. But instead, we should strive for success even in hard times.
There is one girl who lives in a province with her low-income family. She is 18 years old, First College at the University of Science and Technology of the Southern Philippines as a scholar since she is a beneficiary of 4Ps.
Her mother is only a housewife, and her father is a fisherman.
Sometimes she can only eat once a day, telling us her story:
I am Shena Alcabal, I have four siblings, and I am the youngest among them all.
I am supporting myself by working as a part-timer in a grocery store in our town.
I only work every weekend.
At the Grocery Store
Grocery Store Owner: Shen, don't space out. There's a customer!
Shena: Yes, ma'am.
Customer 1: 1 dozen of eggs and five kilos of Jasmine Rice.
Shena gives what the customer buys.
Shena: Thank you, ma'am.
It is already five in the afternoon, so Shena walks out of the grocery store.
She bids goodbye to the grocery owner and goes home by just walking to save money and give the half money she earned.
At Home
When Shena got home, she went to her mom and gave the money she earned.
Shena: Take it, mom.
Mom: No, it's yours.
Shena: No, it's okay. I have already saved money for tomorrow's ride going to school.
Her mom hugs her, and she hugs her back.
Mom: Thank you so much, darling (with tears in her eyes).
Shena: I want to help you, mom, and our family. I will also finish my studies and help my younger siblings spend their studies.
As Shena walks down the street, many people talk at her back. Sometimes she only cries and smiles even if it hurts.
She walks to the crossing starting at 5:30 in the morning so that she will arrive at the bus stop at 6:30.
Her classes start at 8 in the morning.
At School
Classmate 1: What's with your dress? You are pathetic and poor, eww. (laughing and eyes rolling)
Shena smiles.
Shena thinks that it is not good to do bad things to others.
So Shena continues her study while working a part-time job at the grocery store to help her parents.
Even if she works hard for herself and her family, she never gives up.
She is now finished her degree as Magna Cum Laude at the USTP, taking up a BS Secondary Education Major in Science.
She says poverty did not hinder her studies. On the contrary, she makes it her strength to reach for her dreams in life.
My family is both my strength and my weakness. They lift me through bad and good times.
After Shena graduated, she applied to a private school. There she taught for two years and passed the licensure exam.
She then applied to a public school. She helps her parents and helps her siblings attend school.
She never had a boyfriend since she wanted to help her family first before anything else.
She saves money for her future and lends money to her parents. As a result, she improved their house through her earnings and helped some kids on the street.
She taught them for free.
She goes to church every Sunday with her family.
==