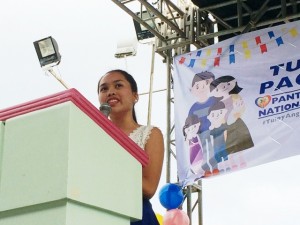 Cagayan de Oro City — Jinky Gomez, a 15 year-old student of Molugan National High School of El Salvador City, Misamis Oriental disclosed that the Department of Social Welfare and Development has opened here bigger opportunites for her.
Gomez, a resident of Amoros, El Salvador City, some 17.2 kilometers off west of this city, said her  being a Pantawid Pamilya Exemplary Child of 2014 has earned her trust and confidence from her teachers.
"As far as I remember, our English teacher told me when they picked me as the contestant of the Regional Oratorical Contest to memorize a three-page speech in two days saying, 'Langga, you don't have to worry because you are a national speaker.'
Gomez, who represented Northern Mindanao in the Search for Exemplary Pantawid Pamilya Child in 2014, told the more than 3,000 Pantawid Pamilya beneficiaries during the celebration of the National Family Day 2015 on October 4, 2015 that, "Truly Pantawid Pamilyang Pilipino Program has helped our family a lot in terms of financial assistance."
Gomez family became beneficiary of the program in 2011.
"Before 2011, I witnessed the bitter taste of what poverty has brought us. I saw how my parents struggled for our school allowance, projects, school fees, food, and many more," she said.
Gomez added that despite the challenges she face, she never stopped from schooling. Instead, she stand firm and persevere to achieve her goals.
A ninth of the 10 members of the family, Gomez's father is a jeepney driver while her mother is a housewife.
"This has been the primary reason why my older siblings were not able to pursue college education. They go to work at an early age to help my parents sustain our daily necessities," she said.
Call to support Pantawid Pamilya
Gomez urged legislators to support the program by passing the conditional cash transfer bill at the lower house.
She said the program has made beneficiaries responsible in their community, has encouraged students to stay in school, and has found job.
"This program invests on youth to achieve the change we desire in our society. Kaya natin ang pagbabago," she added.
Today, there are 283,150 Pantawid Pamilya beneficiaries in Northern Mindanao.
Pantawid Pamilya is the national government's initiative of cutting the intergenerational cycle of poverty by investing in education and health of poor families, especially of their children aged 0 to 18 years old.
Each family-beneficiary receive a maximum of P1,400 per month to enable them to send their children to school, and to health centers on a regular basis to monitor their children's health.
Written by Oliver B. Inodeo