By Desirie Nicole C. Daligdig
Patudan Tubod Lanao del Norte
As I write our life story, I want to answer these questions: How was life before the Pantawid Pamilyang Pilipino Program (4Ps)? How was the feeling? How is it going? And most importantly, what's life during this pandemic?
I am the eldest among the three daughters of Mr. and Mrs. Nelson M. Daligdig Jr. Before becoming a member, my father used to do multiple jobs to support the family.
As a gentleman, he didn't let my mother work because he believed that giving birth to three babies in a cesarean would make her relapse, locally known as bughat.
As the eldest of the family, I helped him sell fish, pork, and beef because he also used to sell pork and beef meats. Back then, life was challenging because they didn't even finish college. As a result, they couldn't find comfortable jobs.
My parents gave me to my great-grandmother to sustain the family's needs. So even if we were not under the same roof, I still helped them, my parents, earn money, legally, of course.
My mother passed away on February 14, 2011, due to heart complications. Since then, my father decided to live with me in my 'Lola's' House with my two sisters.
I saw him work hard, woke up early in the morning to cook breakfast for us, help us prepare for school, and sometimes walk us to school, and during the day, he worked to earn money.
It is a life-turning event for all of us. Imagine a father doing a mother's job, a big adjustment for him, mourning the death of his wife while taking all the responsibilities, "Papa na, Mama pa."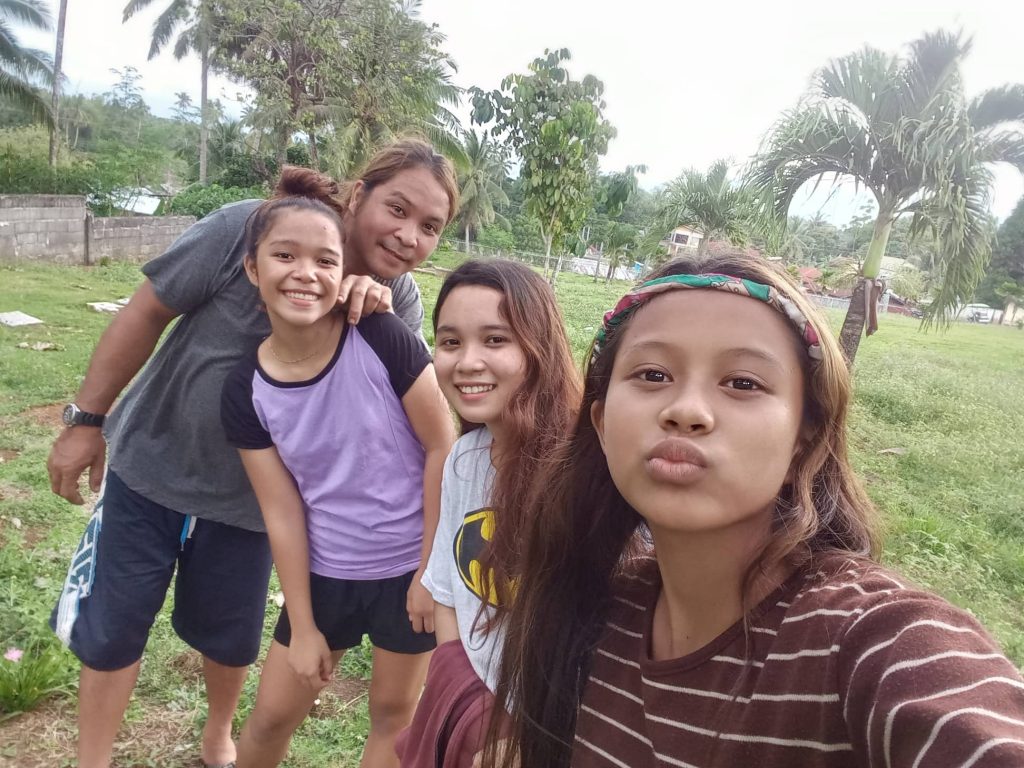 When DSWD put my family under 4Ps, our lives change.
The program helped my father, a solo parent, through all the hardships of raising us.
From a fish vendor, he stopped to focus on swine raising and meat vending. As a result, his income is higher than fish selling.
My father devoted all the cash grants to our studies and other needs.
He used it to pay our school expenses, tuition in high school, house bills, groceries, and other necessities.
The super advantage of this program is the privileges given to us for free.
For example, is PhilHealth. It is essential because my two sisters and I had dengue in 2017. The hospitalization was free because we are a 4Ps household.
The program helped us and still helping us with our financial needs, especially in this time of crisis when we are not sure how and where to find the money. But, unfortunately, the COVID-19 pandemic limits us.
During this pandemic, my family is also struggling with how to put food on the table three times a day since we only have a small store where we sometimes get our money for food.
I have never been this desperate to write something that will expose my well-being and the privacy of my family's life, but I did because of my will and perseverance to win.
This is also to remind other members of this program that they are not struggling alone since the world is full of struggles and sacrifices that we battle every day and, of course, win all the way.
The Pantawid Pamilyang Pilipino Program (4Ps), implemented by the Department of Social Welfare and Development (DSWD), is the national poverty reduction strategy of the national government based on the Republic Act No. 11310 or "An Act institutionalizing Pantawid Pamilyang Pilipino Program (4Ps)." signed by former President Rodrigo Duterte on April 17, 2019.
Patterned after the conditional cash transfer scheme implemented in other developing countries, 4Ps provides cash grants to beneficiaries that comply with the set of conditions required by the program.
==