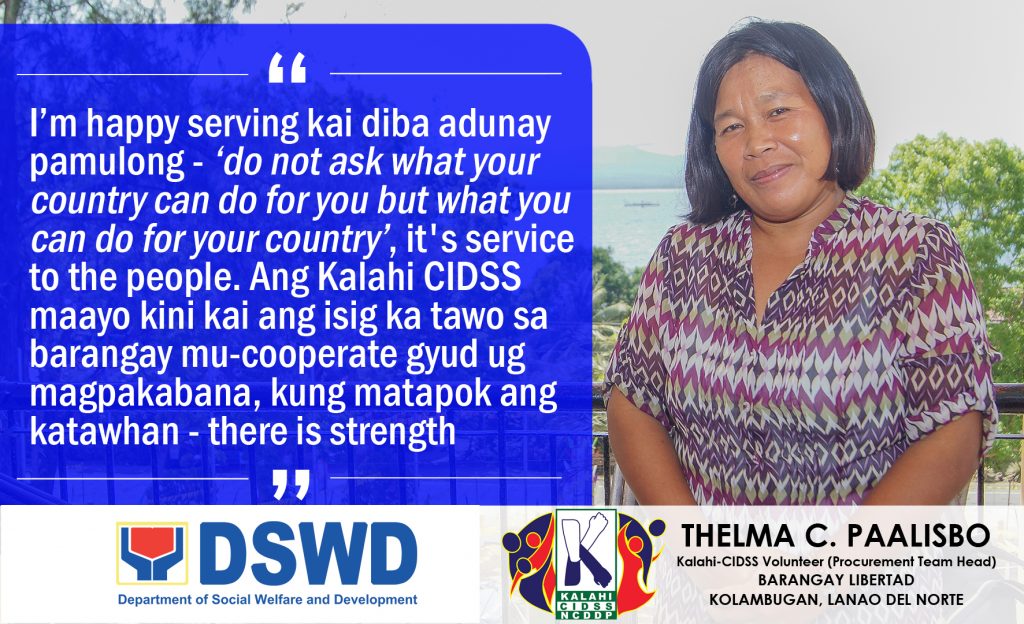 "Ang Kalahi-CIDSS maayo kini kay ang isig-katawo sa barangay mu-cooperate gyud ug magpakabana, kung matapok ang katawhan – there is strength (Kalahi-CIDSS is good because it makes the people in the barangay cooperate and care, if the community gathers – there is strength)"
The driving force that Thelma C Paalisbo, 48, from Barangay Libertad, Kolambugan, Lanao del Norte, has to keep on moving forward in life is dedication, hard work, service for others.
"Sa una, sa gawas ko nagtrabaho, 23 years I joined in a mission outside the Philippines. 10 years mag-raise mi og kwarta para makasuporta sa mission, pagbalik nko diri sa Pinas, nakahunahuna pud ko nga magtrabaho diri o magserbisyo sa komunidad (I worked abroad for 23 years, I joined in a mission outside the Philippines. 10 years we raised money to support the mission, when I returned home, I thought of working here and serve the community)" Thelma said.
Department of Social Welfare and Development (DSWD) Community Empowerment Facilitator Glenn Uranus Alcoran describes Thelma as a strong-minded woman. "If she knows she is right you cannot change her mind" continues Alcoran.
Libertad and the Community-Driven Development
The Community-Driven Development (CDD) concept in the Philippines is implemented through the DSWD's Kapit Bisig Laban sa Kahirapan Comprehensive and Integrated Delivery of Social Services – National Community Driven Development (Kalahi CIDSS-NCDDP)
Thelma narrates how the Kalahi-CIDSS' community sub-projects helped their barangay and neighboring communities since 2011.
"Sa PAMANA namo nga project, sa among barangay mabalitok gyud ang mga motor sa una – 2011 nakatabang gyud tag dako ang atong proyekto nga farm-to-market road, karon naa na ang dalan, hamugaway na ang mga magbiyahe ug magdala sa ilang mga produkto ngadto sa merkado (In the PAMANA project, in our barangay – motorcycles would always meet accidents – in 2011, our farm-to-market road project really helped, now the road is there, traveling through the barangay is now smooth and they can bring their farm products to the market)" enthused Thelma.
PAyapa at MAsaganang PamayaNAn (PAMANA) is the national government's convergence program that extends development interventions to isolated, hard-to-reach and conflict-affected communities, ensuring that they are not left behind.
Thelma says "as a volunteer sa procurement team, you need to find for yourself para pamilite, mangita gyud mi og paagi para makapanganvas. Makatabang man gyud ni (Kalahi-CIDSS), pareha anang eskwelahan nga ang gi-fund sa Australia, mapasalamaton kaayo ko nga naay nag fund, kay diri sa Barangay Libertad – ang mga eskwelahan puros daghan guba, paagi aning among gitukod nga eskwelahan, ang mga bata diri karon ug sa uaabot nga panahon makagamit pa ani nga mga classrooms  (as a volunteer in the procurement team, you need to find for yourself some money for fare, you need to find ways just to canvas for supplies and materials, Kalahi-CIDSS really helps, just like school we built from the Australia funding, I am thankful for the funding because here in Barangay Libertad – the schools are damaged. With this school we built, children now and the next generations can use this)."
In 2015, the community volunteers of Barangay Libertad successfully implemented the construction of a 1 Unit – 2 Classroom School Building funded by the Department of Foreign Affairs and Trade/AustraliaAid (DFAT/AusAID) with a total project cost of Php 1,899,342.00.
"Nalipay ang komudidad kay naa nay eskwelahan diri nga tarong, nagtinabangay gyud ang mga katawhan aron matapos gyud ang proyekto, kung adunay mga buluhaton sa komunidad, karon nakahibalo gyud ang tanan kung nay mga aktibidades sa barangay (The community is happy that a school building is already in place, the community really worked together for this, now everybody knows all the activities we have in the barangay)" Thelma said.
The implementations in the Municipality of Kolambugan, of course, also had their share of struggles. "Only minor struggles, no major struggles experienced since the local government units are very supportive in the implementation of the program, the only struggle we had was dealing with the different behaviors of the community volunteers that sometimes would lead to less desirable scenarios, however, this was resolved through close coordination with them, monitoring and supervision with regular meetings to report updates and discuss issues and concerns with them" DSWD Kalahi-CIDSS Area Coordinator Carolyn Caw-it says.
Thelma adds "sa construction, nakita nako nga kung maayo ang budget sa proyekto, makapalit gyud ka og de kaldidad nga materyales para ang building pud malig-on, kung barat ang materyales dili gyud lig-on (in the construction, I see that if we have a very good budget, we can purchase quality construction materials for a strong building, if the materials are substandard it's not strong)."
Volunteers as Partners for Change
Thelma sees volunteerism as a catalyst for change; she sees this first hand in her daily activities with her fellow volunteers in Libertad. "Nausab gyud ang kinaiya sa mga tawo, diri nako nakita nga kung ang komunidad magkahiusa dali ra ang trabaho, nakita pud nako ang kooperasyon sa komunidad, ug ang sa working team namo maayo – maayo pud ang resulta, dili gubot (the attitude of the community changed, I saw that if the community will work together – the work is easy, I also saw the cooperation of the community, and the working team is good – the results are also good and orderly)."
Thelma also expressed her thanks on behalf of her fellow volunteers, "mapasalamaton gyud mi aning mga proyekto, nalipay gyud ang katawhan diri sa among barangay kai niabot ang Kalahi-CIDSS, kung wala ni miabot, walay siguro'y mahitabo nga kalamboan. Maayo usab ang CDD kai diri nato makita nga gatinabangay gyud ang mga katawhan sa komunidad ug gapakabana alang sa isig-katawo (we are really thankful for these projects, the people in our barangay are really happy that Kalahi-CIDSS is here, if not for this, there could not have been any progress here. CDD is good since it is through this that we see the people help each other in the community and cares for each other)."
"I'm happy serving my country and the people around. I hope nga naa pay daghan proyekto para sa Barangay Libertad ug sa katibuk-an sa munisipyo (I'm happy serving my country and the people around. I hope that there will be more projects for Barangay Libertad and the whole municipality)" Thelma concludes.
The community volunteers of Barangay Libertad are currently facilitating the construction of a 100 Linear Meter Seawall with a total project cost of Php 2,471,263.00 from the Kalahi CIDSS-NCDDP 2015-2016 cycle.
Written by Shaun Alejandrae Yap Uy, DSWD