Mercy P. Solatorio is a Pantawid Pamilyang Pilipino or 4Ps grantee with four children residing in Lala, Lanao del Norte. She is the over-all parent leader in their barangay. She was able to avail a individual loan of Php 5,000.00 under the SEA-K program, former name of Sustainable Livelihood Program (SLP), which she used to purchase 3 piglets and feeds to start her hog fattening project. From her profit in every cycle she used for the school and household expenses including paying debts.
Mercy was also trained on Dressmaking which was funded through a BUB-SLP project in year 2017. The training enhanced her rusty dressmaking skill. Her fellow 4Ps members and neighbors would have their clothes done by her which added to her daily income in paying off her loans.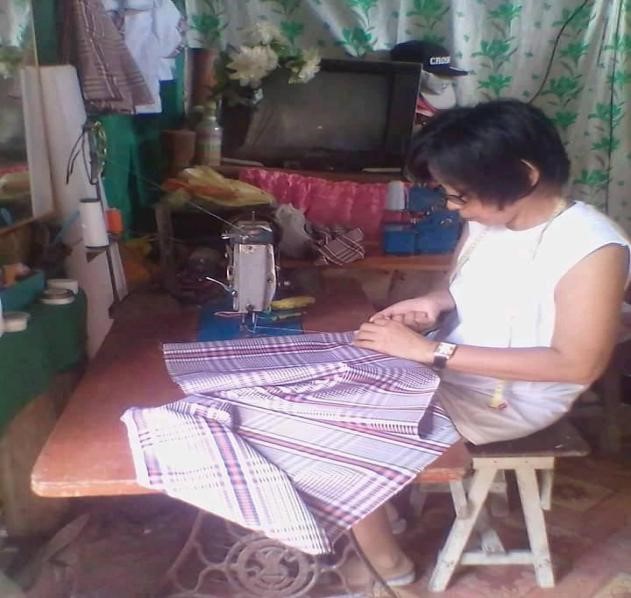 One of her children was trained in rag-making and used her acquired skills in making household rags using the excess or unused pieces of cloths from her mother's work and sell them at a very affordable price.
In 2018, the barangay council issued a resolution in banning hog fattening within 50 meters from the residence. Mercy then changed her project to sari-sari store and food vending that made her earn Php 1,000.00 – 2,000.00 sales daily. With this, she was able to give enough school allowances to her children.
Mercy admitted that a portion of the income is sometimes used for sudden or unexpected expenses. It is through availing small loans from local micro-financing institutions that she sustain her sari-sari store. She is very thankful that even though life hits her hard, she was able to stand up again. As what she said, "Kinahanglan think positive jud sa kinabuhi dili magyaya para naay makaon ang pamilya. Kinahanglan moabag jud sa panginabuhian sa bana para mapa eskwela ang mga anak ug makakaon ang pamilya. Sa pagpaningkamot bahala ug nakautang utang nakapahuman sa anak ug sa bulig sa Ginoo nakapasar ang anak sa Social Work Examination adtong 2018 ug karun nagtudlo na sa Collegio de Kapatagan. (We have to think positive in life so that we can feed our family. We need to be able to contribute to our husband's income so that we can send our children to school and have food for the family. Through hardwork, despite the many loans, my child was able to finish [college]. And with God's help, my child passed the Social Work Examination last 2018 and is now teaching at Collegio de Kapatagan)." Her daughter shares part of her salary for the family's daily needs.
The COVID-19 pandemic greatly affected the sales of her store. It is still operational but experienced lower sales as many people within her community lost their jobs, including her husband. Jobs come by so rarely that some of the stocks in her store were consumed by her family and high on credit from neighbors who pay only whenever they can. Whatever her husband can earn, they use in re-stocking their store.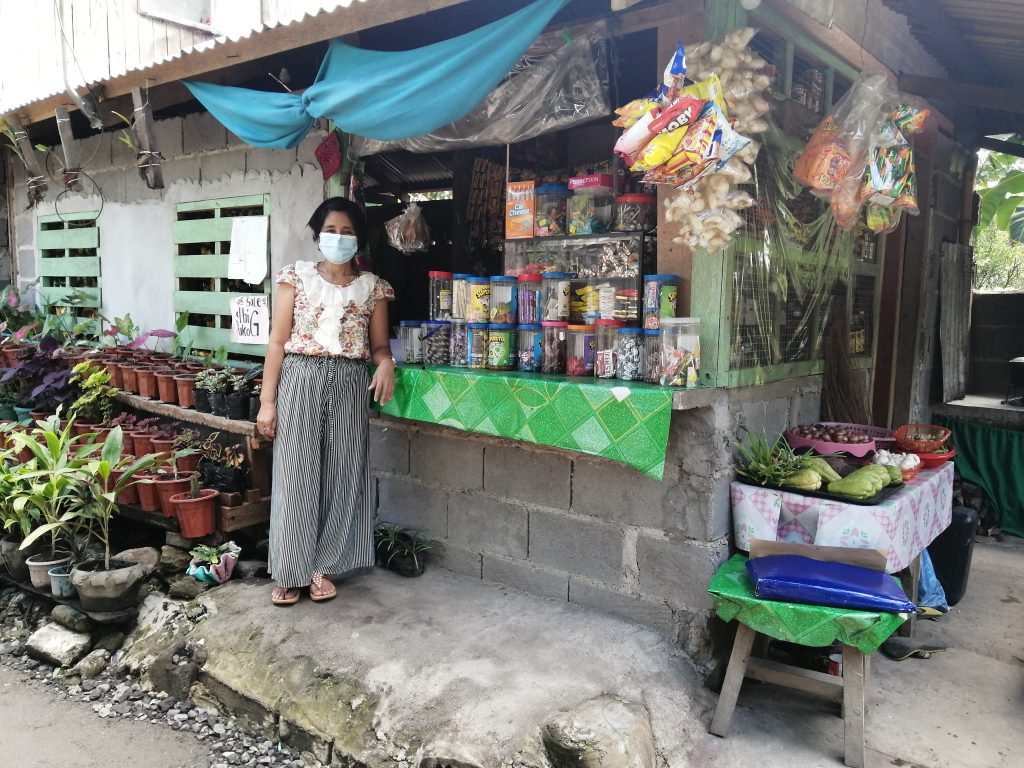 Mercy still continued with her cloth repairing business. This time around, the extra pieces of cloths she uses in making re-usable cloth face masks for her family's use and for sale. Some she gave away to her neighbors who do not have money to buy masks, and donated some to Barangay Health Workers and to her 4Ps cluster members.
Her daughter is still teaching but hopes to practice her profession as a Social Worker in DSWD. Her other children are enrolled in modular classes and help out in selling food in the morning.
Being a Parent Leader in the new normal is challenging for Mercy. Most of her cluster members do not have smart phones to watch the electronic Family Development Session (eFDS) which can be viewed every Friday through a Facebook livestream of DSWD. "Tungod kay dili tanang mga sakop sa 4Ps naay hightech na cellphone o internet para makalantaw sa eFDS, ang amu pamaagi para makalantaw jud tanan sa eFDS amu nalang ibutang sa USB ug pagkahuman ipalantaw tag lima lima sa mga mga sakop arun makaapil jud tanan sa eFDS (Because not all member of 4Ps have cellphone or internet [access] so that they can watch the eFDS, we would download and save it in a USB and let them watch it by 5 persons at a time so that everybody has the chance to attend the eFDS)."
Despite all of these challenges, Mercy keeps a positive outlook in life with firm belief that everything will turn just fine for everyone even amidst the pandemic.
Story and photos contributed by Elsie A. Galon, Project Development Officer II