Kaamulan Festival came back with a bang. It has been 3 years since it has been on a break because of the COVID-19 pandemic that caught the country off guard.
KAAMULAN – a celebration that focuses on the culture of seven tribes: the Higaonon, Talaandig, Manobo, Bukidnon, Matigsalug, Tigwahanon, and Umayamnon. With this gathering, they thank God Almighty for this year's bountiful harvest and blessings.
Throughout the Philippines, Kaamulan has remained to be one of the indigenous festivals that maintained its true meaning, according to Governor Rogelio Neil P. Roque.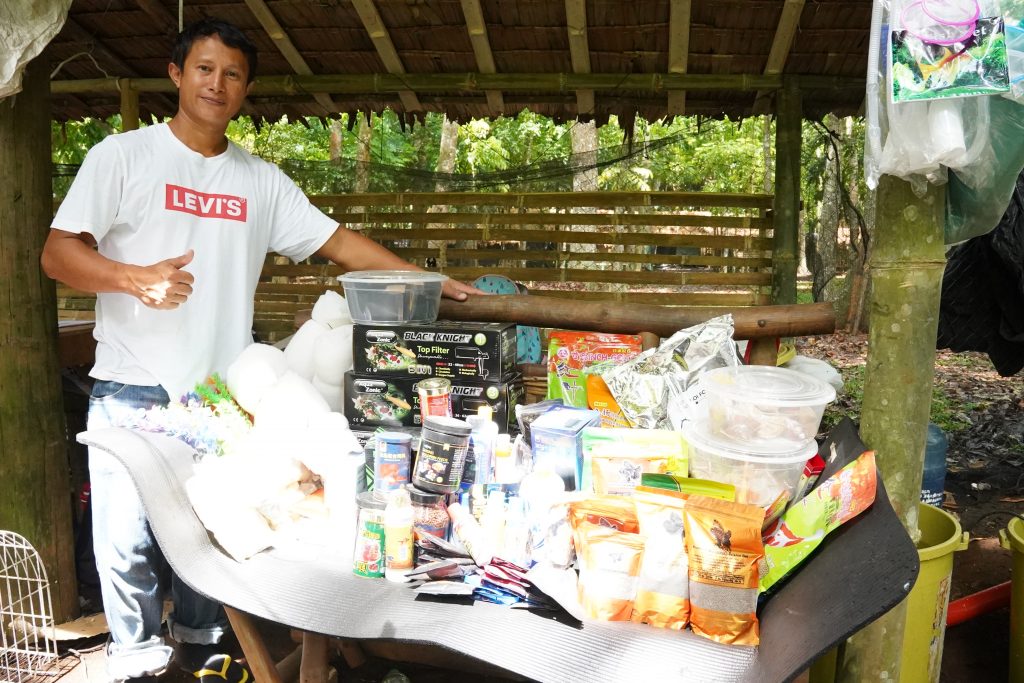 Amidst the festivities, the colorful stream of aquatic displays of goldfishes, glow tetras, flower horns, dragonfish, and different varieties of koi swayed together with the upbeat crowd. Tristan Valdehuesa Apatt narrated how this was the first time he joined the celebration with his full glow-up of fishes.
Starting out as a hobby in high school, Tristan was fascinated by ornamental fishes. He joined several competitions and gained trophies. He was captivated by grooming koi, looking for distinct patterns, the shape of the koi, how deep its color is, and the way it swims.
The criteria for the best koi
Internationally, as described in Hoshino and Fujita (2006) and De Kock and Watt (2006), judges using a 100-point system award up to 50% to 'body shape' evaluation and 20% to color evaluation. Pattern,' gracefulness' and 'dignity' carry a 10% contribution each to the overall evaluation.
Body conformation. The koi should have a symmetric, tub-like body with dynamic, broad shoulders. The body gives the producer insight into the potential for growth over the adult life of the koi and, therefore, is one of the most essential value determinants. Late maturation and lower ability to reproduce.
Swimming style. 'Gracefulness' in the swimming style refers to the powerful and fluid movement and its calming effect on the viewer. Feeding behavior is the primary cause of this movement, and tameness brought on through domestication and repeated handling may also help create this illusion.
Color quality. Color will naturally develop, but also, later, the environment has a contributing factor. The purity of color separates into aesthetically pleasing colors and patterns as viewed through different skin layers.
Color durability. The ability to maintain or increase the pigment 'loading' of the chromatophores through synthesis and the power of pigment cells to migrate through different skin layers to 'develop' a pleasing pattern can add to the value of an individual.
Color distribution. An aesthetically pleasing pattern to match the particular variety is usually determined by selection. Patterns are not repeatable; pattern types, edging, and shapes run in families. However, they can be recognized and thus predicted to an extent. Therefore specific bloodlines are more sought-after than others.
These criteria are widely used at koi competitions and in the Philippines, as Tristan has shared. From a hobby, he took it seriously. He made a profit as he took on his college years and sold various ornamental fish at Cagayan de Oro City. He would earn a monthly sale of 10,000.00 Php to 15,000.00 Php by posting on Facebook.
The pandemic also posed a challenge when hobbyists needed help freely visiting Tristan's abode to look at various fishes. They would be limited on the available media posted on his FB Page.
Lending a helping hand
Tristan then heard about SLP because a friend referred him to the barangay. He was chosen and was funded last year. He was one of the beneficiaries of SLP's Livelihood Assistance Grant (LAG), which was financial assistance given to people whose livelihood was affected by the pandemic. The amount Tristan received was 10,000.00 Php.
"Ang gipampalit nako adto is fish food, accessories, medicines sa mga fishes. Koi… Mga koi dayon nga stock nko… around mga 1,000 pieces na koi." Tristan shared and was asked on what impact SLP has on his business. "Ni-increase jud sya[ako income] sir… like 15 to 25 [thousand] inana, kay makapaspas naman ko ug buy and sell kay ang kanang mga kuan[pispis] ipa-wholesale raman sab na nako, magpatong lang kog piso para paspas akong return, bahalag gamay ang ginansya. Bahin nasad ko ug another batch [of koi] napud dayon… Magselect nasab ko adto ug para mga high-quality nako… Pagbaligya nako ana puhon mahal na sya kay taas naman ug quality."
Matters like weather and circumstances like brownouts are essential in caring for the ornamental fish. I've witnessed the tedious process of Mr. Apatt transferring a couple of fish into big plastic bags, providing oxygen into the bags, and moving them to different fish ponds.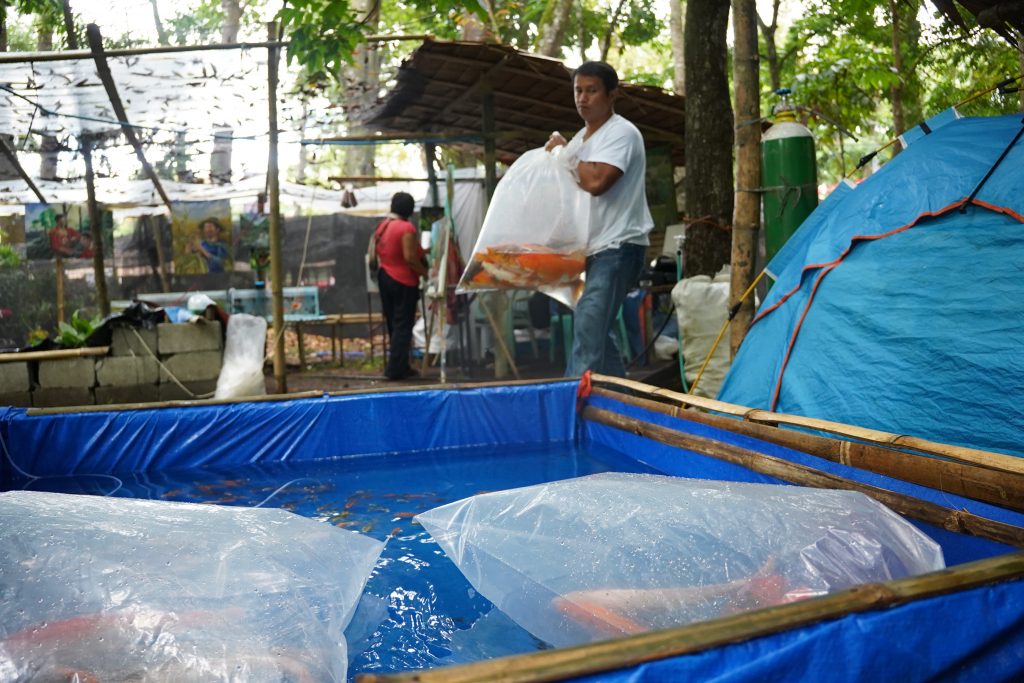 Although it's his 3rd Kaamulan selling ornamental fish, it's his first time selling on-site with a setup. He bought the structure from a friend who had already stopped and tried to save money to fix and glow-up a part of the aquarium. Previously, he was only doing consignments as he left his stock to an elderly co-breeder, also an IP. Now, a full-packed display of Tristan's collection filled consumers' eyes with delight.
Grateful to his co-breeder for sharing their space at Kaamulan, Tristan taught them priceless advice on taking care of the ornamental fish. He also helps around tending to the fish, helping them identify potential fish and caring for the equipment.
Tristan's influence also grew as his co-breeder selling tilapia and hito, is already selling koi alongside him as he imparted his knowledge.
Ways forward, Tristan plans to fix the other parts of the setup he bought from his friend and will build a pet shop near his house to attract more customers and to breed quality fish sold at a lower price. Ultimately, he plans to build mud ponds for his koi as he can save if he can grow koi using the mud pond.
Tristan's story inspires; these beneficiaries' lives could turn around with a little push. With the 10,000.00 Php financial assistance, a milestone has been unlocked for Mr. Apatt's business as he gained more stock items and a handful of koi fingerlings. With this, he continues to open several milestones on his journey toward success.
Source:
https://pia.gov.ph/news/2023/04/30/bukidnons-kaamulan-fest-showcases-rich-traditions-culture
Japanese Ornamental Koi Carp: Origin, Variation, and Genetics | DOI:10.1201/b18547-4