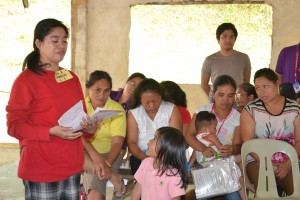 Misamis Occidental —Indigenous People (IP) belonging to Subanen Tribe here share positive changes in their lives brought about by Pantawid Pamilyang Pilipino Program (Pantawid Pamilya) to World Bank representatives during a recent visit here.
Rogelio Montac, village chief of Barangay Namut here, said Pantawid Pamilya has encouraged IP parents to send their children in school.
Before, Montac said parents were hesitant to enroll their children in school because they cannot afford to buy school supplies and uniform.
Also, parents will let their children help them do chores for their living.
Micheil Suminday, Grade 6 adviser and Pantawid focal person of Tonggo Elementary School, a school of living tradition for Subanen Tribe in Namut village here, disclosed that out of 290 children enrolled in the tribal school run by the Department of Education, 158 are Pantawid Pamilya beneficiaries.
Suminday said all enrollees belong to the tribe who are living in the hinterland barangay located at the ridge of Mt. Malindang.
"Pantawid has addressed the needs of the children," Suminday said.
The village is the home to 310 Subanen households.
Improved delivery of health services
Montac disclosed that Subanen tribe members are regularly submitting themselves for check-up at the health center.
he said, residents will not visit the health center because they are shy for consultation. Now, residents are frequenting at the health center they now have confidence to face people.
A midwife and barangay health workers are manning the center daily while a physician visits the center for consultation once a week.
During emergencies, residents need not to wait for an ambulance to arrive because a motor-for-hire locally known as habal-habal will transport patients directly to Tudela District Hospital, some 20 kilometers from the village.
Improved participation in school
Leizl Bahan, Principal of Tonggo Elementary School, noticed that Pantawid beneficiaries in her school is active in all activities of the school.
Bahan said parent-beneficiaries are always in the forefront in assisting teachers during activities like Brigada Eskwela, clean-up drive, beautification, feeding, among others.
Beneficiaries are also actively involved in discussions during meetings, she said.
Develop confidence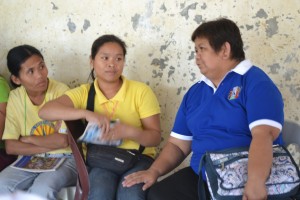 Anita Montac, a beneficiary under Cluster 5 of Namut village, said she never visited the health center before for fear of discrimination.
Montac added that she opted to cultivate her farm with her husband than spending hours of visitation and consultation at the health center because she cannot control her fears from people who are not from her tribe.
After earning confidence during series of Family Development Sessions conducted by her Municipal Link, Montac claimed she can now manage to speak to visitors, barangay officials, and municipal leaders without fear and reservation.
Gina Lumigid, for her part, said FDS has built a strong foundation of her family life.
"Before, my husband was irresponsible and a drunkard. After series of lectures on family and values, he has changed. Now, he stop drinking alcohol and he do his tasks," said Lumigid.
FDS is one of the conditions of Pantawid Pamilya, a conditional cash transfer scheme of the national government that provides cash grants to beneficiaries.
Written by Oliver Badel Inodeo, DSWD