Photos and story by Jamila M. Taha, DSWD 10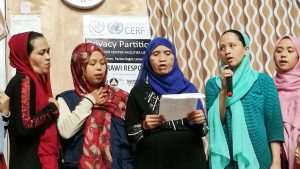 Since the upsurge of the conflict in Marawi City on May 23, 2017, I have been personally part of the Department of Social Welfare and Development (DSWD) Field Office 10's monitoring team who regularly consults with the camp managers designated in thirty-four (34) evacuation centers in Iligan City, Baloi, Pantar and Pantao Ragat, hosting about two thousand (2000) families, to ensure basic social protection services are provided to Internally Displaced Persons (IDPs), with utmost quality and compassion.
For seven months, I've had my fair share of experiences and emotional connection to the IDPs. Being a Maranao who speak the language and understands the culture, I am deeply rooted to strive and be a better public servant for my brothers and sisters in humanity.
One of the most inspiring and memorable experience I've faced is when I heard this song, written and performed by the IDPs staying in Calawi Auditorium in the municipality of Pantao Ragat, in one of our monitoring activity.
The song is entitled "Anda so Ingud Ami" which literally mean "Where is Our Home" written by Khairinian and Sidikadatu Family, one of the two-hundred eighty-four (284) displaced families from Marawi City, who fled and sought refuge in the municipality of Pantao Ragat, Lanao del Norte. The song tells, how these families feel about their current situation and an emotional expression of their longingness and love for their home, Marawi City.
The song may not have the perfect, rhythm or melody but it has the right amount feeling to hit you from within, and it's worth sharing.