Cagayan de Oro City – The Department of Social Welfare and Development extends its partnership with the Department of Trade and Industry in developing micro-entrepreneurs and locally made products from among its program participants in the Sustainable Livelihood Program.
In 2014, the DSWD through the support of the Local Government Unit of Poona Piagapo, Lanao del Norte facilitated the foremost participation of the Poona Piagapo Parent Leaders Association tagged as the "Poona's Finest" in the DTI's Regional Kahimunan Trade Fair.
The Kahimunan Trade Fair started in 2007 as a program strategy of the Department of Trade and Industry (DTI) Region 10, whereby selected Small Medium Enterprises (SMEs) from all over the region are gathered in one market place to sell their products. This event supports the promotion of native products from foods to handicrafts, allowing the micro-entrepreneurs expand their business ventures and network of support providers.
This year, the Poona's Finest is again selected as one of the exhibitors to this event. Their booth showcases the very famous and colorful hand-woven fabrics called "Bunil", which is an old-age traditional handicrafts of Maranaos using the finest threads in creating quality bed sheets, table runners, place mats and the like.
The Poona's Finest also displays their very own Virgin Coconut Oil and Turmeric Coffee which was primarily created under the Sustainable Livelihood Program in 2013 whereby 30 selected Pantawid Pamilya beneficiaries are organized and trained to establish, develop and manage the said products.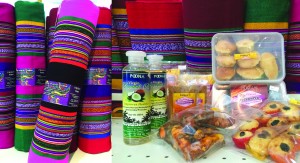 Poona's Finest Products includes "Bunil", Virgin Coconut Oil, Turmeric Coffee and some sweets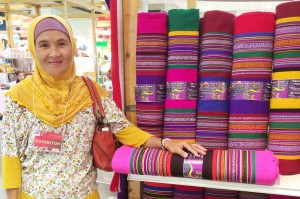 Ms. Tata Samporna, member of the Poona Piagapo Parent Leaders Association says, "as an exhibitor to this event, we are earning about P5,000 pesos daily apart from the bulk of product orders we are getting from the customers". "Before, it was only a dream for us to sell our products, thankfully the DSWD and DTI provided us this opportunity not only to feature what we have learned but also to enjoy the city life, far from our simple living in the hinterland", she added.
The Regional Kahimunan Trade Fair 2015 display starts on August 22 and will end on August 30 cited at the heart of the SM Super Mall, Masterson Avenue, Upper Carmen, Cagayan de Oro City.
Written by Jamila M. Taha, DSWD