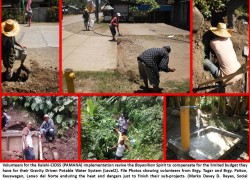 "Bayanihan" or the spirit of communal unity and cooperation has been a Filipino heritage for generations. The image of a group of people carrying a native hut is one of the images we as Filipinos oh, so dearly patronize. But do we still practice this tradition right now? Do people on this day and age of Candy Crush and iPads still relinquish traditional practices that have for so long been a part of our lives? Or has bayanihan been minimized to just a thing of the past; a form of folklore we only speak of during our "back in my days" stories we tell the younger generations?
People have forgotten this priceless gesture of solidarity; a simple show of camaraderie and genuine act of care for those in the neighborhood. Today, majority of people have belittled this gallant act, and have even tagged it as "old school" or "baduy" (out of style or out dated). But what this tradition has goes beyond trends. It goes beyond what is new and hip.  It is a simple gesture of oneness and compassion for others but it ensures strengthening of relationships within the community.
Indeed this is an old thing; an old thing that still works pretty well in bringing the community together and sure enough gets things done even with the odds going against the community. Take for instance the success of the Barangays in Kauswagan, Lanao del Norte implementing the Payapa at Masaganang Pamayanan (PAMANA), the national government's program and framework for peace and development which is being implemented in areas affected by conflict and communities covered by existing peace agreements. Through sheer determination and bayanihan, several communities get to finish program sub-projects with just limited budgets.
The PAMANA Project, being implemented by the Kalahi-CIDSS Program of the Department of Social Welfare and Development provides barangays of qualified municipalities Php 300,000 to fund sub-projects that would answer to the direst needs of the barangay that would address conflict issues in their respective communities.
For several people, the Php 300,000 funding for any sub-project is not enough to accommodate sub-projects such as potable water systems, peace centers, farm – to – market roads, and the likes.  But this shortage of funds has challenged the community, bringing about the best ideas from community volunteers implementing the PAMANA. For optimistic persons, the limited funds only open more opportunities to venture into, just to be able to make things work.
Barangay Tugar and Paiton were among those whose most pressing need was potable drinking water, and they saw PAMANA as an opportunity to do something about their problem.  Yes, Php 300,000 was limited for a Gravity Driven Potable Water System (Level2), and may only cover the basic materials for the sub-project, but this was more than enough to start providing solutions to their problems. They showed that when there was strong will, especially from the beneficiaries, there was a sure way to handle the matter.
To compensate for the deficiency in the exact total budget costs, the community volunteers came up with a pretty good idea that would totally solve their problems.  Aside from the Php 300,000 budget from PAMANA, the Local Cash Counterparts form the MLGU and the BLGU, the community decided to revive the bayanihan spirit.  But this will only be effective if everyone believed this would work and bring about success in the project implementation.
It was time to awaken a long-time dead tradition; which was for the community, the only way to deal with the matter.  They all agreed to do "Pahina" or free/voluntary services to complete their water system sub-project.  All the families in their barangay would be willing to dig ditch holes and work on the water reservoir without pay. Everyone was in a schedule to do labor until the job was done.  For those who were not available, they were to provide meals for those working, which is pretty much fair enough according to those doing labor.
Everyone agreed and the rest was history.  Work was finished in just about 5 days; better than any contractual work by any professional.  Indeed the community has proven once and again that in unity, there is definitely success. The bayanihan spirit has once again proven itself worthy even in modern times.
What is wonderful about the success of the project was that it empowered communities to work for a common goal, one that definitely solves their most pressing needs.  Kalahi-CIDSS believes that to empower the communities, there must be enough room for the community to be creative in thinking of solutions for their problems. This is an important matter in empowering them; to let them be responsible for their own sub-projects.
Again, is bayanihan dead in modern times? The answer is definitely and absolutely NOT.  It just needs to be applied in a proper place and time.  The Gravity Driven Potable Water System (Level2) of Barangays Tugar and Paiton, Kauswagan, Lanao del Norte are true testaments of the value of bayanihan.
All it takes is a little bit of unity and cooperation, a bit of will and determination, a sprinkle of sacrifice, and then you have a completed and operational Gravity Driven Potable Water System (Level2) for all the community to enjoy. A little bit of bayanihan goes a long way towards empowerment and self-sufficiency.