The D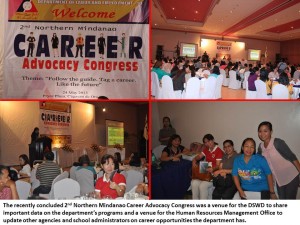 epartment of Social Welfare and Development – Field Office X participated in the recently concluded 2nd Northern Mindanao Career Advocacy Congress held last May 24, 2013, at Pryce Plaza, Cagayan de Oro City.
Represented by the DSWD – FO X Human Resource Management Unit, the whole day affair was conducted by the Department of Labor and Employment – X and participated by various regional government agencies, guidance counselors and school administrators from various private and public schools around the region, representatives from the local government units, the media, and other stakeholders.
The Career Advocacy Congress aims to strengthen the labor trends in the region through strengthened cooperation and partnerships with the various stakeholders in the region.  Ms. Christine Z. Leyva, Unit Head of the Human Resource Development Unit, DSWD FO-X saw the Advocacy Congress as a welcoming development, especially that the activity could now be a venue for the department to introduce existing and upcoming projects and programs.
Ms. Leyva took the opportunity to introduce to the participants the forthcoming implementation of the National Community-Driven Development Program the department will carry out starting July 2013.  "The Career Advocacy Congress is the perfect venue for us to introduce the NCDDP and also a venue to promote the job opportunities for the said program since we will be hiring more than 400 employees in implementing the region-wide project," Ms. Leyva said.
The conduct of the 2nd Northern Mindanao Career Advocacy Congress was just among the Inter-Agency partnership activities in the region that aims to promote development and sustainability in Northern Mindanao.  Participants of the said activity has seen the significance of the activity and are hopeful that there will be more activities such as this one that will follow in the future.
"The activity does not only showcase programs and job opportunities of the various government agencies and the private sectors, but a good venue in strengthening Private-Public Partnership that will ensure harmony and cooperation among stakeholders in improving lives of people in Northern Mindanao especially in developing tools that will aid career paths for our youth in the region," Ms. Leyva said.