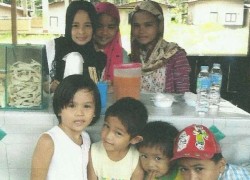 "Kanus-a man ta manghawa dinhi, Ma? (when are we leaving, Ma?)" Rasmiah Asi's five-year-old daughter asked as she was laying her head on her mother's lap. They were at the bleachers watching her brothers running around the basketball court without any slippers on. "Let just wait for God's time, dear. (Hulatan lang nato ang panahon sa Ginoo, anak.)" Rasmiah replied.
VICTIMIZED BY WAR AND POVERTY
Rasmiah, together with her husband and children have long been living in an evacuation center in a small village in the municipality of Munai, Lanao del Norte. Having been victimized by the armed conflict that occurred in 2008 in the rural town of Munai, the Asi family joined hundreds of residents who ran for safety in evacuation centers.
Having six children to care for, both Rasmiah and her husband struggled to make ends meet while living uncomfortably in makeshift beds, sacrificing their privacy and health due to the overcrowded evacuation center.
Without much choice, Rasmiah's husband can only do menial jobs during those times and rely on relief goods that were provided to them by the government. Her children had stopped going to school because her small food-vending business closed down and they were running out of finances. Having no relatives to ask for support, their family waited and waited for hope.
For many nights, Rasmiah would stay awake and watch her family sleep on the basketball court's cemented floor. She'd glance on the other families who suffered the same fate like her family did. "Even if the armed conflict ends, we may never be able to go anywhere at all. We have nowhere to go but here," she remembers. Those nights were filled with questions and prayers of desperation.
WAITING NO MORE
Upon hearing of the national government's effort to help them through the Pantawid Pamilyang Pilipino Program, Rasmiah could not help but cry tears of joy. This was the time she had been waiting for.
Pantawid Pamilya is the Department of Social Welfare and Development's response to the education and health needs of poor families, particularly of children aged 0-14 years old. While provided a cash grant to a maximum of P1,400.00 on a monthly basis, the families are also expected to comply to their co-responsibilities to the program by ensuring that their children are attending school and that their health are being attended to through regular health center visits.
Three of Rasmiah's children have regularly been receiving the cash grant and have started going back to school.
"The cash grant may not be too much, but as a mother who is pained by the fact that she cannot send her own children to school because she could no longer afford to, I believe this is enough. I am truly happy that they are now back to school," Rasmiah shares.
ADDED BLESSING
Aside from seeing her children going to school again, she was overjoyed when she learned that she was also qualified to avail the benefits of the DSWD's Sustainable Livelihood Program (SLP).
The SLP has enabled her to go through numerous trainings and skills enhancement workshops so that she can re-open her food-vending business. In addition, she has also received an amount of P5,000.00 as her seed capital in re-opening it.
"When I received the money, I immediately bought supplies for my business. I was actually grinning from ear to ear!" she recalls.
A NEW HOME
Although the peace and order situation may not have completely stabilized in the town of Munai, this did not stop the Asi Family from having a good life they rightfully should. In 2011, they finally transferred to their new home built through Rasmiah and her husband's perseverance and hard work.
"There is just a blissful feeling when you see your children sleeping comfortably and peacefully in their own home. It is a relief knowing they are back to school, I have my business again and that my husband can finally find a good job and never have to be worried with our supply of food back home," Rasmiah smiled.
"I guess those tearful nights of prayers did it," she added.
Written by Charmaine P. Tadlas, Regional Information Officer