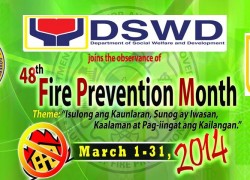 Gingoog City – The DSWD Regional Rehabilitation Center for Youth (RRCY) at Gingoog City joined in the celebration of the Fire Prevention Month by conducting fire brigade training, participated by the residents of the said institution last March 14, 2014.
Residents and staff from the center were provided with different activities and lectures to enhance their knowledge and promote necessary skills in fire prevention and response.
This year's celebration, with the theme "Isulong ang Kaunlaran Sunog ay Iwasan, Kaalaman at Pagiingat ay Kailangan" was aimed at equipping citizens with the necessary information on how to prevent and handle fire incidents. Senior Inspector Ronald L. Quimson, City Fire Marshal of Gingoog City avidly led the activity, together with the other Bureau of Fire Protection officers, FO2, Julius A Adiba, and FO3 Michael G. Mandin.
The whole day activity started off with the discussion of the importance of the month-long celebration, especially to members of the community, emphasizing active involvement of the citizenry in prevention of fire incidents.
Fire drills and fire incident simulations were done during the activity, where residents were taught about fire prevention in various settings, classification of fire and what responses are applicable for each classified fire, firefighting techniques, and trainings on how to use various equipment in responding to fire incidents.
At the end of the training, the members of the Bureau of Fire protection encouraged residents to be firefighters someday, adding up that being a firefighter is a very noble act, worthy of recognition.
The DSWD Regional Rehabilitation Center for Youth (RRCY) is a rehabilitation center for youth/children in conflict with the law and is currently catering to 42 clients with pending criminal cases from all over Region X.
Written by Marko Davey D. Reyes and Rosita B. Orillo, DSWD