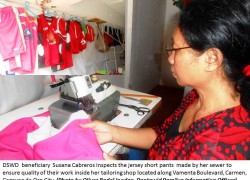 Cagayan de Oro City – Starting a business with limited resources is a challenge, especially for women.
For Susana Cabreros, 51, a housewife living in Zone 1, Upper Carmen, this city, life has not been easy. Her husband is a "motorela" driver who earns with only a meager income until they put up a tailoring business, with a group of women beneficiaries of Pantawid Pamilyang Pilipino Program (Pantawid Pamilya), benefiting from a P10,000 micro-finance scheme provided by the Sustainable Livelihood Program of the Department of Social Welfare and Development (DSWD).
Susana is now a businesswoman earning a decent income by heading the Upper Carmen Sisterhood Association with 15-woman members who have engaged in tailoring business here. Each of the members shared P10,000 to put up a capital of P150,000 to start the business. The group specializes on making jersey tee shirts and shorts, bags jogging pants, polo shirts, among others.
"I always have a daily income to defray the cost of our daily needs," she said.
With the new business, she can fulfill her dream to secure her children's education and provide a better life for her family.
Engaging children with the business
The tailoring business is just four months in operation.
But, Susana is optimistic her group will go beyond the members' expectation as they are earning. Susana is earning an average of P200 daily which augments her husband's income from driving.
Aside from that, her eldest son, Ryan, who is now married, is in-charge of printing the t-shirts, short pants, jogging pants, and other orders of their customers. Ryan is good in silk screen and rubberized printing. He gets P100 by just printing a pair of basketball uniform.
Susana's eldest sister, Florenda Degomio, who is also a member of the group, is the master cutter of the shop. She is in-charge also of training four other sewers of the shop, ensuring quality and aesthetic value of their services and products. The shop started with only Florenda and Susana as cutters and sewers. Susana and her elder sister were forced to train the three other sewers of the group for three months which, consequently, yielded a positive response and result.
"They can perform now without our supervision," said Susana.
Designing bags, shirts, and pants is not new to Susana. She learned designing from her previous work from a private tailoring company based in this city. However, most of the products of the shop is made out of following the catalogs they bought.
But if the customer wants customized designs for bags, t-shirts, and pants; her 12-year old daughter, Crystal, is ready to do it for them. Crystal has been into customized designing since the start of the operation of the shop.
Susana disclosed that Crystal only helps her design after studying. She considered the participation of the members of her family as individual training in preparation for better future.
"I am just thankful that with DSWD's help, a better life for poor families like mine can happen," Susana expresses. "I see now that I CAN make a difference in fighting poverty by what I am doing now."
Susana's family is one of the Set 1 beneficiaries of Pantawid Pamilya who received grants from SLP in Northern Mindanao.
SLP is a community-based capacity building program of DSWD that seeks to improve the socio-economic status of program participants. It is implemented through the Community-Driven Enterprise Development (CDED) approach, which equips the program participants to actively contribute to production and labor markets by making use of available resources and accessible markets.
On the other hand, Pantawid Pamilya is the conditional cash transfer (CCT) program of government implemented by the DSWD so that families are able to get financial assistance, provided they comply with certain conditions imposed by Pantawid Pamilya, which include seeing to the health and education needs of their children.
Written by Oliver Badel Inodeo, DSWD
==