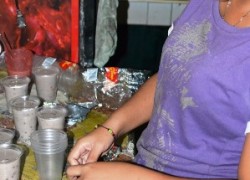 Cagayan de Oro City — It's school vacation this summer, which means most kids are planning to goof around the pool, head to the beach or meet new friends during summer camps-just to find ways to cool off from the sizzling environment.
But, it's not for the Verana Family of St. John, Puntod this city.
The Veranas, a Pantawid Pamilya household under Set 1A, will be busy preparing for homemade foods and quenchers to be sold here in order to earn for their studies next school opening and for their daily needs.
Edith, 50, and mother of five children, helps her husband, Ramon, 50, buy ingredients for native delicacies they bake such as "puto" and "suman". "Suman" is a glutinous rice soaked, milled, mixed with coconut milk and sugar, wrapped in the banana leaves and steamed while "puto" is a kind of steamed rice cake derived from the Southern Indian dish Puttu. It is eaten as is or with butter and/or grated fresh coconut.
At dawn, the Verana siblings: John Paul, 17; Jenevive, 16; and Melanie Grace, 14; help their mother bake these delicacies; after which Ramon wakes up and sells the baked native delicacies in Agora Market and Terminal here.
Edith disclosed that she divides the task of baking the delicacies among her children since they started to establish its business after availing the capital seed from the Sustainable Livelihood Program of the Department of Social Welfare and Development in November 2013.
SLP is a community-based capacity building program that seeks to improve the socio-economic status of program participants. It is implemented through the Community-Driven Enterprise Development (CDED) approach, which equips the program participants to actively contribute to production and labor markets by making use of available resources and accessible markets.
After a month of operation, Edith, one of the 12 members of Puntod Bangon Kabus Association organized by SLP, has fully paid her loan to DSWD.
Aside from the native delicacies, the Veranas also operates a small sari-sari store where they display cups of Binignit, a Visayan vegetable soup traditionally made with slices of sabá bananas, taro, and sweet potato. The mixture is brought to a boil; being stirred occasionally until done.
More income from tailoring
Early this month, Edith graduated from a dress-making class sponsored by the Urban Community Driven Development Program of DSWD here, in collaboration with Technical Education and Skills Development Authority Northern Mindanao.
After graduation, the barangay sub-project management council chairperson of Puntod said she immediately earns from dress-making as her neighbors come to her house for tailoring jobs.
While on training with TESDA and Urban CDDP, Edith's mother gave her a sewing machine for her to practice in making dress, blouse, polo, long pants, and curtains.
Edith and her fellow dress-making graduates is now a member of a women's livelihood organization in Puntod which will provide tailoring-related services.
Commitment to support children's education
Edith, a parent leader of Pantawid Pamilya in her cluster of Puntod here, assured DSWD that she will support the studies of her children, who are all studying last school year at Lapasan National High School in this city.
With the interventions provided by DSWD, Edith is optimistic that she can have all her children finish high school. "Sigurado ko nga makabangon mi sa kakabus ug makatapos og high school akong mga anak," she said. (I am sure we can rise from poverty and my children will finish high school)
She hopes that all her children will earn a job after finishing their secondary formation.
Written by Oliver Badel Inodeo, DSWD
==