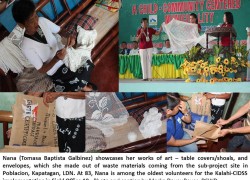 The Filipino creativity is among the best there is. Through time, Filipinos have captured the attention of the world for their limitless imaginations and originality. The Filipino has been admired in the field of the arts and crafts for coming up with extraordinary works, using simple yet interesting mediums/materials.
Imagine having to come up with great pieces of art using trash; materials one would consider already useless. In a world where people waste more than what is required for sustenance, having to come up with ways to dispose them is quite difficult, especially disposing waste properly.
But how about using trash and turning it to something useful? It would be great not just for the people who throw away the waste, but also for Mother Nature. This was what Mrs. Tomasa Baptista Galbinez has come to perfect.
Mrs. Tomasa Baptista Galbinez or Nana, as what she is fondly called in their community, is a retired teacher, and a community volunteer for the Kapit-Bisig Laban sa Kahirapan – Comprehensive and Integrated Delivery of Social Services (Kalahi-CIDSS Project) in Poblacion, Kapatagan, Lanao del Norte. At 83, she is among the oldest community volunteers for Kalahi-CIDSS. She has been a volunteer for Kalahi-CIDDS for 3 years, but not even once has age been a problem for her even if being a volunteer requires ones presence in the field; eating up time and energy.
Nana has found passion in volunteering. She said that it was in volunteering that she has found her purpose since she believes that one's existence is given meaning by what one does. It was also in Kalahi-CIDSS that she got to do another thing that she was very passionate about, and this was being artistic.
"When we were doing our Drainage Canal sub-project for cycle 2, I noticed we were using up a lot of cement. Since I was monitoring the project daily, I had some ideas on how to minimize the trash we had in the area", Nana said.
There were between 40-70 sacks used per day, and what others would see as garbage, she saw something else. She noticed that the yarn used in sewing the cement sacks close were similar to the twine she used in knitting, something she loves doing. What she did was collect all the sacks used. She then collected all the yarn from the sacks and kept them until they were enough for a piece of knitted masterpiece.
Soon enough, she was able to collect enough, and right after she finished her job on the field volunteering, she would work on her masterpieces at home. During the 2nd cycle of implementation alone, she was able to make four (4) knitted table covers and three (3) scarfs made out of intricate designs.
During the 3rd cycle implementation, she was able to do more, even Kapatagan municipal mayor, Atty. Benjie Y. Baguio was ordering table covers from her, because he found the designs unique.
"I was doing it as my hobby, and never did I ever imagined people to buy my work, and what was amazing was no less than Mayor Baguio bought some of my work", Nana shared happily.
But she did not stop there. She noticed that the inner covering of the cement sacks was made of material similar to that used in making brown envelopes but were sturdier. She made use of the material, making envelopes out of them, using it in filing Kalahi-CIDSS documents. She even shared the envelops to other barangays implementing the project.
Other volunteers in their community were amazed of how Nana was able to do all those things at her age. They were inspired of how resourceful she was. "I am doing all of these because I believe our community will benefit from Kalahi. I can do what I love with Kalahi, and I get materials from the garbage in the project", Nana jokingly shares.
Indeed Nana was able to do things she definitely loves while volunteering for Kalahi-CIDSS. It is amazing how an old lady would be able to stay under the heat of the sun all day, monitoring progress of their sub-project, and right after that still has the energy to do what she does best; knit. Her contribution to Kalahi-CIDSS is priceless.
Nana has ensured that sub-project implementation was kept environmental friendly by limiting waste materials in the area. But above all, she made the most of her significance in the project by simply being an inspiration to everyone. Just like her masterpieces, she leaves people in awe of how well she has lived her life; in service.
Written by Marko Davey D. Reyes, DSWD