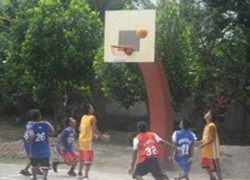 Gingoog City – Residents of the Regional Rehabilitation Center for Youth (RRCY), a facility run by the Department of Social Welfare and Development here, specifically for children in conflict with the law (CICL) has learned the value of sportsmanship and teamwork during the RRCY's annual Summer Sports Fest conducted last April 22-24, 2014.
The 3-day Sports Fest was participated by 39 male minors and young people from various neighboring barangays and faith-based organizations that has been providing moral and spiritual support to the young residents during their stay with the social welfare department.
Mr. Roy G. Ortizo, houseparent of RRCY, says that the said activity helps the youth to develop their character which can be associated with a host of sport values such as teamwork, loyalty, self sacrifice, perseverance, work ethic, and mental toughness.
RRCY was established by the DSWD for youthful offenders from ages 9 to below 18 years old who must undergo institutional rehabilitation instead of being mixed with hardened criminals in jails. The general objective of the facility is to enable boys to resolve their problems and restore their normal functioning, thus regaining self-esteem and dignity through rehabilitative services.
The said facility is said to be in accordance to Republic Act 9344 also known as the "Juvenile Justice and Welfare Act of 2006 and Republic Act 10630, an act strengthening the juvenile justice system in the Philippines.
Written by Charmaine P. Tadlas (as reported by Mr. Roy G. Ortizo)