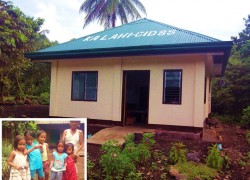 Bukidnon – It is always assumed that when it comes to providing food for the family, the fathers are always expected to be on top of it. It is common to see women more involved in community and church activities because, according to the wives, their husbands are "out working and searching for food for the family."
But in a small village in Barangay Siloo in the municipality of Malitbog, fathers are becoming more visible in community activities as well.
Ajito Manaba, a 49 year old farmer, remembers that when KALAHI-CIDSS under the Grassroots Participatory Budgeting Process (GPBP) was implemented in their village sometime in December 2013, he and his neighbors identified that their village needed a Day Care Center.
"It always pains us fathers whenever we see our children leaving our homes in the morning and start trekking up to the next barangay to attend Day Care, which takes about almost an hour by foot," he says.
He said that because of their anxiety towards their children's health and security each day, they were driven to build their own Day Care Center through KALAHI-CIDSS-GPBP, a program spearheaded by the Department of Social Welfare and Development.
"We did a 'pahina' everyday. We changed shifts – father to father," Ampilo Melgo, also a farmer in their village, shares. "We all wanted to contribute something to this project because we all know that this building is a big help for us fathers."
On May 15, 2014, their Day Care Center was completed and inaugurated, and is now being used by 40 pupils each day.
The project cost more than P739,000 – of which the P500,000 comes as a grant from the KALAHI-CIDSS GPBP, and P239,000 from the local government unit of Malitbog. The Barangay office also shelled out in-kind contributions through provision of chairs, cabinets, and other furniture.
"I learned that when fathers become more involved in community activities, they are not just helping their own families, but the entire village as well." Ampilo says. "Now we are more at ease knowing that our children no longer have to walk so many miles just to get to Day Care. They are now attending in our local Day Care Center – built by our own hands."
"Kaya diay namo ang kabag-ohan kay nakatukod kami ug Day Care Center gikan sa among pagpaningkamot para sa among mga kabataan, (we realized that we can actually make a difference because we built a Day Care Center with our own power and determination for our children," says Ajitor, who served as the Chairman for the Barangay Sub-project Management Committee created by the villagers themselves.
Written by Charmaine P. Tadlas, DSWD