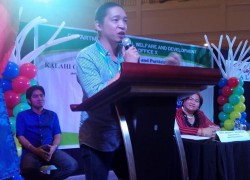 Cagayan de Oro – Governor Khalid Dimaporo of Lanao del Norte expressed the province's support to the Kapit Bisig Laban sa Kahirapan-Comprehensive and Integrated Delivery of Social Services-National Community Driven Development Program (KALAHI CIDSS-NCDDP) which was recently launched by the Department of Social Welfare and Development in the Northern Mindanao Region.
KALAHI CIDSS-NCDDP is one of the poverty alleviation programs of the Philippine government – an upscale operation of the community-driven development (CDD) approach, which was tried and proven effective by Kalahi-CIDSS, its predecessor, which started in 2003.
Lanao del Norte was one of the pilot provinces that implemented Kalahi-CIDSS in 2003. According to Dimaporo, changes were taking place in the poor communities because of the CDD approach which empowers them to identify problems that contribute to their community's poverty and resolutions to fight against such.
According to Dimaporo, the community's involvement in local development has also inspired him to give his provincial local counterpart contribution to the Kalahi-CIDSS considering that it has greatly shown a positive impact on socio-economy, local governance, and improvement on conflict resolution.
Day Care Centers, Health Stations, improvement or construction of roads, water systems, drainage canals, bridges, and seawalls are some of the projects that were completed by the community people in Lanao del Norte through Kalahi-CIDSS.
KALAHI CIDSS-NCDDP will be implemented in 11 municipalities in the province in year 2015, targeting at least 33,621 households to benefit from the program.
Written by Charmaine P. Tadlas, DSWD