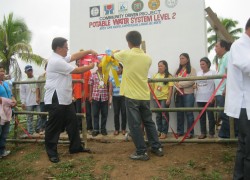 Lanao del Norte — "Good Governance and Transparency is the key of Local Development" inspiring words from the father of Local Government of Kapatagan, Atty. Benjie Y. Baguio.
Kapatagan is one of the 2nd class Municipality of Lanao del Norte, with a multi ethnicity group like Muslim and Christians. Most of the people engaged in farming, fishing and trading. Before Kalahi-CIDSS was introduced, most of their infra projects were implemented in accordance with the public and highways project guidelines, no community involvement. They also had a livelihood program which was designed and implemented by the LGU. Participation of people's organization is not a practice.
Introduction of Kalahi-CIDSS
In 2010 the Kalahi-CIDSS program was introduced to their locality, imparting the concept, approach and strategy. The chief executive was convinced and believed to the idea of the program. "I could still recall sa panahon nga gi introduce kanamo ang idea sa Kalahi-CIDSS nga diin nalipay ug giganahan ko sa pamaagi niani. Bisan tuod dli na mo-agi sa buhatan sa mayor ang pondo, nakita nako kung unsay benepisyo makuha sa mga tao sa komunidad ug mao kani akong giganahan sa programa."(I could still recall the time when Kalahi-CIDSS was introduced to our LGU, I was delighted and I like the approach. Even though the funds will no longer pass through mayor's office but I see the advantages of the program and its benefits to the people. This is what I really like most of the program.) Mayor Baguio said.
Kapit Bisig Laban sa Kahirapan Comprehensive and Integrated Delivery of Social Services – (Kalahi-CIDSS) is a flagship anti-poverty program of the national government that empowers communities to be involved in development through community-driven development approach (CDD).
Influenced by CDD
Today, LGU Kapatagan funded and implemented their own sub-projects in which they apply the Kalahi- CIDSS approach and strategy. "Masigarbuhon ug nalipay pud mi nga dinhi sa among Municipality, among local leder nag implementar ug adaptar ug mga proyekto sa iyang kaugaligong pundo. Ug labaw sa tanan pinaagi kini sa Community Driven Development nga approach, kami mga tao o mga volunteers sa komunidad gitagaan ug dako nga katungod mo plano, mo mopadagan sa kaugalingong financial ug labi na gayud gitagaan kami mo desisyon kung unsa nga proyekto among e implementar or nahimo kami nga mga empowered volunteers." (We are glad and proud to say that in our LGU, our leader implemented and adopted our own projects with the used of local government funding. Most especially that we implemented the said project thru Kalahi-CIDSS approach, where people in the community are empowered, we are given the opportunity to manage and to decide with what project is best for us.) says, Gloria Cagampang BSPMC." We are now empowered," she added.
The Kalahi- CIDSS way
One of the subprojects they implemented in Barangay Dorano that many of the villagers benefited is the water system applying the Kalahi-CIDSS strategy . " Sa una galisud gayud mi sa among panubig, gani mobaklay pami halos usa ka kilometro para lang makakuha ug tubig. In ana kapait among sitwasyon sa una, pero karon tungod sa paningkamot sa among lokal nga pangagamhanan, nga nag adaptar sa pamaagi sa kalahi-CIDSS, gipaminaw ug gesuportahan among gusto nga proyekto nga diin maoy naghatag sa kasulbaran sa problema sa panubig." (Before we really had a difficulty to access water, in fact we really had to travel around almost a kilometer just in order for us to get water, that is how hard our situation before. But now, with the effort of our local government officials, applying the kalahi-CIDSS Community Driven Development, our water problem was given a solution. They listened and supported our proposed project, and that is the water system) says, Julieta Bucog president of Durano Water Association.
Fruits of Labor
Another LGU funded which has the same method of Kalahi-CIDSS was the construction of classroom in Barangay Tagitik, where majority of their children can now access and avail a conducive classroom for learning's. "Lahi gayud mi dinhi sa Kapatagan kay ang among local nga pang gobyerno nagtan-aw gayud sa kaayohan sa kadaghanan nga residente dinhi, mao man gani daghan mi mga kina-kaugalingon nga mga proyekto nga gipunduhan sa local nga kagamhanan, sama nalang sa klasrom nga diin daghan sa among mga kabataan maka skwela ug ma edukar na. Ang pamaagi parehas ra sa Kalahi-CIDSS Community Driven." (We really are different here in Kapatagan, our Local Government is seeing the welfare of the constituents that is why we have lots of community project that has been funded and implemented, just like classrooms where majority of our children can now access education, adopting the Kalahi-CIDSS Community Driven Development way.") Tomasa Galbinez community volunteer said.
CDD Milestones
With the support of Kalahi- CIDSS more subprojects will be realized and more communities will be benefited such as; hanging bridges, day care center, roads, water system, farm to market roads and others. And all of these will be attained because of the trust & confidence of the Local Government Unit of Kapatagan to the Kalahi-CIDSS.
LGU Kapatagan received the National Awards in 2012 as the Model LGU and chosen as Regional Nominee in 2014 DSWD National GAPAS Award.
Written by: Luis T. Arquiza, DSWD X