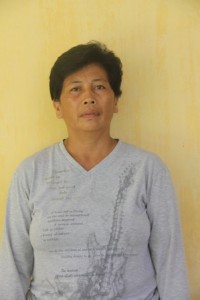 Misamis Occidental — Who says Subanen, an Indigenous People tribe, is a marginalized group? Fernanda Etol Gaas, a 54-year old member of Subanen group proves that they can stand out, lead and empower the community.
Mrs. Fernanda Gaas, married to Nestor Gaas and a mother of five children lived all her life in Dinas, Sinacaban, Misamis Occidental. She said that due to disturbances, migrations and competitions on land, Subanens were pushed to the interior hinterlands. Subanens are farmer tribe and they are largely involved in crop cultivation and production. Thus, she hardly attends community assemblies, meetings and gathering.
But she emerged to be a strong IP woman leader when KALAHI-CIDSS (Kapit-Bisig Laban sa Kahirapan Comprehensive and Integrated Delivery of Social Services – National Community-Driven Development Program) was introduced to their community in 2014.
 KALAHI CIDSS-NCDDP is a flagship anti-poverty program of the national government that empowers communities to be involved in development through community-driven development approach (CDD).
Fernanda Gaas was chosen to lead other IP women's group as Bids and Awards Committee (BAC) chair. As a leader, her primary task is to facilitate the procurement process for the construction of their community project.
"Nabantayan gayod namo ang kapasidad ug dedikasyon ni Fernanda sa komunidad, mao gayod siya among gipili nga among BAC chairperson, (we really noticed Fernanda's capacity and dedication  towards community development, that is why we chose her as our BAC chairperson)", says Therese Florin a  fellow volunteer.
"I never thought that I will be an empowered woman", she said in an interview. She expressed her limited skills and knowledge in the procurement process of KALAHI especially that it involves management of the funds.
But she went through series of trainings and seminars that helped her acquire the necessary skills needed for the tasks. She said that she accepted the challenge to give herself the opportunity to be trained because she knows she will learn a lot from the trainings especially during the project implementation.
As a trained leader, she also coaches and teaches her committee members to understand the community process of the program, particularly in the procurement process such as the canvass forms, process of evaluating the canvass and the proper way to facilitate opening of canvasses.
"Dili sayon nga mahimo kang KALAHI volunteer, kay daghan kayo mga trainings, meetings ug uban pang mga activities nga kalit-kalit gayod ug nakaapektar sa akong pang adlaw-adlaw nga bulohaton.Pero tungod adto pud nga mga activities, ang proyekto na implementar gayod ug insakto ug kong gusto tag kaayuhan ug kausaban sa atong komunidad, kinahanglan gayod kita magsakripisyo sa atong oras (It is not easy to become a KALAHI volunteer because lots of trainings ,meetings and other activities that are so rigid and it  affected my daily routine.  But on the other hand, with those activities, the Project was properly implemented and if we wanted changes for the better and improvement of our community we must sacrifice our time)", Fernanda said. The whole Process of Community Driven Development (CDD) helped her in improving her capacity in dealing with people.
She added that the community-driven process of KALAHI-CIDSS helped her as a person because this invites people in the community to be actively involved. People who are marginalized such as the IPs will be given the chance to take part and even lead in the development of the community.  She said that she has improved as a person, who used to be a shy woman and who can hardly speak in a large crowd.
"Bisan tuod nga usa ra ako sa mga Indigenous People, pwede diay gihapon ko maka-lead sa pagbag-o sa komunidad (though I am only one of those Indigenous People, I can still be able to lead for a big change in a community)", Fernanda concluded.
Fernanda Gaas, with the other IP women in the community now enjoys their completed Farm to Market road project.
Written by Luis T. Arquiza and Gemima Lopez, DSWD