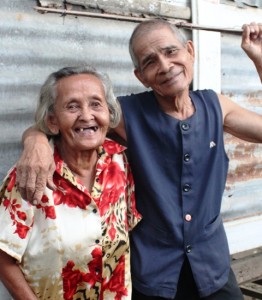 Misamis Oriental — "Tungod sa Social Pension, makapalit na ko sa akong tambal ug pagkaon nga gikinahanglan namo pang adlaw-adlaw (Because of Social Pension, I can now buy my medicine for daily maintenance)."
This is what Mrs. Consolacion Bayno, 77 years old, and a resident of Barangay Baybay, Alubijid, shared regarding her subsidy she regularly receives from the Department of Social Welfare and Development.
"Lisod kaayo among kahimtang tungod kay ang akong duha ka mga anak adunay diperensya, ug ang akong bana dili na pud makatrabaho tungod sa pangidaron (It's very difficult. My children are both mentally challenged and my husband is now too old to work)," she says.
"Tungod niana, wala mi sustento. Usahay manghinaot lang ko nga naay manghatag ug bugas didto sa merkado, aron naa mi makaon (Because of that, we do not have any regular income. Sometimes, I just hope that some people would give us some rice at the market, so that we can eat)," she recalls.
Jessie Almacin, Municipal Social Welfare and Development Officer of Alubijid, further explains that her two children were found mentally challenged and have been given appropriate intervention by the local government unit. Concepcion lives in a small dilapidated house she and her husband calls home.
Concepcion is one of the 50,593 indigent senior citizens in Northern Mindanao who are receiving Social Pension from the DSWD. They receive P1,500 on a quarterly basis intended for their needs such as food, medicine, and basic needs. Qualified beneficiaries are those aged 65 years old and above and are not receiving other pension from other organizations and offices.
"Maayo nalang naa mi Social Pension sa akong bana. Dako kaayo ug tabang. Makapalit mi sa akong bana ug bugas, pagkaon, ug tambal – labi na sa akong tiil nga musakit panagsa (It is good that we have Social Pension, both my husband and I. It helps us buy food and medicines – especially for my legs which is painful sometimes)," Concepcion shares while pointing to her weak legs.
Written by Charmaine P. Tadlas, DSWD