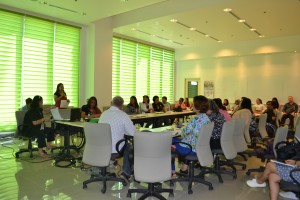 The Area-Based Standards Network (ABSNET) spearheaded by the  Department of Social Welfare and Development recently conducted the Misamis Oriental Cluster 1st Quarterly Meeting for the year 2016.
Participated in by  its member organizations, updates on the Department's Guidelines and   Regulatory Services  well as salient issues and concerns were also tackled.
The ABSNet or the Area-Based Standards Network is composed of all registered, accredited Social Welfare and Development Agencies organized to strengthen cooperation and coordination among area-based intermediaries and in the process, ensure quality implementation of Social Welfare and Development constituencies and clientele.
As one of its functions, the DSWD registers, licenses and accredits individuals, agencies and organizations engaged in social welfare and development services, sets standards and monitors the empowerment and compliance to these standards. It seeks to respond to the evolving needs of the target sector by setting up and enforcing SWD standards toward quality implementation and continuing provision of technical assistance and resource augmentation to members of the civil society.
Representatives from member organizations of the Network also informed the  group  updates, highlights of accomplishments of their respective entities.
Certificates for Renewal of Licenses and Accreditation were also awarded to member representatives of three organizations  which included  the Home for Girls Calabrian Children's Foundation Inc., Foundation of Our Lady of Divine Love, Safer River, Life Saver Foundation and the  Cagayan de Oro – Misamis Oriental Differently Abled Sports Club.
Ms. Portia Roldan, who represented Director Nestor Ramos in her inspirational message, thanked the members of the network for their continued support  and partnership in serving, advocating, and encouraging  other organizations in their respective communities , which resulted in the upgraded delivery of quality programs and services to their various clientele.
Written by Mitzie S. Santiago, DSWD