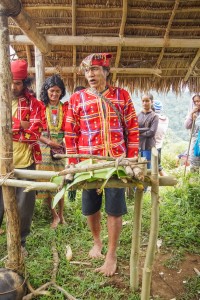 Matigsalug Datu Mara Bagubay of Sitio Kiranggol, Barangay Dao, San Fernando, Bukidnon leads the *Pamuhat. The Pamuhat was done on site of the three-classroom school building to be constructed through the Department of Social Welfare and Development Kapit Bisig Laban sa Kahirapan Comprehensive and Integrated Delivery of Social Services – National Community Driven Development (Kalahi CIDSS-NCDDP). The school building construction is an intervention to address the educational needs of the Lumads in Sitio Kiranggol and is in partnership with National Commission for Indigenous Peoples and the Department of Education, and part of the Whole of Nation Initiative for Lumads in El Niño affected areas. A team composed of DSWD workers, DepEd executives and local executives of Barangay Dao went to Sitio Kiranggol, February 23-26, 2016, for the project site validation and risk assessment. A total of 22 classrooms will be constructed under the Kalahi-CIDSS program in San Fernando, Bukidnon as a Priority 1 area.
Photos by Shaun Alejandrae Yap Uy, DSWD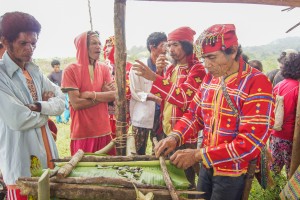 *Pamuhat – An offering to the deities upon entering an unknown place, especially forested areas, it is done when somebody asks for permission to enter a forest or cave to gather fruits, cut trees known to be inhabited by spirits. The ritual involves offering of food, wine and tobacco.
*http://www.bukidnon.gov.ph/home/index.php/about-bukidnon/history-arts-and-culture/cultural-practice